5 most expensive Indian bowlers in ODIs in last 10 years
The fact that India's bowling is one of the weakest in the world, has stood the test of time, withering the attacks from World Cup and Champions Trophy victories.
But who is the bowler who has been the most expensive for India in the last 10 years of ODI cricket – especially after the advent of that run making machine called T20 cricket?
The minimum qualification needed to make the cut for this list of most expensive bowlers for India in ODIs, is to have bowled at least 3000 balls (500 overs) over the past 10 years.
It takes out of question bowlers like Ashok Dinda, Sreesanth, RP Singh and Piyush Chawla, who despite having some very good numbers to their name, just haven't bowled enough to be on this list.
Interestingly, Ashok Dinda has the highest economy rate (6.18) for any Indian bowler who has bowled in at least 10 matches for India.
On a different note, Munaf Patel, one of the crowd favourites when it comes to discussing India's poor bowling, has bowled more than 500 overs in last 10 years and has an economy rate of 4.95, less than even Zaheer Khan (5.12) in this period!
That's the queer thing about stats; it doesn't always reveal the complete picture and shouldn't be the only factor when it comes to comparing players in cricket.
Moving on, here are the 5 most expensive bowlers for India in ODIs:
5. Yuvraj Singh (Innings: 122, Overs: 657.5, Wickets: 87, Economy Rate: 5.12)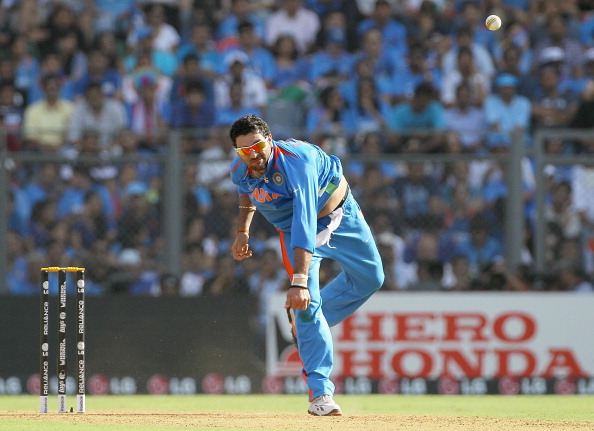 India's World Cup hero and the all-rounder who beat cancer, features at no. 5.
Without a doubt, he's one of the champion cricketers of our era, but only in the past few years has he really developed as a wicket-taking option for Dhoni.
The first Indian bowler to concede 30 runs in an over in ODIs, Yuvraj Singh has gained much experience in bowling after struggling to keep batsmen scoring off his slow loopy deliveries earlier in his career.