Bangladesh cricket is at a critical juncture of its development. It has reached a point where it has a temporary seat at the big boys' table, regularly beating top nations at home, and causing the odd upset away as well. They have a settled team of players, mostly under 30 that form a core group, a captain who is an experienced campaigner, a quality bowling lineup with exciting young talent and a legion of loyal fans.
However, they are at a crossroads because they can let years of development seep through the cracks, and go the way of Sri Lanka after the loss of Sangakkara and Jayawardene, or the way of India, who used a group of experienced players to build a platform for a world-beating team. Here are some of the ways how Bangladesh can advance their development in ODI cricket.
#1 Top Order Batting: Adopting a horses-for-courses approach
Bangladesh's top three, in all forms of the game, is Tamim Iqbal, accompanied by two of Imrul Kayes, Soumya Sarkar and Sabbir Rahman (who bats in the middle order as well). These batsmen are technically-sound test-grade players. However, their middling performance at the top of the order, neither committing to attack or defence, suggests that they do not adequately support Tamim, who is a superstar for Bangladesh at the top of the order.
Sabbir and Soumya, both young players, have contributed to Bangladesh's success is various ways, and are talents for the future, but their ineffectiveness at the top suggests that perhaps a move down the order may be suitable, till they gain the requisite experience.
Imrul Kayes has averaged over 45 in the last 2 years, which will give Bangladesh the strength they need in difficult conditions. In flat conditions, they may consider a batting lineup with a pinch hitting opener, and Kayes at number 3, providing stability if a wicket was to fall. Sabbir and Soumya, who can chip in with the ball, can come in later in the order.
#2 Wickets in Powerplay 1 and 2
While the Fizz shows his effectiveness on slowish pitches, Bangladesh have struggled to put teams under pressure with the ball. Mustafizur is not an ideal new ball bowler, and can specialise in the middle overs, trying to eke out wickets with his fast off-breaks. Rubel Hossain and Taskin are effective with the new ball, but they need to supplement their pace with swing, to get wickets.
Bangladesh were unable to get more than a single early wicket in any of their games, leading to slow start against Australia and a hammering versus England. Their middle order bowling was found lacking, and Mustafizur needs to up his game, as his wicket-taking ability seems to have dipped in recent games.
The pace bowlers could adopt cross-seam deliveries and reverse swing to gain that competitive edge. Mashrafe Mortaza, while a useful lower-order batsman and a good captain, is not the player of the early 2000s and is not an international-quality bowler anymore.
Also read: Medium-paced spin: a lost art revived
Their spin bowling is not potent enough. Mossadek, Mahmudullah and Shakib do not spin the ball nearly enough to either contain or take regular wickets. They need to introduce Mehedi Hasan more, as his ability to give the ball a rip will get them wickets in the middle order. His batting is helpful as well.
Perhaps introducing a leg-spinner would allow them to take wickets in the middle overs. Bangladeshi bowlers failed to impress and gave lots of runs in the process, and it's one department that needs to be reassessed immediately, especially while playing away from home.
#3 Lower order batting
The lower order can be useful in two ways: One, saving them in a collapse and two, accelerating after a solid platform. The Bangladeshi batting line up, with Mahmudullah, Mossadek, Mashrafe, Taskin, Mustafizur and Rubel Hossain forming the bottom six, is one of two halves.
Mahmudullah and Mossadek are proper batsmen, who play in the top five for their first class teams. Mashrafe is a hitter, whose batting isn't reliable enough to play that role. Taskin, Mustafizur and Rubel are genuine tail-enders. This lineup suggests that Bangladesh missed a trick when selecting their team. If they collapse, their lower order can bail them out till number 7. Beyond that, nobody can realistically accompany a proper batsman to put up a decent score.
Consequently, we saw the results against India and Australia, where a middle order hiccup caused lower than par scores. Mitchell Starc blew away Bangladesh's tail like it was the first of the little piggy's houses, something that will concern them going forward.
Other teams, like Australia or India, have batsmen with test or first class centuries down to number nine, which is great for both cases; to score quick runs at the back end or to knock it around when the top and middle order have succumbed. Bringing in Mehedi Hasan, and training their tail to bat better is a key step in their development.
#4 The Big Bucks
It is shocking how poorly the Bangladeshi players, the premier sportsmen in a nation of 161 million people, are paid. Players make less from international cricket than from the Dhaka Premier League, a regional 50-over competition. While the BCB have hiked salaries by up to 60% in the latest installation, they are still a long way off the big boys.
Bangladeshi cricket is growing in popularity, and with the rise of stars like Shakib Al-Hasan, Mustafizur Rahman and even the young Mehedi Hasan, there is a lot of money to be made off cricket, and it is just fair that the players are compensated equally.
To reach the pinnacle of the world game, Bangladesh's cricket board must begin to pay their players at parity with the big teams in the world, which will not only increase participation in professional cricket, it will also prevent players from seeking opportunities in the T20 circuit. Players will be able to afford specialised training for their game, such as personal fitness trainers, and playing for their country will be their priority, rather than a national duty. They will no longer need to play in professional or Twenty20 leagues to earn their keep.
Also read: Bangladeshi players cry foul over DPL non-payment
#5 Fielding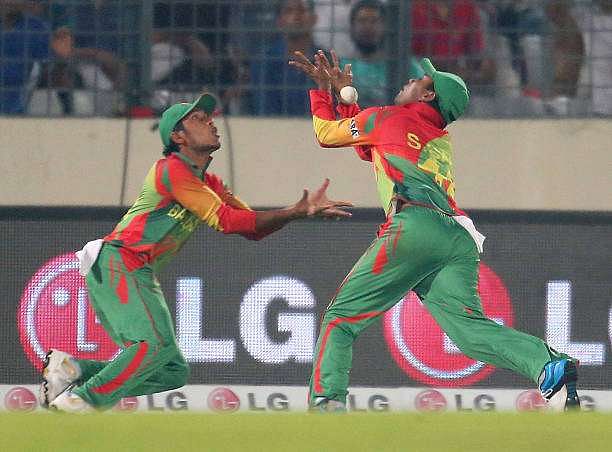 Perhaps the most glaring difference between Bangladesh and the top tier of teams is fielding. While there were glimpses of brilliance, the overall attitude, athleticism and catching was pathetic.
Bangladesh's fielding cast a shadow over their otherwise historic journey to the semifinals. Avoidable mistakes were pretty embarrassing for the team. They dropped regulation catches and let the ball pass through their legs, which is deemed as a cardinal sin for a fielder.
While Richard Halsall, England's former fielding coach, is currently tasked with the job of improving their fielding, it seems like there are no definitive improvements in their fielding effort. This will be Bangladesh's key concern, and they will need drastic change to even consider being one of the better teams.