7 Pakistani players accused of spot-fixing Lords Test, agent Held
1.19K //
29 Aug 2010, 13:32 IST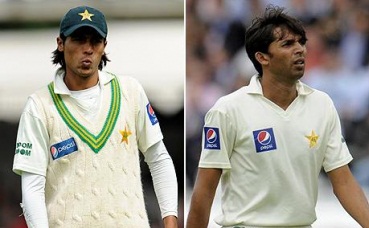 Pakistan's famed old monkey on the back has returned – MATCH FIXING . The icing on the cake in what has been a distastrous  year for Pakistani cricket both on and off the field. The chief conspirator behind the 150,000-pound betting scam- "players agent" Mazhar Majeed .According to a report in The News of the World, Majeed accepted the amount to arrange a fix involving Pakistan's new-ball bowlers, Mohammad Amir and Mohammad Asif, whom he allegedly asked to bowl no-balls at specific moments of the match. Amir and Asif did as directed  bowling three no-balls at the times specified by Majeed: Amir's first ball of the third over and Asif's sixth ball of the 10th over last Thursday, and the third ball of Amir's third over on Friday. On each occasion, the bowlers overstepped the crease by a significant margin. Allegations are rife on the involvement of team captain, Salman Butt,wicketkeeper Kamran Akmal and three other unnamed cricketers. To make matters worse, sums of money were reportedly found in the players' rooms although an argument is that they were made up of  daily allowances given to players on tour. Pakistan team manager Yawar Saeed has confirmed that Scotland Yard police officials had probed him and several players in connection with the allegations.
Some of Majeed admissions,which are yet to be verified, could spell doom for a nation heavily reliant on cricket as a way of life amidst terror, flood and poverty.
"I've been doing it [match-fixing] with them for bout two-and-a-half years and we've made masses of money," Majeed said.
"I manage 10 of the players, I do all their affairs like contracts, sponsorship, marketing, everything really. The players would never tell anybody else. They were the ones who actually approached me about this.
"This is the beauty of it. I was friends with them for four, five years and then they said this happens. These poor boys need to [do this]. They're paid peanuts."
A sad end to a tour that "was" a  testimony to test cricket!