8 Keys And 2 XFactors For India versus South Africa
695 //
11 Mar 2011, 23:23 IST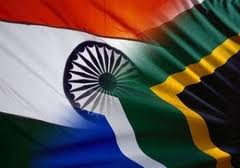 This is one of the hugest games in the Tournament so far. So here are my keys for it with two added XFactors thrown in!
India
1.The True Test For India's Batsmen
There is no doubt about the class of the Indian batsmen in every regard. Here against the World's most brutal new ball attack of Dale Steyn and Morne Morkel, it will be the definite case of the irresistible force against the immovable object. Who wins the battle will be the favourites to win the game. The Indian's must assume an ascendency here for its the key to their whole World Cup. For if their batting doesn't dazzle well you can't expect their very average bowling to bail them out. On the other hand if South Africa's bowling struggles, their batting is good enough to win them the game


2.The Battle Of The Mind-Myth Selling!
I for once think the 'chokers' tag constantly grouped with the South African Team is a tad unfair. For in all the games they have appeared to choke, there has been one common denominator-the great Australian side of the past. It would be within India's best interest to try to make a fantasy into a reality for the South African's by a bit of myth selling. They do this by batting first and backing their batting to get a very decent score. Then put the acid on the South African during the chase. A bit of chat in the ear about the 'pressure mounting' for the boys from the Rainbow Nation wouldn't go astray. For a few South African's might buy into it. It might give the Indian's a slight edge in a contest that promises to be tight!


3.The South African Spinners And In Particular Imran Tahir Plays-Destroy Them!
This journeyman leg spinner has been like a diamond in the rough for the South Africans. Against the Indians is the true test of a spinners pedigree. For the sake of this game and the Tournament going forward the Indian's would want to take their angry pills when he bowls, duly ripping him to shreds and destroying his confidence from the beginning. Also give the very useful part time spinners of Robin Petersen and J P Duminy a reminder that bowling spin against India is like trying to drive a car with no petrol in it! By the way, fitness worries of Tahir may make India's job slightly easier.


4.Can The Part Timers Keep Performing?
In Yuvraj Singh and Yusuf Pathan you have have two part time bowlers that have in the last two games against average Teams been very accomplished, thus giving India the hope that they can do it every time. Here against the men in South Africa, these two might be in for a brutal dose of reality and get belted everywhere. At the same time, conversely if they can be a factor it will be huge for India


Indian XFactor
Ravi Ashwin
This very accurate and efficient off spinner has been a huge hit in T20.He relies on his accuracy but has a truly lethal carom ball. It would be a great opportunity in a match as huge as this one for the Indian's to introduce him to the World Cup. For his shock value might be key in getting a crucial victory.

South Africa


1.Red Rag To Bull Mentality Over Constant 'Chokers' Tag
This would be a great opportunity for the South African's to shut a few of the peanut gallery up who choose to label them 'Chokers'. This came out in a tidal wave of jibes after their terrible implosion against England on a somewhat bowling favourable pitch. So they must try to drive home a point by giving their best shot and smashing India in the match.


2.Mr Dale Steyn
In this huge match against the World's best batting line up do you think this once in a generation bowler won't want to be included in the fun? I think he'll prime himself for a HUGE performance. You can see him putting a target on the heads of Sachin Tendulkar and Virender Sehwag and endeavour to get them cheaply. Thus putting all the pressure on the other Indian batsmen. I must admit that Steyn is one of the best bowlers I've seen in nearly 60 years of watching cricket and like with all the great ones. You can bank he'll be a huge factor here.


3.The South African Pensioners Are Due!
The pensioners being Graeme Smith And Jacques Kallis who so far in this World Cup have been overshadowed by the precociously talented pups in A.B.DeVilliers and J.P.Duminy. Though here in a big game that has such meaning to them as survivors of past South Africa World Cup tragedies and the Rainbow Nation as a whole you can back them to be huge performers here. You just have to revert back to the recent Test series between the two Nations to see how Kallis lifted.
These two 'Pensioners' might be huge factors in this game!


4.Break Down The Indian Bowling By Running!!!
This in reference to the fact that India is a very average fielding side. So if South Africa can put pressure on them from ball one with stealing the cheeky quick singles and turning the ones into twos, this could be huge in not only assisting the South African batting but breaking down the frail Indian bowling. If they are not backed in the field, the pressure will come on them like a blow torch which ultimately will lead them to melt like snow in hells fury.


South African XFactor
Morne Morkel
The focus when looking at South Africa is on Steyn and DeVilliers forgetting a bowler who is truly exceptional in Morkel. Don't be surprised if he has a huge game in this huge clash!

Prediction
I think South Africa that was stung by the performance against England might expose India in a brutal way!