A fitting tribute to Sachin: What the country can do for him
1.22K //
19 Mar 2012, 00:32 IST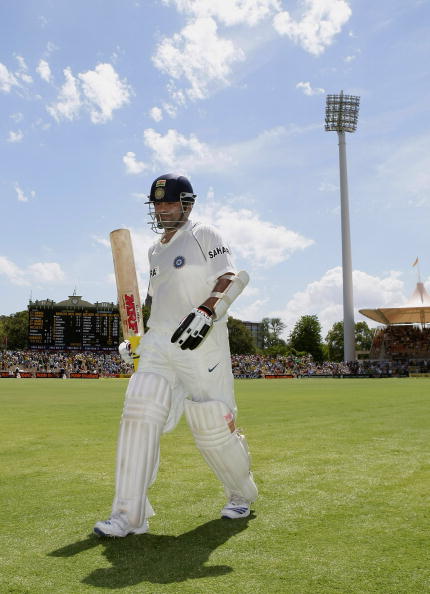 Sachin Tendulkar is God to millions across the globe. Right from the time he stepped onto the international playing field at the mere age of 16, he was hailed as a prodigy. With each passing year, he only seemed to get better at the sport. His latest feat, a hundred hundreds, is a record that has reaffirmed his position as one of the greatest players ever in the history of cricket.
To honour the man who has given his whole life to Indian cricket, it is glaringly obvious that the country must now come up and give the man what he truly deserves. Here is a compilation of possible alternatives that would serve as a small token of appreciation for the Master Blaster:
Conferring the Bharat Ratna upon Sachin
After running the single that completed his hundredth hundred, Sachin Tendulkar celebrated the feat with a lot of grace and subtlety. His gesture of pointing the bat to the Indian flag on his helmet, as if to dedicate the victory to the country, was one of intense patriotism and dedication for his motherland. To reciprocate what Sachin has done for the country, the least that the BCCI can do is to recommend his name for the Bharat Ratna. It is the highest civilian honour of the country, an honour well-deserved by Sachin, who is truly a rare gem.
A museum on Sachin's life
To commemorate the extraordinary life of Sachin Tendulkar, a world class museum that showcases the various facets of the great player can be built. Starting right from early childhood, the museum could chart the entire span of his career, covering major highs and lows, record breaking innings, etc.
Sachin as the subject of a chapter in school books
The story of Sachin Tendulkar is one of unparalleled passion, dedication and humility. It is also one of undying optimism and immense self-belief. A chapter on Sachin that picks up an incident(s) from his life could be a lesson well-learnt for thousands of school children.
Name a road after Sachin Tendulkar
As a symbol of commemoration of his achievements, a road in 100 cities of India could be named after him. If that suggestion is too absurd for the Government to handle, cricket fans could do with a road in his name in four major cities: Delhi, Mumbai, Chennai and Kolkata!
A cricket series/tournament in Sachin's name
Another alternative to honour the great cricketer would be to name a whole cricket series or tournament in his name, much like the Border-Gavaskar Trophy. Doing so would immortalise Sachin's name and be an appropriate payback for the man who took Indian cricket to great heights.
Build a stadium in Sachin's name
For a sporting icon like Sachin, what better way to honour him than a sports stadium in his name. This state-of-the-art stadium must be acording to international standards. A sporty tribute to an exceptional sportstar!
A special stamp could be released to honour the master blaster's century of centuries. This practice of releasing special stamps to mark extraordinary events and gentlemen is not uncommon and has often been done all over the world. A Sachin stamp would be a fitting tribute to the legendary cricketer.
Special coins to mark the remarkable feat of Tendulkar could be released in the market. These coins would not only be a delight for his fans, but also a precious collectible for coin lovers.
In the madness that Sachin's ton of tons has led to, the whole country is busy suggesting and voting on what would be the perfect tribute to our cricketing God. Tell me what you think is the best of these choices, and suggest new ones in comments below!