The below mentioned cricketers share a dubious record between them. Take a guess !
Answer: Chandrashekhar (242 wickets, 167 runs) , Chris Martin (181 wickets , 89 runs) and Brush Reid (113 wickets, 93 runs), have a record of taking more wickets than scoring runs in Test Cricket (of players who have taken 100 + wickets).
Tail end batting dates back to the early 1900′s with the legendary Bert Ironmonger, the butt of big, fat batting jokes.
Here's one of the more pronounced ones:
Mr . Ironmonger, not the best of batsmen, had just gone in to bat when his wife rang up and wanted to speak to him. The room attendant said "I'm sorry, Bert has just gone in to bat" Mrs. Ironmonger replied "Don't worry, I'll hang on, he won't be long."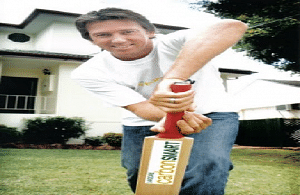 Fast forward — and nearly a hundred years later , a certain Australian Mrs. Jane could be forgiven for doing likewise after " The Pigeon" had laid a couple of huge, round eggs in his ODI and Test Debuts . However, things took a dramatic U-Turn, and after looking ill at ease at the batting crease, the pigeon flew dizzy heights with a stubborn 61 against the flightless birds of Kiwi Land. Testimony to his batting coach, The Iceman (Steve Waugh) who was a perfect wingman for the "bat"tling showman.
As a matter of fact, the last five International test matches have seen tail enders wielding their bats like swords and shielding their stumps like milords . A belligerent 80 and 64 respectively from Herath and Malinga to take the stuffing out of the Indian bowlers in the first test , followed by some fighting knocks of 41 and 27 respectively from Mithun and Sharma to take India on par with the Sri Lankans in the second test. Meanwhile a swashbuckling 65 from Umar Gul saved Pakistan's blushes although not for too long and Swann and Broad buried the Pakistanis with vital contribution of late 20's in assisting Prior to a well-deserved century. The third test between India and Sri Lanka saw Ajanta Mendis almost alter the course of the match and series with a sparkling 78 after some stiff resistance from Mishra and Mithun yet again with scores of 40 odd apiece . Pakistan's Saeed Ajmal took a cue with a swaggering half century and ably supported the debutant Haider who went on the fight the English attack (for once)!
Numbers do tell us a story . In 25 Tests this year, the last four batsmen (Nos. 8-11) average 18.46, with two centuries and 13 fifties; in 2009 they averaged 17.96, and both these numbers figure in the top five annual averages over the last 40 years .The importance of the tail cannot be undermined in modern day cricket where emphasis is laid on a sturdy defence rather than the occasional freestyle offence . The Charge of the Tail Brigade has certainy added another dimension to the enthralling game of test cricket . A Billy Joel tune comes to mind , reading the thoughts of a tall , fast bowler running in to uproot the middle stump of his fellow counterpart tailender…
They can kill with a smileThey can wound with their eyesThey can ruin your faith with their casual liesAnd they only reveal what they want you to seeThey hide like a childBut they're always a menace to me…..