Ambidextrous bowlers - a rare breed of cricketers
18-year-old Jemma Barsby can bowl with both hands Ambidextrous - adjective: able to use the right and left hands equally well. (Oxford) Kevin Pie ...
Ambidextrous - adjective: able to use the right and left hands equally well. (Oxford)
Kevin Pietersen started 'switch hitting' in 2008 in international cricket, and there was a lot of hue and cry over the legality of it. David Warner is another batsman who comes to mind when thinking of ambidextrous cricketers.
Ambidextrous cricketers aren't uncommon. Cricketers who bowl with one hand but bat in the opposite style are numerous. From Sourav Ganguly to Chris Gayle, from Clive Lloyd to JP Duminy, the list is huge. Sachin Tendulkar is right-handed on the field but uses his left hand predominantly off it.
Michael Hussey started off as a right-handed batsman, and only when he was 9 years of age did he switch to left-arm, inspired by the great Allan Border.
Cricket has been an orthodox sport and batsmen are told to keep their strong hand at the bottom of the handle. But there have been anomalies over the years, and in a refreshing way, more and more of them are springing up.
One such anomaly are ambidextrous bowlers; players who can switch their bowling arms in the middle of an over.
And it's all within the rules of cricket as well. All that the bowler needs to do is tell the umpire prior to the delivery, with which arm is he/she going to bowl next.
---
Ambidextrous bowlers in cricket's history
1. It's quite a queer incident, but Sir Garry Sobers scored his world record breaking 365th run off the great Hanif Mohammad's left-arm bowling way back in 1958.
The queer part is that Hanif was a right-arm spinner who decided to bowl a few left-arm deliveries to bring some change to the proceedings. (There are some claims by 'eye-witnesses' who say that the record breaking run came in the next over, but that he bowled left-arm is a fact. It's better to take Ramchandra Guha's word for it.)
In fact, Hanif picked up his maiden first-class wicket while bowling left-arm spin, when he bowled right-hand Somerset batsman Roy Smith in 1954.
2. In 1996 World Cup, when Sri Lanka racked up 398 runs and Kenya could manage only 254, Hashan Tillakaratne bowled both left and right-handed spin in the last over when the result of the game was beyond any doubt.
3. It is said that Graham Gooch, usually a right-arm medium pacer, imitated other cricketers' actions and was adept at bowling with his left arm, albeit in dead rubbers.
4. Ian "the freak" Harvey stunned everyone with his left-hand picks in the field and direct hits to the wicket from the outfield, considering that he was right-arm batsman and bowler.
But all this in good humour and fun. Is it possible to see a bowler one day change not just the bowling ends on the crease, but his/her delivery arm too?
---
Talented youngsters – The skill hasn't died yet
There are instances in lower level cricket where bowlers are doing so, though how they end up in international cricket depends on whether these skills are 'coached' out of them or not over the years.
In the final of the U-15 World Challenge held in England, a certain Mohammad Naeem of Pakistan bowled both right-arm off-cutters and left-arm orthodox. He gave away 34 runs in 7 overs, didn't pick a wicket, was the 2nd most expensive bowler for his side and faded after that.
But despite the stop start appearances of such anomalies, there are instances of ambidextrous bowlers emerging in recent times.
1. Louis Talay, at least till 2011, was being referred to as an ambidextrous bowler in first grade cricket in Australia. In 2010, the then 21-year-old, enrolled at the University of New South Wales, bowled both right-arm and left-arm spin.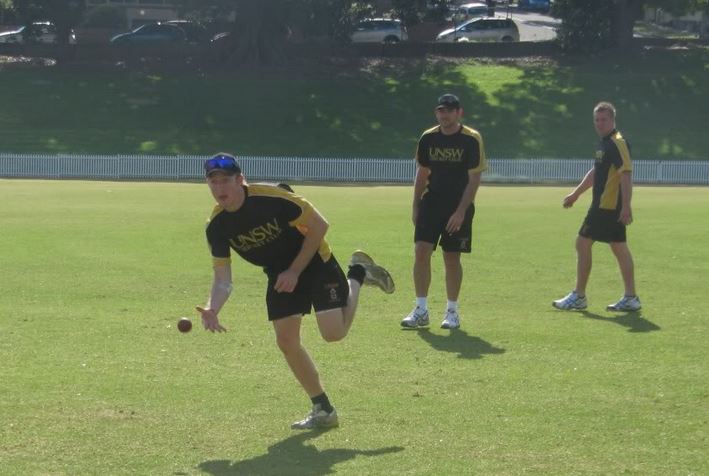 Louis Talay practising for UNSW
Naturally a right-hander, Talay started his stint with left-arm bowling after he fractured his right arm. At 13 years of age, a serious fracture in his right hand meant that he bowled with his other arm for 4 years, perfecting the art over years of practice, eventually making it his preferred choice of bowling.
In an interview back in 2010, he said, "There's still a lot of guys who are quite flabbergasted. Some of the guys that know, before I've marked my run-up, they yell out to the umpire which arm I'm bowling with, what's it going to be this morning?"
Even in 2011-12, Talay was continuing his 'freak' ambidextrous show with the ball, with opponents wary of this unusual threat.
2. Ambidexterity is not just limited to men in cricket anymore. Jemma Barsby, the 18-year-old from Brisbane is capable of bowling with both her hands.
The daughter of Trevor Barsby, a legendary Queensland cricketer himself, came into limelight with her unique ability to bowl with either hands a few years ago.
Making huge strides, she played for Australia A last year and was called up to train alongside the women's Ashes squad in England earlier this year.
It's an interesting tale in itself about how she developed the skill. She 'invented' the skill when bowling against her brother Corey in the backyard after getting frustrated of being hit repeatedly.
"I was getting sick of my brother smashing me around the backyard everywhere, so I tried bowling with a different arm. I started landing them pretty well bowling with my other arm and so I just kept mixing it up," she said while explaining the origins of her skill in an interview last year with News.com.au.
Here's a clip showcasing her switch-bowling ability
These youngsters may not necessarily be the torchbearers of ambidextrous bowling in modern cricket, but they certainly provide a hope of seeing such talent on the international stage in near future.
It's survival of the fittest out there. The more cricket tilts towards batsmen, the more bowlers are going to adapt. If batsmen can play a switch hit, it's only fair that bowlers are allowed to add to their own arsenal too.