An open letter to Virat Kohli
2.08K //
01 Mar 2012, 12:09 IST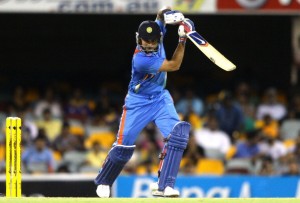 Dear Virat,
You know, about twenty years ago, in Perth, Australia, another Indian batting line-up had faced a great Aussie bowling attack and was folding up. A young man in his late teens stood up and played an innings which defined the next two decades for Indian cricket fans. It gave us the belief that no matter how badly we played, whether we won or lost, we would always, always have a shining star to be proud of.
Now, at the fag end of another inglorious Aussie summer for Indian cricket, we have witnessed you play an innings which may come to redefine the next decade or two for us fans. But Indian cricket fans are skeptics first, admirers second. Hence we ponder, question and doubt. But today we also believe. We believe that you have what it takes to climb to the top of the mountain and stay there. We believe you will pour sweat, blood and tears into your practice and games. We believe that you will dive to get another run every time its needed. We believe that you will cart the world's foremost artisan of the yorker everywhere around the ground, everywhere around the world.
Virat, please, we are not a rational breed of humans. We will not forgive a single mistake and we will expect a miracle every time you go out to bat. We will forget that doing endorsements doesn't mean you are lazy about your game. We will be unreasonable like nobody's business. We will ridicule you, use #viratsucks till it trends on twitter, and we'll never give you even a moment's rest. Please do not disappoint us. We want you to succeed; you have no idea how badly we want you to succeed. We want it this badly because none of us can even dream of putting in the work you do day in and day out for the love of the game.
But if you bear with us through all of this, and keep playing just play like you are right now, we will idolize you. We will worship your photos, build temples and shrines on random village roads. You will be a demigod for us. And then maybe after another momentous night 15 years later, another young Virat Kohli on national television will be proud to carry you on his shoulders because you carried the whole team for so long.
Virat, thank you for that innings.
We Believe.
- A crazy cricket fan