Andrew Flintoff: Of Donning Gloves Differently
1.23K //
16 Nov 2012, 19:38 IST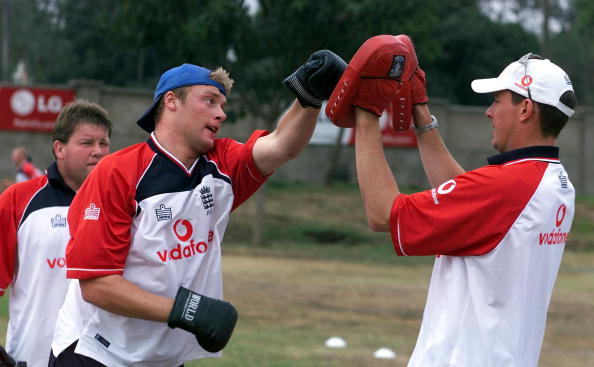 Let's face it, sportsmen are quirky. And because they are quirky, they end up being stubborn and adamant about their choices. Take Andrew Flintoff for example. As interesting as his professional resume reads, the man's determined to bring in more flavour to it by introducing a new vocation in his life – boxing.
Not that it's bad or anything – we all love to watch Rocky Balboa over and over again – but for a man who cited injury as the main reason for retiring from cricket, choosing boxing as a second career does look a bit bizarre. For, all the practical negations aside, even in the fictional world of Rocky Balboa, Rocky never managed to emerge from a bout with superhero-like physique; untouched and unblemished by the opponent's punches. Which is what the movie series was all about, wasn't it? About a certain rookie fighter taking all the hits and then still staying strong, thus demonstrating willpower and fortitude no matter from where his opponents challenged him.
Now Flintoff, he doesn't have demons like that. And unlike the fictional Rocky – pardon the correlation, again – people across do know who Andrew Flintoff is. So much so, that it's quite possible that once he gets into the ring and starts to get bludgeoned, many people might not recognise because of the numerous, yet unavoidable distortions to his face.
Does it sound harsh; a really blunt imaginative picture, that many might find demoralising? Maybe it does and maybe in all likelihood, it doesn't. Or maybe, it sounds harsh to some of his fans, but to him it doesn't really matter because he wants to fight it out. Either way, harsh or not, who are audiences to judge his call? He seems to have taken the decision; all that remains is for everyone to wait and watch – and literally, at that.
As hard as it is to cultivate patience for events like these, it's even harder to read experts' expert opinions on a constant basis, along with not-so-subtly given advices and hints about their personal thoughts on such decision-making. These days, ever since Andrew Flintoff's preparations to start a career in boxing have come to light, the thoughts of boxers from all over the world has started to become chaotically verbal. Thinking about such multiple opining, one wonders whether maybe Flintoff has bitten more than he can actually chew. Not in choosing boxing itself, but in indirectly taking on the judgemental calls of these experts, claiming to be native to the profession.
Cricketers though surprisingly, seem to have embraced the idea of Flintoff and boxing quite enthusiastically with many completely trusting the sports star to come out shining after a bout, or with a nice shiner, as the case might be in reality. What else would you call that, if not wholehearted support?
Changing professions is a common phenomenon. Especially amongst those who are dissatisfied with what they do and amongst those, who though may want to do something, are unable to achieve their professional desire because of unavoidable constraints. Andrew Flintoff, ironically, doesn't fit into either mould. Neither was he dissatisfied with cricket nor was he unable to prove his worth in the sport. His choice to take a professional backseat was voluntary and based on the understanding of his personal fitness. While many players have been known to be reckless with their playing schedule to suit their bodies, there are few who understand its limitations and regulate their playing life around these limitations, Flintoff being one amongst the latter. Which is why, his decisiveness to take up boxing becomes quirky.
And whether or not, the world get to see the boxing equivalent of Flintoff removing his cricket jersey to wave at the crowds, the world would definitely not want to glimpse Flintoff down and out for the count, as it generally happens with prize fighters in the ring.