Another World Cup, another win for 'underdogs' Ireland
2.09K //
16 Feb 2015, 23:21 IST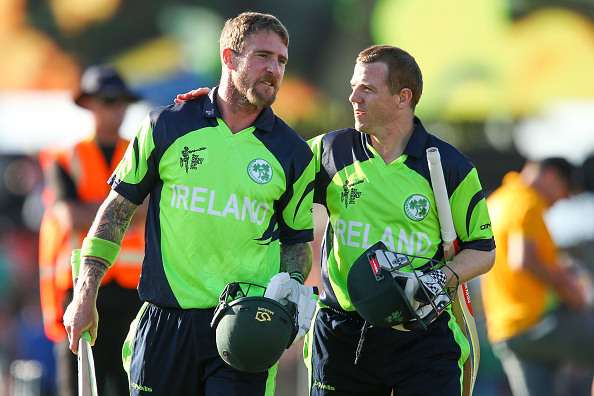 Everybody likes an underdog. In fact, they love them, they sympathise with them, and they applaud their character. They want them to win, but they don't expect them to win. That makes some wonder. What/Who is an underdog? An underdog is an individual or a team who is widely expected to lose. But then, some people don't understand sport. They think that maths can simulate the behaviour. But this is not a math test, where one and one adds to two. This is a different ballgame. Here, passion beats logic and beats it handsomely.
Why Ireland should not be labelled as 'underdogs'
"Once is fluke. Twice is coincidence. Three times is a pattern." So, would you call Ireland the underdog today? The answer should be a resounding NO. They might not look like it, but they are a team with capability. Although this is pretty early in the tournament, Ireland is the only team in this World Cup who didn't crumble under the weight of a 300+ score. They also became the first team to chase down a target with all the four winners of the previous matches batting first.
Oh, and they lost two of their potential match-winners, namely Eoin Morgan and Boyd Rankin, to the Brits. But in the process, they recovered Ed Joyce. And a Joyce in Ireland is worth two with the English.
Ireland went about their job well. They had a plan and they stuck to it. They don't have bowlers steaming in and delivering thunderbolts. They don't have prodigal spinners. All they have is bowlers who bowl in 120s and spinners who don't spin it by a mile. But they possess one thing which many teams lack. Accuracy and clever variation of pace is their key to today's success.
So, the licensed hitters of West Indies faltered against this strategy. It did not matter when Darren Sammy made the highest score by a No. 7 in World Cup history, or whether Lendl Simmons constructed a mask around the ruins of the West Indian top order. Rarely have two individuals overpowered the efforts of a team. And Ireland cashed in on this ineptitude of West Indies.
304 should have been defended by West Indies
Frankly speaking, 304 should have been defended by a bowling line-up that boasts of Kemar Roach, Jerome Taylor, Darren Sammy and Andre Russell. But on a flat pitch and a ground with relatively short boundaries, what WI lacked was discipline. Porterfield and Stirling began well and accumulated 71 for the first wicket. From there, it was no looking backwards for the Irish team.
Stirling stroked his way through the target in the company of Ed Joyce. These two guys never let the required rate go above 7 in the entire chase and therein lay the foundations of another memorable victory. A manageable run rate meant no nerves, and Ireland cruised along to another victory. As in Chinnaswamy, the winning runs came from the bat of Mooney. But this time, it was there was a sense of anticipation in this win.
The Irish team seems to be ready for the World Cup. But a machine is only as strong as its weakest joint. For the Irish team, it is their bowling. With the lack of pace, they really need to be accurate and provide no respite to the opposition. Else, it is going to be an uphill task for their batting line-up.
Now, the task at hand for Ireland would be to keep their head in their next game against UAE. They have a week's time to savour this victory and get back to office as usual. Unassuming and disciplined.