Aussie Challenge for the Lankan Tigers-Aus vs Sl
748 //
05 Mar 2011, 13:34 IST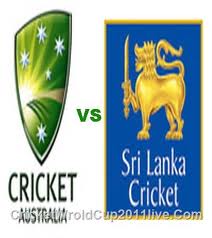 It's not too long left before the match gets underway at R.Premdasa stadium in Colombo between the two heavyweights of cricketing world the Oz and the island nation- Sri lanka in what could be a crucial tie for both these teams in thir run-up for the quarter final berth. Sri lanka has 4 points from 3 matches while Australia has as many points from 2 matches. The aussies will really be keen on maintaining their winning momentum and their undefeated streak in the world cup matches since their 1999 final victory at Lord's. Whereas at the same time Sri lanka will be planning to upset the winning cart of the aussies and make their claim in the Q/F berth all the more strong.

Bowling comparisons
Sri Lankans are relying heavily on their spinners and slow bowlers on these slow pitches and counting on the wizard-Muralitharan to deliver big-time today against the Aussies. The Australians seems to be somewhat uncomfortable with slow bowlers especially in sub-continent conditions. Maybe we can see the move of opening the bowling with spinners, as aussies looked to be in so much discomfort against the Zimbawbeans the other day. In aussies side,their bowling looks very solid with their Pacers- Brett Lee, Shaun Tait and Mitchell Johnson all coming to party in previous matches. They do have some worries as they only have one frontline spinner in Jason Kreza, with some slowers like Michael Clarke and spin of Steven Smith and David Hussey can come handy. Sri lanka must be mighty pleased with return of Malinga with a bang against Kenyans and in such a situation Australians will have their work cut-out today. So it will be Tait's speed vs Malinga's inswinging Yorker and Murali vs Kreza in spin bowling.

Batting comparisons
At the top of the aussies batting is the one of most devastating batter who can engulf any opposition single handedly on his day-Shane Watson has turned himself really over the ages into a more sensible player and not just a whacker and this ability really make him a potent weapon upfront for the kangaroos. For sri Lankans they don't have less devilish batter at the top in Tilakratne Dilshan who is equally capable too and they will rely on him to give them a brisk and solid start with Upul Tharanga as a reliable partner. At no.3 the most crucial battle is on the cards between both captains Sangakara and Ricky Ponting, both of them have responsibility to stay longer and provide solidity in their line-up for making a good score. Both these teams have bashers at lower down like Angelo Mathews, Kapugadera, Kulasekera/Perera for Lankans and David Hussey, Steven Smith, Jhonson, Lee for the aussies.
While Sri Lanka must be buoyed by their recent series win downunder and that too quite comprehensively but they know that this match by no means going to be a easy one and with home crowd supporting comes the pressure of expectations too, so they will have to start afresh and with new tactics to tackle aussies as they are known to bring their best on bigger occasions like the world cup. The odds are certainly in favor of aussies because of their recent good form in ODI format, So Sri lanka too have their task cut-out as the Australians will not let them breathe easy at any moment of this game. And for viewers point of view, it's going to be a classic display of cricket today at Premdasa(Colombo) and promises to add more spectacular scenes into this world cup. So get ready to get hooked on your t.v sets and wherever you are it's going to be a one-hell of a contest.