Balls of Fury
815 //
01 Aug 2010, 22:28 IST
Trivia : According to Ian Chappell, the term originated in Adelaide during the 1963/4 or 1964/5 Sheffield Shield season after a Percy ____ song When a Man Loves a Woman when a cricketer swore in front of a woman, which was taken to be as subtle (sarcastically!) as a ____hammer .Fill in the blanks.
Clue :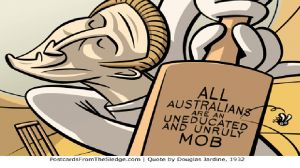 Answer : Sledge
The very roots of sledging can be tracked back to the Doc. Grace's ability to stand his ground would have done Sunil Gavaskar proud. Once, when the ball knocked off a bail, he replaced it and told the umpire: "Twas the wind which took thy bail off, good sir."
The umpire replied: "Indeed, doctor, and let us hope thy wind helps the good doctor on thy journey back to the pavilion."
The cricketing world danced to the calypso beats in the '60's and 70's and the star crooner was not one  shy of a mouthful on the pitch.
This incident took place during a county championship match between Glamorgan and Somerset. Glamorgan quickie Greg Thomas had beaten Viv Richards' bat a couple of times and informed the legendary West Indian ace: "It's red, round and weighs about five ounces, in case you were wondering."
The very next ball was given the King Viv treatment and smashed out of the ground, into a river – at which point Richards piped up: "Greg, you know what it looks like. Now go and find it."
Well, it was not long before the indomitable Australians took over the reigns and it had to be that man – the trash-talking, beer-swilling, finger-gesturing, ass-kicking son of a bitch ( lol no not Steve Austin!) but the Veeranpanesque moustache man Merv Hughes .
During a test match in the West Indies Hughes didn't say a word to Viv, but continued to stare at him after deliveries. "This is my island, my culture. Don't you be staring at me. In my culture we just bowl." Merv didn't reply, but after he dismissed him he announced to the batsman: "In my culture we just say fuck off."
Our mild mannered sporting hero also features in the thick of things, albeit wielding his most powerful weapon – the cricket bat.
The year was 1989, Sachin sent the then young leg spinner Mustaq Ahmed hiding for cover (he had hit two sixes in one over. The frustrated mentor of Mustaq Ahmed the legendary Abdul Qadir challenges Sachin saying "Bachchon ko kyon mar rahe ho? Hamein bhi maar dikhao` (`Why are you hitting kids? Try and hit me.`).
Sachin was silent. Abdul Qadir had made a simple request and Sachin obliged, and how. Sachin hit 4 sixes in the over, making the spinner look the kid in the contest. The over read 6, 0, 4, 6 6 6, David had felled Goliath … and a legend was born.
Minnows they may be, but Zimbabwean cricketers  never chicken out of a fight.
Aussie paceman Glenn McGrath was bowling to Zimbabwe number 11 Eddo Brandes – who was unable to get his bat anywhere near the ball. McGrath, frustrated that Brandes was still at the crease, wandered up during one particular over and inquired: "Why are you so fat?"
Quick as a flash, Brandes replied: "Because every time I make love to your wife, she gives me a biscuit."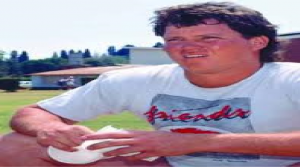 The Wayans would probably be inspired by a certain wicket keeping legend in naming their flick "My Wife and Kids" although Rod Marsh quoted it slightly differently.
When Botham took guard in a Ashes match, Marsh welcomed him to the wicket with the immortal words: "So how's your wife and my kids?"
Love it or hate it, but sledging has been part and parcel of cricketing history through the centuries and a little banter only serves up as a recipe for some lightweight(sometimes heavyweight with the Mcgrath-Sarwan incident)  entertainment .  Contemporary cricketers call it a form of art  and freedom of expression  and we as fans certainly don't mind a barb wired battle .