Beginning of a new era for Indian cricket
1.38K //
09 Mar 2012, 23:40 IST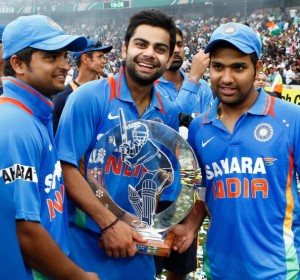 For a long time now, cricket observers have been wondering how India will cope once Dravid, Laxman and Tendulkar have retired. Well, we are about to find out. These 3 batsmen, with the addition of Sehwag and Gambhir in recent years, have been the lifeblood of India's Test team. They have defied slowing reflexes, creaking joints and the demanding touring schedule for over a decade. But every good thing has to come to an end, and that end is nigh. Laxman and Tendulkar's respective retirement announcements cannot be too far away. So, I ask, what next for
Indian cricket
?
In my opinion, the future is not looking too rosy for India in Test cricket. This is down to one thing, Twenty20. Ever since India won the inaugural World Twenty20, the entire country has embraced the format with the kind of love and attention normally reserved for one's children. This has manifested itself in the form of the IPL. Now, I realize I may get some criticism for saying this, but I am not a fan of the IPL, at all.
I believe it is far too showbizzy. You know too much emphasis is placed on advertisements when the commentators constantly have to say 'It's a DLF maximum'. The commentating is the main reason I don't indulge myself by watching it. But I am veering from the point. Whilst I recognise that there is some benefit in all these young Indian players getting to play alongside and against some of the greats of the game, I also think their mindsets are being irrevocably skewed in the wrong direction.
20 years ago, every young cricketer in the world will have dreamed of playing Test cricket. They will have dreamed of walking out in an Ashes Test at Lord's, or celebrating their maiden Test century in front of a deafening roar of support at Eden Gardens. Now, I very much doubt that is the case. Young kids now most likely dream of being sold in the IPL auction for over $1,000,000 and that is the crux of the problem, for India especially.
Twenty20 has become so prominent in India, I cannot see how kids dream of playing anything else. So whereas in the past, they would have tried to be like Tendulkar, trying to replicate the array of textbook shots he possesses. Now, they will try and be like Dhoni, smashing sixes over cow corner.
Indian cricket is already starting to see the effects of this change in mindset. At the moment, there is an abundance of young batting talent in India. The problem is, their talent is mostly restricted to the one-day arena. Virat Kohli and Suresh Raina are prime examples. Both of them are amongst the worlds best one-day players. The hundred Kohli scored against Sri Lanka in Hobart was some of the cleanest hitting I have ever seen. However, they have never been able to transfer their undoubted talent onto the biggest stage. Sure, they have impressed in fits and starts. The odd meaningful innings has been played but consistency (the hallmark of good Test players, has never been achieved).
So, what if Laxman and Tendulkar both retire in the next year? India will have to fill 3 middle order slots with inexperienced, incapable players. I named Raina and Kohli, but there are plenty more Indian players with the same problem. Rohit Sharma is another example of a player with supreme quality who has never learnt the skills required to succeed in Test match cricket. It will be a steep learning curve for these players, one that will separate the mediocre from the potentially great players.
India will have to rely heavily on Sehwag, Gambhir and Dhoni in the forthcoming seasons. Indeed, this will be a true test of Dhoni's leadership. As runs are surely going to become more of a problem he will have to rely much more heavily on a bowling attack which has consistently let him down in the last year. Ishant Sharma, more than others will have to step up and become the bowler he has always been capable of.
This is the beginning of a new era for Indian cricket. Their one-day side will continue to be world beaters. The fortunes of their Test side will depend on whether their young pretenders can step up to the mark set by the legends before them. It will be a test of character like they have never known before.