Best possible security for Pakistan cricket team: Shinde
694 //
08 Nov 2012, 14:41 IST
New Delhi, Nov 8 (IANS):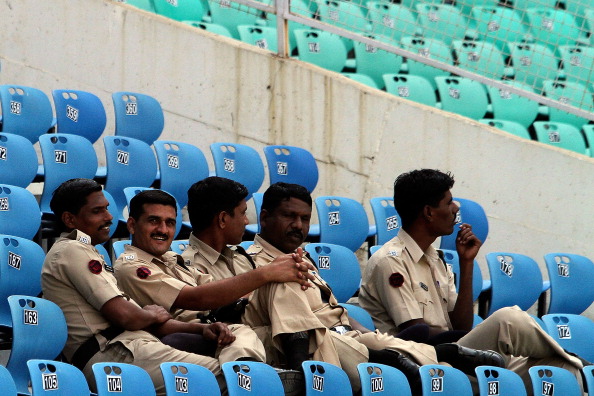 India's Home Minister Sushilkumar Shinde Thursday assured "the best possible security" for the Pakistan cricket team that is slated to tour India from Dec 25 for a five-match series.
Shinde's assurance, made on the sidelines of an event here, comes against the backdrop of Shiv Sena's threat to disrupt the series.
"When cricketers from other countries come to India, it is our duty to protect them, including when from Pakistan. We will discuss and provide best possible security," he told reporters, when asked about the threat issued by Shiv Sena chief Balasaheb Thackeray against the cricket series between the neighbouring countries.
There would be no compromise on the security of Pakistani cricketers and spectators, he said, adding that "We are going to be very alert".
Thackrey had Monday called for the disruption of the cricket series with Pakistan for which the Indian home ministry had last week given its go ahead.
Shinde also said that sports and politics should not be mixed as the cricket series will pave the way for improving bilateral ties between India and Pakistan.
He said sports should not be looked at from the angle of 26/11 Mumbai terror attacks, which was carried out by Pakistan-based terror outfit Lashkar-e-Taiba.
India and Pakistan will play three one-day internationals and two Twenty20 matches at Chennai, Kolkata, Delhi, Bangalore and Ahmedabad.
The two countries have not played a cricket series against each other since 2007 when Pakistan team had toured India, though the two sides played against each other during the 2011 cricket world cup semi-final at Mohali that was won by India.
India's Prime Minister Manmohan Singh invited his then Pakistani counterpart Yousuf Raza Gilani to Mohali to watch the match together.
On Pakistani interior minister Rehman Malik's visit to India for operationalisation of the new India-Pakistan visa pact, Shinde said Nov 22 and 23 was mentioned as a tentative date for the visit by Malik, when they had met in Rome on the sidelines of the Interpol general assembly earlier this week.
"We are yet to finalise the dates. We will give our response. They will also give their response. Then the dates will be finalised," he added.