Blunders from the Indian Cricket team selectors
984 //
29 Nov 2012, 10:14 IST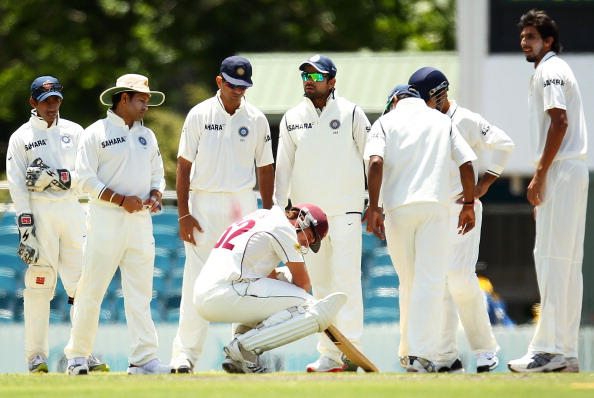 "Action causes some blunders in life". The same can also be said as "Inaction also causes blunders". But many will agree that it's better to do blunders through some action than sit quiet and allow them to happen. Our Indian Cricket team selectors certainly seems to belong to the second group of people who tend to not take any action at the right time, which eventually leads to blunders. But we cannot blame the current set of selectors or the previous ones. This quality of inaction/non-decisiveness in the Indian cricket team selectors has been going on for ages, except for a short while during the 1980′s when Kapil Dev and Sunil Gavaskar were captains.
India's One-day team looks to be in a much better shape, although there are some chinks in its bowling department. So let us dwell into last 2 years of India's test series losses and the selections after those losses. India's batting woes have started long back in England in 2011, where the experienced batsmen struggled to cope with the English pace attack. India lost that series 4-0. The selectors and people managing the team should have realized that the 4-0 drubbing was no fluke for the Englishmen. It was a reminder that the Indian batting is in decline and experienced players had to be rested or replaced in the future test series.
The immediate succeeding tour of West Indies in India 2011 should have been taken seriously as a ground to blood few youngsters. Instead, the selectors, reluctant to make hard decisions, opted for the experienced batting order of Sehwag, Gambhir, Dravid, Sachin, Laxman and Yuvi. Yuvi missed the 3rd test match because of his illness and so Virat Kohli got a chance. India won the series comfortably 2-0, before the 3rd test was dramatically tied in Mumbai. What had India wanted to prove then? Did they wanted to tell the world that we are world beaters in India and losers everywhere else? It certainly looked like that after the tour of Australia where India lost the 4 test series again by a margin of 4-0.
Had some hard decisions been taken while selecting the batting during the tour of West Indies, like resting Dravid or Laxman and definitely resting Sachin for sure, but selecting and playing the players like Kohli, Rahane and Raina, it would have paid rich dividends. If these youngsters were given a chance, they would have grabbed it with both hands and scored runs aplenty since West Indies wasn't a good bowling unit then. The plus points would have been 1 or 2 of these youngsters would have been in form for the next tour of Australia, which followed immediately after the West Indies tour to India.
The Australians, before the test series started, were looking really weak on paper, with their bowling unit looking depleted and the batting unit not clicking for a long time. As for the Indian team, it just required one innings from any one of the senior players or the youngsters in the first 2 tests in Australia to turn the tables in India's favour. But the seniors as well as youngsters looked woefully out of touch and were not confident enough to play long innings. This resulted in subsequent losses in the 3rd and 4th test. There were some below par performances by the Indian batsmen, which actually looked like those were innings just to cement their place in the team.
What was the result of these terrible away losses? It resulted in the retirement of class acts like Rahul Dravid and VVS Laxman. One personally felt that they still had 1 or 2 years still left in them. But really, Rahul Dravid should earn accolades here, for choosing to retire at the right time. In the Australian series, he had a string of bowled-outs, which must have triggered his decision. But he was the best batsman for India in the series in England earlier.
Some blunders lead to dire consequences and we will have to face the reaction now. Sachin was due retirement long back, even before Dravid and Laxman. But now, even the team management and selectors do not want him to retire because India is carrying a weak batting order with some youngsters and some non-performing stars like Gambhir, Dhoni and Sehwag. Also, the selectors are not bold enough to replace any of these non-performing stars with youngsters.
If those 3 youngsters, as mentioned previously, had been given opportunities earlier in that West Indies Tour of India, the situation would have been different, as we would have had youngsters whom we could have fallen back to replace the non-performing stars. These are only some examples of how some inactions leads to blunders.
The current selection panel needs to step up if it has to earn some kudos. But there seems to be no difference as the team selected for the 3rd test against England in the ongoing home test series is unchanged. If 1 or 2 players were axed for the 3rd test, then at least the other players would have got right signals from the selectors that they should either perform or perish. So what we really need to ask is –  when will the selectors learn to take some action and consequently, avoid making blunders?