Bollywood and Cricket - Role reversal
I have always been a perennial Bollywood sucker and a Cricket geek. And then I saw the big fat wedding  between the two.  King Khan throwing kisses that outnumber the runs his team scores makes an exciting statistic today. Young budding cricketers realizing their teenage dreams of hugging Priety Zinta make for great stories. They also dreamed of playing for India, I am certain. And Priety Zinta is a Bollywood actor.
So while everyone's enjoying the Dirty Picture starring Cricket and Bollywood, I thought it would be interesting to draw parallels between cricketers and actors.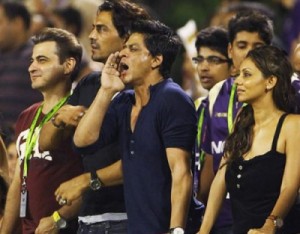 Virender Sehwag  as Dabangg as Salman Khan
It is no secret. Salman Khan detests acting  as much as Sehwag abhors technique. But they know exactly how to  produce blockbusters.  Both go about their business with absolute disdain making a mockery of the rules, but championing the art . With their consistent performances at press conferences, both can also be credited with putting erstwhile 'Controversy Queen' Rakhi Sawant out of business. Oh Jeejus !!
Sachin Tendulkar, the Rajnikant  Bachchan of Cricket.
"What Sachin can, even Rajni can't" was the SMS that was doing the rounds when Sachin Tendulkar completed the unfathomable feat of a 100 hundreds.  The Sachin euphoria that has ruled the masses for 20 years is comparable to or maybe greater than the Rajnikanth frenzy that stretches beyond borders. But then Tendulkar is also considered an institution in himself, a master of his art, just like Amitabh Bachchan. And that's what makes Sachin Tendulkar the Rajnikanth Bachchan of Cricket.

Gautam Gambhir, confused like Shahid Kapoor
Gautam Gambhir's stint is as mystifying as Shahid Kapoor's quandary:  "Am I a kameena or just plain maasoom?" Gambhir had an absolutely kameena performance in the past when he scored in abundance. He was also touted as a successor to the captain. But then came a rather maasoom year when the runs dried up just like Shahid's movies' box office collections. Never  Rockstars maybe. But surely more reliable than Poonam Pandey's  empty promises.
Virat Kohli, the Rockstar (Ranbir Kapoor)
The new kids on the block ballyhooed to be numero uno. Excellent performers of their art. And the women love them too. One can certainly expect the greatest gigs in the future from these two Rockstars – Virat Kohli and Ranbir Kapoor. Interestingly they both like sticking out their middle finger too.
Suresh Raina, the Imran Khan of Acting
Arguably the best T20 batsman and an excellent 50-over player, but the classic Test match stage still eludes Raina. Much like Imran Khan, the star with a string of popular hits to his credit but yet to showcase any acting traits. The short ball makes Raina look as gauche as Imran Khan's brave attempts to emote. The cricketing world awaits the actor in Raina on a fiery first day Test match Perth wicket.
Rohit Sharma flatters to deceive like Vivek Oberoi
The baggage of Mumbai cricket grounding and the Tendulkaresque batting style promised a lot just like Vivek Oberoi's  'Chandu'  in RGV's Company. But Sharma's poor temperament on the field has been analogous to Vivek Oberoi's temperament off it.  Sharma gives away his wicket too easily and Oberoi gives away well-kept secrets in press conferences. However, a few good knocks like Saathiya, Shootout at Lokhandwala and the recent chase against Pakistan in the Asia Cup surely augur that all is not lost for the promise shown.
Mahendra Singh Dhoni – ups and slowdowns galore for the SRK of Cricket
I am no fervent SRK fan, but it was difficult to ignore the man's Midas touch which used to be second to none. And MS Dhoni's journey in the last 8 years has been no different. Stuff that fairytales are made of. Both project a very cool demeanor to the media and their tongue in cheek humor  always makes for great sound bytes. But sport has always been a great leveler. And so is cinema. Ra.One may not have been a complete wash-out like the England and Australia series, but the ride has never been tougher for the two stalwarts than in recent times. Here's hoping for a great comeback.
Ravindra Jadeja  shines like Tusshar Kapoor
Jadeja has always been effective but never the glorious cricketer one would associate with the Indian line-up. Much like Tushar Kapoor in Bollywood. While the seasoned Ekta Kapoor has ensured that her brother has a long innings,  Jadeja has found a bro in his captain MS Dhoni who seems to fancy him quite a bit. But then, to Jadeja's credit, he has effectively gone about his business without making too much noise. Just like Tusshar Kapoor's  muted rendition in the Golmaal franchise.
Irfan Pathan, still coming back like Bachchan Jr.
Abhishekh Bachchan has brand "Idea". Irfan Pathan has IPL. Apart from these two life-supports, they are both always making comebacks. One to the big screen. The other to the big international stage. However the frequency of their comebacks might soon put Uday Chopra to shame. It's about time they come. And manage to stay. For  a while at least.
Ravichandran Ashwin  rounds up like  Farhan Akhtar
"Am I a batsman who bowls"; "Am I a director who acts".
Ashwin, an orthodox off-spinner who managed to sideline Harbhajan Singh without getting slapped, had arrived. Farhan Akhtar, the director who gave us  Dil Chahta Hai and Lakshya was already a part of cinematic folklore. Then we saw Farhan Akthar – the actor. A reliable actor, maybe. Similarly came along R Ashwin's exploits with the bat. A reliable batsman , maybe.
In between all the role-reversal, Akhtar,the director gave us the Don franchise that seemed to lack the flight of an Ashwin delivery. Meanwhile, Ashwin's bowling in Australia lacked the direction of  Farhan Akhtar. Well, they may not be great all-rounders just yet, but here's hoping they make the best bowler and director they could possibly be. Needless to say, Farhan Akhtar's vocals are only as good as Ashwin's fielding.
Zaheer Khan, our very own Ajay Devgan of Indian Cricket
Strong, secure and a champion performer in all formats of the game – those are the qualities one associates with Zaheer Khan. His virtue has always been his command on the field and his critical performances in India's wins without ever being in the limelight have been worthy of applause. The same can be said of the seasoned and talented Ajay Devgan whose command at the box office and innate skills in front of the camera are every star's envy. To speak while looking the opposition in the eye (on the field for Zaheer, on-screen for Devgan) is another striking virtue shared by these two unsung heroes.
May cricket and Bollywood continue to entertain India for centuries to come!