Border-Gavaskar Trophy: 4th Test, Day 1 - Spinners to the rescue
943 //
22 Mar 2013, 20:19 IST
It started off well for Australia. The acting captain looked decidedly poised – considering the upheaval that he and his team have been going through – and markedly confident. The latter went up a few more notches after Watson won the toss and decided to bat first on a track that is known to favour the bowlers more than the batsmen. His logic – to get out and score as many runs as possible and then try and defend a healthy score as the pitch starts to deteriorate for the batsmen.
However, what Watson didn't favour was the fact that throughout the course of this series, it's been the Indian bowlers who have managed to wreck havoc upon their hapless batsmen. More importantly, the Indian spinners, who ensured that the run drought for Australia continued and they were left clutching at straws and without any recourse as to where to turn.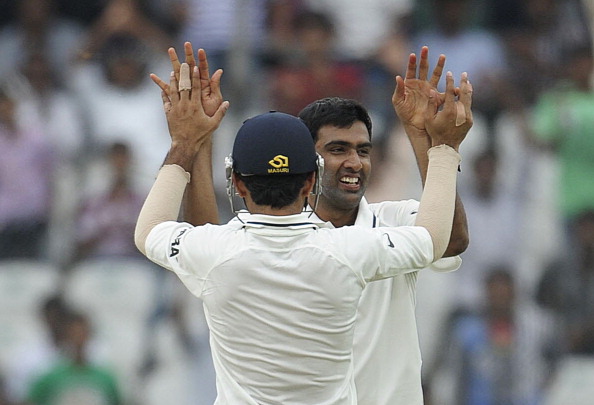 And the spinners didn't let India down at Delhi either. As effective as Ishant Sharma was in his opening spell, taking down two Aussie batsmen – David Warner (0) and Philip Hughes (45), it was the introduction of the spinners in the second session that wrecked the entire Australian batting order. Though, unlike in the past, none of the wickets were courtesy of LBW – most of them were clean, free of all ambiguity and absolute beauties – and the newly picked out Australian squad was reduced to shambles. The flamboyance of the Australian batsmen, as displayed in the pre-lunch session, withered away and soon they were back to defending and struggling to stay on the crease.
Ravichandran Ashwin was the pick of the spinners with figures of 4-40 at an economy rate of 1.33 and Ravindra Jadeja complemented him perfectly with figures of 2-34, giving away only 1.54 runs per over. The pitch may have definitely cracked up, helping the spinners turn the ball prodigiously even on the first day but it can take nothing away from Ashwin and Jadeja's performance. The six wickets that these two bowlers shared between them included the entire Australian middle-order, even the resilient Steven Smith who was involved in a crucial partnership with Peter Siddle and stabilised their innings. Statistically speaking, Australia looked to be in decent shape at a score of 106 runs for the loss of three wickets in 33 overs. But the next four batsmen – including captain Shane Watson – managed to add just 30 runs in the next 15 overs. It was only after Peter Siddle came into the middle that they managed to regain their batting respectability with Smith and Siddle contributing 53 runs to their overall total.
Ashwin, who has till now taken two five-wicket hauls in two Tests of this series (Chennai – 7/103 and Hyderabad – 5/63), also had the best economy rate in a day's play since 2000s. Given his consistency so far in the series, it probably won't be wrong to predict that he would add a few more valuable wickets to his kitty. If Ashwin is edging towards cricketing records, Jadeja on the other hand, has managed to dismiss an Australian captain for the seventh time in this series. And not just one captain, but two different players at that. His credibility as an all-rounder – with extra emphasis on his bowling – seems to have been proven for the time-being though it still remains to be seen whether the 24-year-old would be as effective in overseas cricketing conditions, as he has been in India.
His work, along with Ashwin and Pragyan Ohja, still remains half-completed. With four more days of play to go, and two Australian wickets still to be taken, India will be looking to exploit all chinks in the Australian armour. The Australians still face problems while dealing with spin. An old nemesis, spin and spin bowlers remain the bogeyman dismantling them time-after-time. Ashwin and Jadeja are only carrying forth India's proud legacy of being spin sensations.