"Can't think of a life without cricket" - Ranji Cricketer Vasanth Saravanan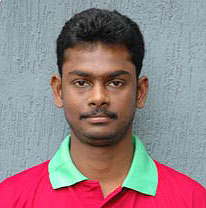 Cricket has always been the heart and soul of most of the kids in India. Every kid grows up with the aspiration of becoming a cricketer. While some succeed at doing it, most of them do not. The fortunate ones are those who find a place in the national side. In a country which is packed with more than a billion people, even the cricketers who could represent their state at the Ranji Trophy level should consider themselves rather lucky.
One of those fortunate ones was Tamil Nadu-born cricketer, Vasanth Saravanan. When the Under-19 World Cup was held in South Africa during 1997-98, he was considered one of the brightest prospects for the future. He was in the same squad that had current stalwarts like Virender Sehwag and Harbhajan Singh. Though he was known for his prolific middle order batting, he was no mug with the ball either, adept at rolling his arms over. Unfortunately, the middle order of the Indian team was quite settled during those days, with Dravid and Ganguly performing consistently. Therefore, in spite of some decent performances at the domestic level for Tamil Nadu, he was unable to make it to the Indian cricket team. Later on, he played for Assam, and currently plays for Goa. Recently, I was privileged to contact him and rope him in for an interview for Sportskeeda.
Representing India in any sport should be a dream for anyone. You had a stab at it quite early in your career, when you were picked up to play for India in the Under-19 World Cup. How was your experience? And was it also the first time you travelled abroad for any cricket match?
Yes, it was a dream come true for me to represent India in the Under-19 World Cup. Since I was able to score loads of runs that year, I was quite confident of getting selected. It was a great experience for me to be playing at international venues. In fact, when I was just 15 years of age, I played for a club against the Maldives national team in Maldives, which was my first overseas experience.
Virender Sehwag, Harbhajan Singh and Mohammad Kaif are some famous names who played alongside you during the Under-19 World Cup. All of you would have obviously become friends. Now that they are very established cricketers for India, do you still get to talk to them, recalling the events of the World Cup?
I am in regular touch with them over the phone, and I also meet them during cricket matches sometimes. I do have a good rapport with all my old pals.
Having been involved in cricket for the last 20 years, how much are you enjoying playing it now? What is it that keeps you going for so long, making you perform consistently?
I love the game, and stand dedicated to it. It is impossible for me to think of a life without cricket. It is this passion which gives me the strength to perform.
What was the best moment of your life, apart from being a part of India's Under-19 World Cup team?
The best moment of my life has to be in 2003-04. I was one of the top five run-getters during that period in the Ranji Trophy. It gave me enough confidence to scale greater heights. It was at that time of my career when I was interviewed many-a-time on television.
The next big moment arrived when I got selected to play in the ICL, representing the Chennai Super Stars. I was really fortunate to play alongside leading cricketers of the world, like Stuart Law and Inzamam-ul-Haq. In fact, I was very honoured to work under Michael Bevan, who was our coach.
Can you take us through your lightning innings of 34 against the England Under-19 team? It was easily one of your best innings, wasn't it?
Yes, I clearly remember that knock even now. I had a very good partnership with my captain during that innings. Maybe because my position in the batting line-up kept changing for every match, I was unable to do well on a consistent basis during the World Cup.
The Guru Nanak College had a very good cricket team, and is known for producing great cricketers. In fact, it has one of the best grounds in Chennai. How big was your college's influence in uplifting your career?
Guru Nanak College did play a huge role in helping me progress. We had our own cricket ground with turf wickets. We were allowed to go there any time for practice. My college management encouraged me very well. They did not mind me skipping classes either for practice sessions.
How different was it to play for Assam, as compared to Tamil Nadu? Also, please talk about an important innings that you played for each of those two teams…
You get different experiences while playing for different teams. Tamil Nadu was more of a professional side, marked by a clean setup, right from the selection of players. I have played for them for 5 years, but I should tell you that each and every time I took guard, I felt like I was just debuting. There was a lot of competition in the team, which was bestowed with great talents.
On the other hand, when I started playing for Assam, I was the most experienced. The scenario was such that the whole team was dependent on me. That feeling made me stronger, and helped me give my best. I captained Assam for two years.
Playing for Tamil Nadu, I got 128 runs against Andhra in one match, which I consider as one of my best innings. We were 4 wickets down for 30, chasing a mammoth target of 330, when I walked in. Similarly for Assam, my 124 runs against Bengal almost won the game for us, and that is why it was also one of my most special innings. That was the time when Assam started winning against bigger teams.
How was your experience playing under the captaincy of Saurav Ganguly for the East Zone? You must have been thrilled to have been playing under his leadership.
It was one of my happiest moments when I played under the captaincy of Dada (Ganguly). He was such a cool person, and used to call me 'Sarva'. We even played together in the middle, and it was a treat to watch him play from the non-striker's end. When I whacked 89 runs in less than 100 balls in a game against North Zone which we won outright, he praised me a lot.
Talk about your experience in the Indian Cricket League. You might have had a chance to bat against some quality bowlers from all around the globe.
The ICL was one of the best things to have happened to me. I was very excited to share the dressing room with some of the top cricketers of the world. Initially, I found it very difficult to play the quick deliveries, but at the end of the first season, I was one of the leading batsmen of the tournament. It became easier for me to play them once I started timing the ball.
Who are the best bowlers you have played against in the Ranji Trophy?
Zaheer Khan, Harbhajan Singh, Rakesh Patel, N.P. Singh from Hyderabad, Ananthapadmanabhan from Kerala, and Ashish Nehra are some of the best bowlers I have played against.
What is your view on T20s, which are being watched widely nowadays? Will Test cricket take a backseat hereafter?
T20s are just meant to entertain people. It is just like watching a movie which you forget very soon. It is Test cricket which ultimately showcases a player's talent. It develops in you the will to survive, and gives you a special identity.
When you retire, which I am sure is a long way away, what do you plan to do in the field of cricket?
As I have said many times before, I definitely can't live without cricket. I surely will be associated with the game in some way or the other – may be as a coach or as a selector.