Cheteshwar Pujara - The next 'Wall' in construction?
931 //
21 Nov 2012, 10:20 IST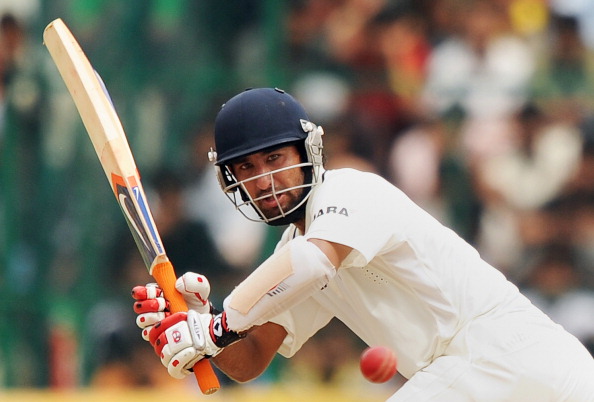 India has found another wall in the form of Cheteshwara Pujara, after the initial wall of Indian cricket – Rahul Dravid – hung his boots from international cricket. Admittedly, it is too early to compare Pujara to Dravid; Pujara has not even played a double digit number of Test matches. But one can definitely get a glimpse of Dravid in Pujara when he is on the batting crease facing either the pacers or spinners.
They have a similar batting technique with solid temperament to showcase their skills. Dravid's appetite for runs has always put him in good stead against the best in the business. Pujara is not far behind with his domestic performances, where he had made it a habit of scoring huge runs. One may say domestic matches are different from international matches, but what if the player has already scored a double hundred (206*) against the English side? Not all can come out and deliver it straightaway on the international platform.
Once Dravid got his eye in, he could even bat with a toothpick, see the cricket ball as if the size of a football and pierce the gap with an eye of a surgeon. He was that good. The same cannot be said about Pujara, but he will slowly and gradually reach to that level hopefully, if he does not get complacent. Looking at the way he batted against the Australians, English and New Zealanders in his short span, he is also in a league of his own, where it is difficult for bowlers to get through his defense, once he settles in the batting crease.
Rahul Dravid was known for his footwork, where he had the bat and the pad very close to one another when he was offering a shot. Even ants would find it difficult to get through his bat and pad. Pujara also seems to play the ball with the bat very close to the pad, which is a good sign for any cricketer. Both these players may not be very offensive, but do not underestimate the range of shots that these players possess. Rahul Dravid played all round the wicket with equal ease and Pujara is no different, though, he still remains to be tested on foreign soil. This is going to be his true test and if he stands tall on the bouncy pitches, then we can announce the arrival of the second Indian wall.
Talent alone is not going to take you anywhere, but one has to work tirelessly with full dedication to earn the tag of one of India's finest. There are a number of players who represented India for many years, but couldn't play to their full potential and their talent got wasted. Vinod Kambli is one such name, who did not do justice to his talent and in today's world, Rohit Sharma is also following a similar pattern. Pujara needs to be careful and should not get carried away with success. With success comes fame and many other things along the way.
But, if anyone can come any close to Dravid, it has to be Pujara, who has impressed in the few number of matches he has played.