CLT20: The Tale of two Underdogs
The 2013 edition of Champions League T20 is drawing to an end. The teams playing their semi finals are ready and are raring to go. Two teams have already qualified for the last two whereas four teams are in fray for the remaining two spots.
The last Group A game between Mumbai Indians and Perth Scorchers will decide whether Mumbai will go through for the semis or will they leave way for Otago Volts to make it to the crucial knockout tie. As far as Group B is concerned, Trinidad and Tobago will have to play out of their skins against Chennai Super Kings to seal the semi final spot ahead of Titans.
Over the past two weeks, many exciting players proved their worth to the cricketing world. Some of the successful rookies to have played in this year's CLT20 are Jimmy Neesham, Evin Lewis and Hardus Viljeon. Out of the twelve teams participated, a lot was expected from Kandurata Maroons. But they failed to impress by returning back home after the qualifiers.
But there are two teams which won everyone's heart with some breath taking performances. They both came into the tournament as underdogs and now they are on the verge of making it to the semi finals. We bring you the tale of two underdogs in this year's CLT20.
Trinidad and Tobago Red Force: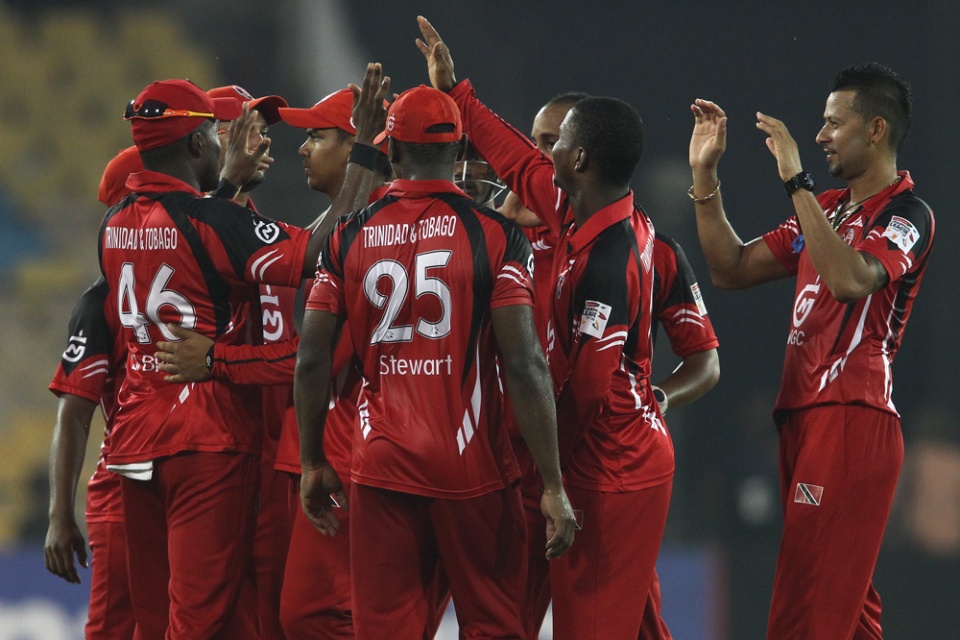 Football following cricket aficionados will know the similarity possessed by Caribbean cricket giants Trinidad and Tobago Red Force and once English Premier League Invincibles, Arsenal FC. It is not that like Arsenal, Trinidad is having an eight year trophy drought. Trinidad had won the West Indian domestic T20 competition thrice in four outings. But their record in CLT20 is not as good as their record in Caribbean T20 tournament.
The similarity is that even after losing out their star players to their rivals, they still manage to fight hard and win people's heart even if they fail to win silverwares. They have qualified for the global cricket carnival four times and were equally impressive in all their outings. The inaugural edition of CLT20 saw a Trinidad side which was an unknown commodity then.
Their love and passion for the game was clearly visible in the way they turned out for the tournament. They surprised everyone with their giant killing spree that saw the red force making it to the finals and stars like Lendl Simmons, Ravi Rampaul, Dwayne Bravo, rookie Kieron Pollard made some good impression. In 2011 they proved their 2009 show was not a fluke.
Without their star players like Pollard and Bravo, they almost made it to the semis. They bowled brilliantly and defended very low total against the mighty Chennai Super Kings and almost defended 98 against Mumbai Indians. This saw the birth of mystery spinner Sunil Narine and Kevon Cooper.
They might have left home without winning any trophies, but they won millions of hearts with the spirit they play the game. Now in 2013, they have a good chance of winning the tournament.  Again their stars Pollard, Bravo and Kevon Cooper let their home team down. Trinidad is facing a mighty task in order to qualify for the semis.
If Trinidad wins against the favourites CSK, they will go through directly. But if they lose, they need to lose with three or lesser balls when defending a total and while chasing, they need to make sure they lose by five or lesser runs to qualify for the semis even though they are ahead of the Titans on net run-rate, but it is only a marginal advantage.
It is an uphill for Trinidad sans their star players and they will put in some spirited performance in the field. With the Kotla track expected to assist spinners, Trinidad have a slight advantage over their rivals.
Otago Volts: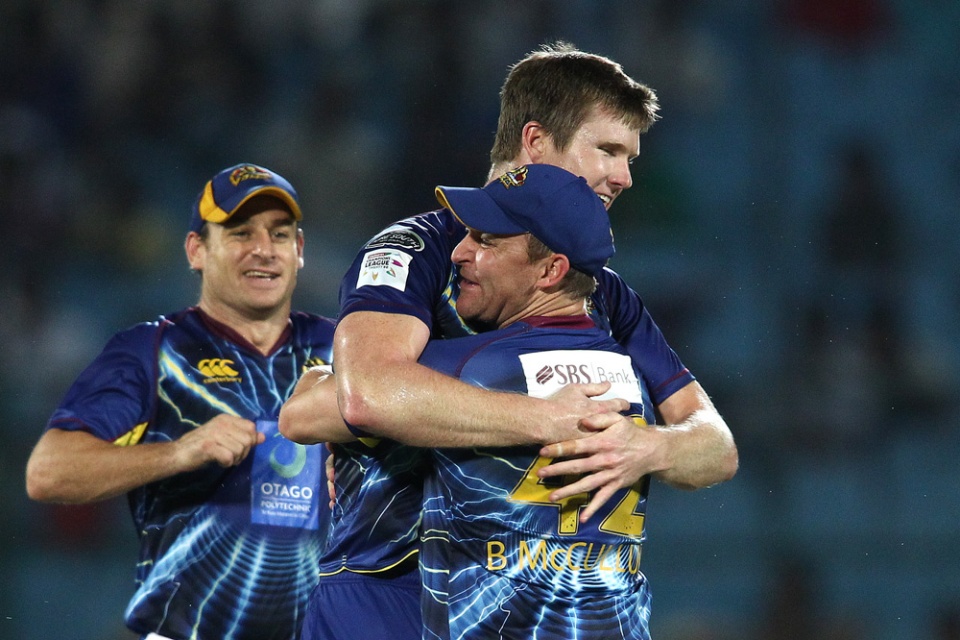 In the previous editions of CLT20, not even a single from New Zealand showed some promise. They were just like being a team among other competitors. This time though a Kiwi outfit is out to show what they are capable of. Before the tournament started, no one gave Volts a chance of making it to the main round.
The HRV Cup 2013 Champions were on a 15 match winning streak this year which was halted yesterday by Rajasthan Royals at their fortress in Jaipur. Unlike Trinidad, they are almost through to the semis unless Mumbai beat Perth Scorchers by a big margin when they face off each other in Delhi. Seeing the current situation, and the kind of bowling attack Perth have, it is almost impossible for Mumbai to chase down 150 with 34 balls to spare.
The Volts have a strong batting line up and can play some fearless cricket shots even if the wickets are trembling down at the other end. They were playing some quality cricket since the qualifiers and are all set to fly to Delhi to play the Super Kings in the semi finals. Led by explosive Brendon McCullam, the Volts have the potential to win the CLT20. Their all rounder Jimmy Neesham is in prime form and with some scintillating show in each and every match, he is just increasing his value for next year's IPL auction.
The Champions League T20 has seen an underdog winning the title in 2011 when a depleted Mumbai Indians hit the multi-million jackpot. This time expect any one of these sides to go all the way and go home victorious.