| | |
| --- | --- |
| Full Name | Sunil Philip Narine |
| Date of Birth | May 26, 1988 |
| Age | 34 Years |
| Nationality | Trinidadian |
| Birth Place | Arima, Trinidad & Tobago |
| Height | 5 ft 10 in (1.80 m) |
| Current Team(s) | |
| Role | Bowler / Left hand batsman & Right hand off break |
| Batting Style | Left hand Bat |
| Bowling Style | Right arm Offbreak |
| Debut | December 5, 2011 |
| Jersey No. | 74 |
| Family | Late Shadeed Narine (Father), Christina Narine (Mother), Nandita Kumar (Spouse) |
| Game Type | Mat | Inn | R | BF | NO | Avg | S/R | 100s | 50s | H | 4s | 6s | Ct | St |
| --- | --- | --- | --- | --- | --- | --- | --- | --- | --- | --- | --- | --- | --- | --- |
| ODIs | 65 | 45 | 363 | 441 | 12 | 11.00 | 82.31 | 0 | 0 | 36 | 36 | 12 | 14 | 0 |
| TESTs | 6 | 7 | 40 | 92 | 2 | 8.00 | 43.47 | 0 | 0 | 22 | 4 | 1 | 2 | 0 |
| T20Is | 51 | 23 | 155 | 138 | 8 | 10.33 | 112.31 | 0 | 0 | 30 | 13 | 5 | 7 | 0 |
| T20s | 483 | 304 | 3692 | 2504 | 60 | 15.13 | 147.44 | 0 | 14 | 79 | 343 | 229 | 99 | 0 |
| LISTAs | 116 | 74 | 714 | 0 | 20 | 13.22 | 0 | 0 | 1 | 51 | 0 | 0 | 35 | 0 |
| FIRSTCLASS | 13 | 18 | 213 | 0 | 6 | 17.75 | 0 | 0 | 0 | 40 | 0 | 0 | 10 | 0 |
| Game Type | Mat | Inn | O | R | W | Avg | E/R | Best | 5w | 10w |
| --- | --- | --- | --- | --- | --- | --- | --- | --- | --- | --- |
| ODIs | 65 | 65 | 590 | 2435 | 92 | 26.46 | 4.12 | 6/27 | 2 | 0 |
| TESTs | 6 | 11 | 275 | 851 | 21 | 40.52 | 3.09 | 8/223 | 2 | 0 |
| T20Is | 51 | 49 | 183.4 | 1105 | 52 | 21.25 | 6.01 | 4/12 | 0 | 0 |
| T20s | 483 | 474 | 1823.5 | 11177 | 525 | 21.28 | 6.12 | 5/19 | 1 | 0 |
| LISTAs | 116 | 115 | 1052.3 | 3783 | 190 | 19.91 | 3.59 | 6/9 | 6 | 0 |
| FIRSTCLASS | 13 | 25 | 503.5 | 1398 | 65 | 21.50 | 2.77 | 13/39 | 8 | 3 |
Sunil Narine: A Brief Biography
Sunil Narine is left handed batsman of West Indies team. Born on May 26, 1988, in Arima, Trinidad & Tobago, he is much known for his mystery spin bowling as a right arm off-break bowler as well as the ability to hit lusty blows whenever called upon the crease.
Table of Contents
Career
Domestic Career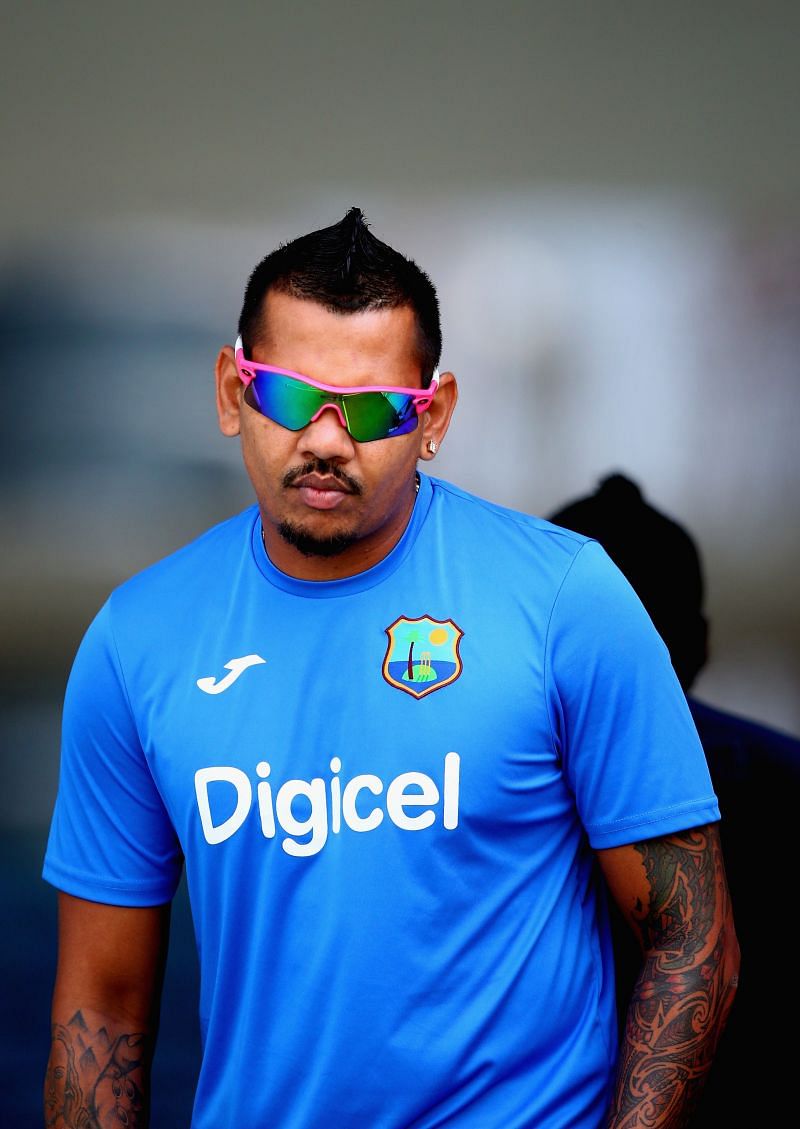 Sunil made his debut in first-class cricket for Trinidad and Tobago in February 2009 during the Regional Four Day Competition, bowling thirteen overs without taking a wicket. On 20 January 2011, during the Caribbean Twenty20, Narine played his first Twenty20 (T20) match but did not bowl as the match was rained off before Trinidad and Tobago could bowl.
Narine later that year made his List A debut on 20 October 2011 in the Regional Super50, claiming figures of one wicket for 35 runs (1/35); his wicket that of opening batsman Miles Bascombe.
IPL Career
Narine rose to prominence in the Champions League T20 in 2011, as his performances helped Trinidad and Tobago pull off a few surprise results in the group stages. That led to him being picked by the Kolkata Knight Riders for the 2012 IPL, and the Trinidadian led the side to its first ever IPL victory. He justified the inclusion and finished the season with a total of 24 wickets, being the second-highest wicket taker of the tournament. In 2017 IPL, Sunil made a half century in just 15 balls which is the fastest in history of IPL. He will be playing the 2020 season with the same franchise.
International Career
ODI debut
After his exploits in the Champions League, Narine made his ODI debut against India in the third game of the series and picked up two crucial wickets to lead West Indies to a 16-run victory. However, in 2014 his action was reported during the Champions League and hence withdrew himself from the squad named for the 2015 World Cup, citing the need to keep working on his bowling action. Narine was lost to international cricket for over a year, but he returned to the West Indies side in November 2015. But some indifferent form and constant remodeling of the action meant that he never got a long rope in the international side.
T20I Career
Sunil Narine made his T20I debut on 27 March 2012 against Australia where he bolwed 4 overs but couldn't take any wicket. However, he led the West Indies side to the World T20 title in 2012. On 8 March 2014 he topped the ICC Twenty20 rankings of bowlers with 784 points. He was ranked the No. 1 bowler in T20Is when he was picked for the World T20 in 2016, but withdrew from the tournament to focus on his rehabilitation.
Test Career
The IPL was a huge stepping up point for the youngster and it also landed him his Test debut when he replaced an injured Kemar Roach for the third Test against England in June 2012. However, having placed only 6 Tests so far in his career, Narine's performances in the longest format have been nothing spectacular so far.
Background
Sunil Narine was born on 26 May 1988 to Late Shadeed Narine and Christina Narine. His father named him after the name of Sunil Gavaskar as he was a huge fan of the legendary Indian cricketer. The flashy, spiky-hair personality of Narine can be deceiving as he is quite calm and reserved in his demeanor.