Come on Yuvi, grab the number six!
812 //
15 Nov 2012, 13:46 IST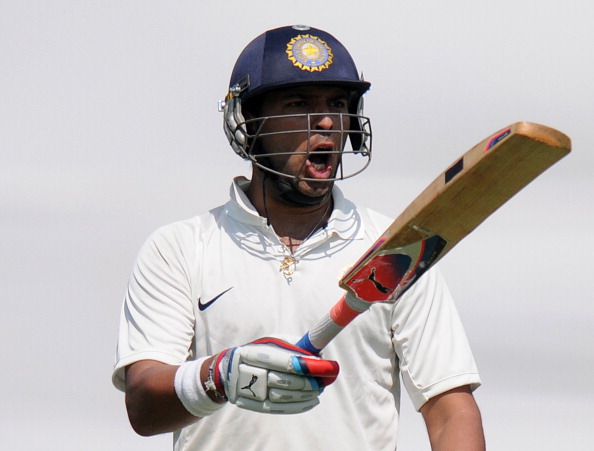 Ever since Sourav Ganguly retired, the number six position in the Indian team has remained mysteriously unclaimed. Quite surprising that for a nation that has more young people vying to become batters than bowlers.
It's quite a demanding position, with the role changing every other day depending on the match's situation. On some days your team is cruising to a big total and the need of the hour is to score quickly; on other days you might have to play the crisis manager, batting with the tail enders and getting your team out of trouble. That should explain why only some players like Michael Hussey, Sourav Ganguly, and VVS Laxman have been able to make number six their own.
It's been about four years post Ganguly's retirement (he retired on Nov 10, 2008) but India still doesn't have a firm answer to the vacancy. Often, cricketers aren't allowed to settle into a particular role as captains keep chopping and changing. That hasn't been the case here though as Yuvraj, Raina and Kohli have been given ample opportunities in the past by Dhoni.
Kohli made a solid claim with a century down under but with both Dravid and Laxman retiring in quick succession, he moved up one place to number five in the batting order.
Though he announced himself with a radiant century on debut (and got himself added to an elite class of debutant centurions), Raina's story after that doesn't offer much to celebrate. He could never completely justify his captain's unwavering trust in him. After the initial few innings, the short ball puzzle came up, with Raina often looking all at sea against the short ball. The core issue though was never about him failing technically. With stalwarts like Dravid in the squad (Dravid, by the way, did help Raina out with the short ball) and such a vast repertoire of support staff, that was never going to be the case. It was the mental aspect which was baffling. There were times when he resembled a child petrified of the dark, expecting a short ball every delivery and staying deep in the crease. More recently, his talk of taking revenge and sweeping England 4-0 shows immature behaviour. Here is someone who is not sure of a place in the team, but all is concerned about is the opposition rather than his own performances. In limited over versions, Raina is a sought-after player and plays a fearless brand of cricket. For some reason, though, the same player never turned out for India in tests. May be the intensity or the thought of test cricket being too different got the better of him. A relatively insipid show in the last series against NZ gave the selectors enough reason to look beyond him.
Rohit Sharma could have been the other contender but with his form dipping in all formats, he always had a faint chance. Manoj Tiwary could have been tried, but the selectors seem to think that his time hasn't come yet.
All of this brings us to the final and possibly the strongest claimant at the moment, who has had every opportunity in the past to seal the spot. Yuvraj didn't have to wait much to make it to the test squad, but with the 'fab four' doing a 'fab' job, the chances he got were always sparse. That does explain his fragile hold on the position but in part, especially after Ganguly retired, it was also about failing to adapt to the rigours of test cricket. Unlike Raina, though, Yuvraj didn't have any glaring shortcomings and some of his big knocks were played in absolutely trying situations (most notably an 85 against England in a remarkable chase of 387 in 2008, and his 1st test century against Pakistan in Pakistan).
The chance that he has got now has to be made of full use by him. The signs are bright too for the man. For one, he is coming on the back of a double century in the Duleep trophy semifinal, laying questions about his fitness partially to rest. Also, his five wicket haul in the recent warm up game against England should be a booster for him. Yuvraj has to be lauded for the work he has put into his fitness; so essential when playing at the international level. It's one thing to recover from a life-threatening disease like cancer and completely another to be fighting fit to play cricket at even domestic level. This tumultuous phase in his life must have taught him 24 carat lessons in life, and he certainly must be itching to put this new life to a higher purpose both on the field and off it. Yuvraj, however, must grab the spot in the series starting today more by the virtue of his batting than bowling.
At 31, age is still on his side and post-cancer, he has the look of a man intent on redemption and resurrection. With his bowling skills too in consideration, he is an apt player for India to have at this time. The time is ripe for him to go ahead and claim the long left number six position, not only for his benefit but also because the team stands to gain oodles from it.
P.S. – I haven't talked of Yuvraj's fielding yet!