Cook - Compton steady, as Ojha runs through England in the 1st innings
986 //
17 Nov 2012, 19:45 IST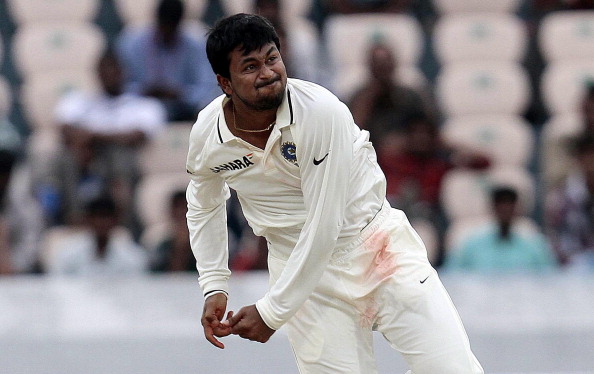 Day 3 went a bit better for England. India, especially Indian spinners were all over them in the first innings, and dismissed them for 191. Following on, they finished the day on 111/0. A topsy-turvy day for the tourists.
First session started off with Cook and Pietersen hoping to salvage some pride. Ashwin and Ojha were at their menacing best. Ojha, especially, had Pietersen hopping all over the place. Both batsmen seemed to be gaining in confidence though. The breakthrough came 14 overs after start of play, as Ojha castled KP with his left arm spin, for 17. Bell walked in, and what happened next has to be the most atrocious shot played by an international level player, since Brad Haddin came down the track to Vernon Philander, and played the ugliest of shots, only to be caught behind by Boucher, in Cape Town, 2011. Bell came down the track and tried to hoick Ojha over the top, first ball, only to be caught at mid off by Sachin.
Samit Patel, drafted into the side due to his ability to play spin, was next in. Cook's resistance finally came to an end as Ashwin had him caught at slips for 41. Prior joined Patel, and they tried to bring some sense of semblance to the score. They weren't successful as Umesh Yadav, bowling his first over in the 48th over, got Samit Patel lbw. Bresnan was in next, and along with Prior safely negotiated the four overs till lunch. England went into lunch at 110/7. Lots of action in the first session, only one team would have enjoyed their lunch though.
Post lunch session started off a bit better for England. Bresnan and Prior were settling down, and looked relatively at ease. Runs were trickling, but England would have been happy with whatever came their way. Yet again, the breakthrough came 14 overs after the start of the 2nd session. Ojha had Bresnan caught by Kohli at gully for 19. Broad joined an assured looking Prior, and started off aggressively. The joy lasted for just 8 more overs as Zak caught Broad's pads in front of the stumps for his first wicket. Swann came in as the last batsman. Ojha ensured that England's agony didn't last for long, as he bowled Swann the very next over. England were all out for 191. India, with a lead of 330, enforced the follow-on. The only positive for England from this was that they got to take tea a bit early. Ojha with 5 wickets was the pick of the bowlers.
Final session saw Cook and Compton taking guard for a second time in under a day. This time England got off to a much more assured start. Compton in particular looked much more certain of his defense, which is critical to survive in Indian conditions. The demons in the pitch seemed to have disappeared, and Cook and Compton stitched together an unbeaten century stand. With nothing much interesting happening in the final session, England finished the day on 111/0 in 38 overs, with Cook on 74* and Compton on 34*.
England are still 219 runs behind, and they still need a miracle to get anything out of this match. India will be hoping for that one wicket, which will most certainly lead to many more, the pitch being such. An interesting Day 4 ahead of us.