County Cricket: Midweek musings
657 //
14 Mar 2013, 12:30 IST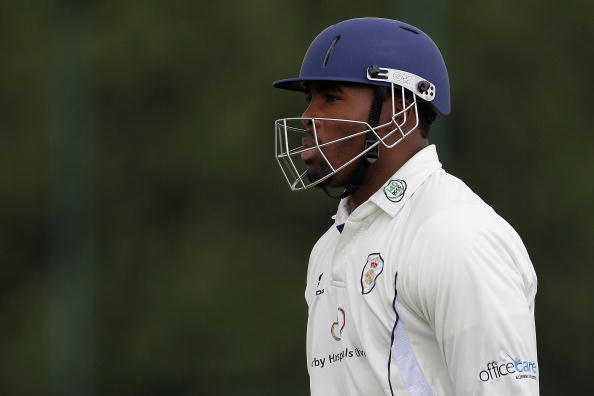 There's been a good workout for the Derbyshire boys in Barbados today, with Chesney Hughes displaying local knowledge with a sparkling century against Northamptonshire.
The last score that I saw was 252-8, with a few batsmen getting a start, including new man Billy Godleman, who made 37. To some extent the number of runs is not especially important, like the results, but time in the middle, together with the reassurance that your eyes, hands and feet are all working together, is never a bad thing.
I'm especially pleased to see early runs for Hughes though, whose familiarity with the wickets and relative match fitness will have stood him in good stead. No one can doubt his talent, but the player who burst so spectacularly onto the county scene has been missing in action over the past couple of summers. His left arm spin (often quicker than some people who take a run up…) is a handy one-day resource, but his batting still has the potential to become a potent weapon for the county.
Perhaps Chesney has been over-thinking it and simply needs to go back to basics. Just as Billy Godleman said last week that Dave Houghton wanted him to bat like he did at 18, perhaps Hughes needs to think back to the way he approached batting when he first got here.
On his day, when there's not too much lateral movement and he gets his feet moving, he has the ability to destroy bowling. I am firmly of the conviction that working with Shivnarine Chanderpaul will be as beneficial for him as it will be for the more advanced claims of Dan Redfern and Ross Whiteley. From the team's perspective, having another batting option pressing hard for inclusion in the side will be a genuine asset ahead of the new season. A headache for Karl Krikken yes, but a nice type that he will far prefer to the alternative.
Staying in the Caribbean – and why not, it's a heck of a lot warmer than here – Chanderpaul scored 26 for the West Indies today against Zimbabwe. Curiously, his outstanding Test average has been achieved without cashing in on an average Zimbabwe side, against whom he has recorded relatively few big scores. That, of course, is his cue for a big second innings total.
Meanwhile, back home, our first opponents Warwickshire have announced that their side is complete for the campaign and they will only have Jeetan Patel as an overseas player for 2013, with no one else for the T20. This is partly because they are comfortable with their existing squad, but also because money is tight at Edgbaston. County champions they most assuredly are, but like a good few counties their finances are in a somewhat parlous state.
Finally, tonight  – and for the benefit of those counties who have still to recruit to their overseas roles – Cricket South Africa announced today that four players have been released from central contracts.
Ashwell Prince, Juan Theron, Albie Morkel and Jacques Rudolph are the players concerned and the loss of that financial safety blanket may convince one or more of them that a county deal is just what they need for the coming months. All except Theron are well known in this country, but the seamer's renowned parsimony as a bowler in T20 cricket may well attract a county offer.
Likewise the other three. The best days of Prince and Morkel are behind them, but they remain players of talent. As for Rudolph, he is that most frustrating of cricketers, full of runs at county and provincial standard but finding the jump to the international arena a step too far.
I'd be confident that a discerning county cricket chief would get a good player in signing one of the above, especially for T20.
Remember, you read it here first.