County Cricket: Monday musings - Derbyshire
803 //
26 Mar 2013, 12:51 IST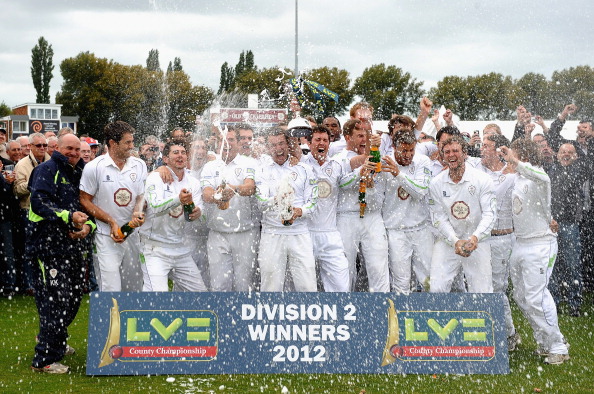 Just over fifteen days to the start of the season, as is evident from the weather. Today, I passed a couple of polar bears on my way to work, as well as some brass monkeys with very worried expressions.
Over in Dubai, Warwickshire appear to be piloting a new initiative as they prepare for the season opener against us. They bat on one pitch, racking up a piffling 561-6, then bowl on a completely different one, reducing the MCC side to 73-7 (effectively eight as Joe Denly retired hurt).
One thing is for sure. Derbyshire will have the best possible benchmark against which to judge themselves in their top tier debut. Facing Chris Wright and Chris Woakes on an early season track will test our batting mettle, while the Warwickshire batting is long and powerful. I still feel it is as good a time to play them as any though. Let's face it, if we're going to win promotion, you're going to come up against the biggest guns at some point, so why not do so at the start and see how good we are? If we do well, then we need fear no one; we do badly and the players have an early wake up call on the demands at this level.
If you've read this blog over the winter though, you will know that I am quietly confident. There might be a few teams above us in September, but I think there's enough talent in the squad to surprise a few people. Last year, we changed a few perceptions about the club. I reckon there will be a number added to that list by the time September comes around.
Elsewhere, Kent have announced an 'improved' post tax deficit of £628,000 last year. I find it hard to find a positive in that statement, especially when it is qualified as being their 'best figures in four years'. If Derbyshire's finances were in such a parlous state, I'd be future-proofing this blog and testing a few articles on card making (neat doff of the cap to Mrs P there…)
A number of counties have returned very worrying figures this year. You can excuse them however you like, citing the Olympic Games, bad weather or a plague of frogs, but what it comes down to is counties living beyond their means, paying out more than they take in.
Derbyshire has, with the substantial input of some very shrewd business people, come up with a financial model that works. It makes it all the more crucial that the result of this week's vote on the club's future governance gives an overwhelming vote of support.
The club has been run by many worthy people over the years, most notably by Will Taylor, who served as club secretary from 1908 to 1959 and ran it on the proverbial shoestring. It was Taylor who, when Harold Rhodes expected a commendation for putting out a fire that had started at the club, told him that he 'should have let the bugger burn', well aware that the insurance money would have been a huge asset.
It is unlikely that Derbyshire will ever be the Rockefellers of county cricket, but with people of the quality of Chris Grant and Simon Storey at the helm, we are extremely lucky. Both are bright, passionate and shrewd with an eye for business and a desire to make a success of our cricket club.
A yes vote this week will be a mandate for them and the other talented individuals in the frame to take things forward. We will see continual improvements to the ground, the team and the club's fortunes in the years ahead.
I will be both embarrassed and ashamed if they don't get the requisite support, but I think common sense will win the day.
We'll see soon enough.