Cricket: a profitable religion
969 //
24 Nov 2012, 08:15 IST
Rusty winds blow past the bucolic sands of Weald, South-East England. Children cheer and run around. They picked up sticks and larruped matted lumps of sheep wool. A game played by 11 adults was founded by children in this small town of England. It was believed to have been played by children for a long time during the 16th century before it was taken over by the Gentlemen. With a belief that it was derived from a game called Bowls which had a batsman trying to prevent the ball from reaching the target, its exact origin is not known.
Creckett, krickstoel and then cricket, which roughly means 'stick chase' in Dutch, began to score its runs over regions, countries and continents. The birth and evolution of cricket remains a mystery; but wait, so is the present phase in its evolution. It's mysterious because of its rebirth as a religion. This ubiquitous game was once on the brink of vanishing from the face of earth during the 'Seven Years War' and also because of lack of players and investment. Well, that's no worry in this generation with hundreds and hundreds of coaching centres, schools, playgrounds, beaches, parks dedicated solely for it and herds of followers.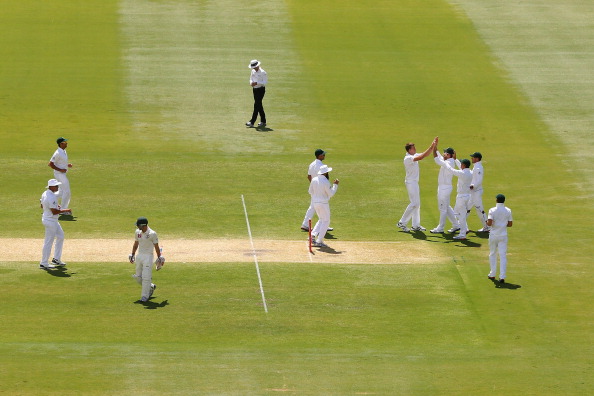 India claiming to be a secular country and a confluence of religions on its tourist postcards has seen riots, killing and incarceration since independence. It's no exaggeration when said that, Cricket is a religion uniting the country with a God to worship and follow. A game brought to India by the British, probably the only thing the people are heartily thankful for, burgeoned through the country. In incredible India, you will face racism in its purest form if you turned down to watch or play a game. Such is the quixotic love for the game, I never quite understood. What made this show run so many episodes?
The game is quite simple: two men hit the ball in turns while eleven others try to get hold of it (see I'm no poltroon) so what maketh the greatness of this game? I think it is the trailblazers. Every generation of the game created one and now it's 'God Sachin'. The man is respected for his talent and his ability to create magic on the field. Scores of people geniculate and whisper prayers for the ball to fly over that line and mark his hundredth. The moment he lifts his bat in the air, the crowd goes berserk. It's this common emotion running through every individual that blurs divisions of caste, colour, creed, sex or any other form of classification.
Apart from the sentimental strings wired around the game, it is now a business. Every second, every strike and every run is monetarily valued. Though the hard core aficionados would turn their face away in remorse as they feel it is an utter exploitation of a gentleman's sport, it employs a huge population and pays obscene amounts of money. A billion dollar business, theater with unlimited seats and umpteen number of sixes to the gallery. The game has the potential to become a plausible contributor to the GDP of the country!