Cricket: The Less Talked About Versions Of The Game
1.76K //
07 Jul 2011, 20:42 IST
I am born in a family where Cricket is a sport which can only be watched and never be played. From what I can remember, it started with my grandfather. Once when he was playing cricket, in an attempt to catch a flying high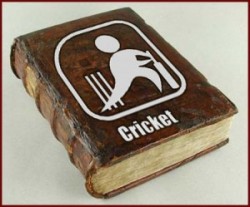 ball, he stamped a sleeping dog. The dog retaliated, gulping away quarter kilo flesh of him. My dad was hit by a ball hard in the head that you can still see a bulge even after years. With this misfortune history, my mom never allowed me play live action cricket. I even remember an incident when my mom beat me blue when I tried to bounce a ball and catch it back. I was desperate to play cricket and it was then it happened. Book Cricket and Hand Cricket were invented. These two games were one of the most important inventions of those times. I would die to have one dinner with those inventors. The most cherished moments of my school days are with these games.
For those who have wasted their childhood not playing these versions of cricket
Book Cricket

Hand Cricket
Number of Players
2
2
Requirements
A book with lots of pages and most essentially with phone numbers
Nothing. You play with one of your hands.
Rules of the game
Every ball, you close the book and open a page. Your score is the last digit of the page number of the opened left page.

When page number is 12, runs scored that ball is 2. When page number is 488, runs scored that ball is 8.

You continue adding runs till you get out. Once you are out, your opponent has to score more runs than your score to win.

You get out either when the last digit of your page number is 0 or when you take the same page continuously twice.

When the batsman bats, the bowler has to make sure that the batsman does not cheat by checking the score.

Both the batsman and the bowler throw their hands at the same time to one of the pose shown in the diagram.

The runs of each pose are added to the batsman's score.

If both of them throw the same pose, the batsman is out and the score he scored is the target for the next batsman.
Book cricket can be played comfortably without raising the suspicion of parents and teachers. I remember playing hours along with my friend, pretending to be studying. Hand cricket cannot be played under the nose of elders as it requires flexing our hands. But hand cricket was mainly popular because of its zero requirements. Another important advantage is derived in accordance with Darwin's theory of Evolution – the next generation would have stronger hands :P Apart from these absolute advantages, I also had cherished moments. During one of my games I met this boy whose situation was more pathetic then mine that he used to wear abdomen guard even for hand cricket. He believes the guard would protect him if something goes wrong while throwing hands! He remains my best friend till now.
I specialized in soft computing during engineering. Soft computing involves predicting and forecasting patterns from available data. I owe my good computing skills to Hand Cricket. To win in this game, apart from luck you will have to look for patterns in your opponent's game. When your partner is batting, he may throw random poses in the start but with or without his knowledge his poses start following a pattern. Early understanding of the pattern gives a distinct advantage over the opponent. Further these types of cricket made me strong with numbers as it involves speedy addition. Trust me; scoring mammoth runs in this form of cricket requires great deal of mental strength. This game combines the concentration required for test cricket and the pace of twenty-twenty games.
Both these games have evolved with loads of new features. Nowadays I hear there is a pose to score 100 too. Out of all the evolution, I would like to accolade the toss system. One of the players calls either odd or even and throws their hands. Toss is won based on whether the sum of scores is an odd number or even number. For all those who have missed these versions of cricket – Drawing fixtures, Book Cricket during geography period, Umpiring these games, Analysis of the game, D/L method when match is abandoned if got caught by parents, World Cup Hand Cricket would mean a version of cricket that could have been.