Dear Rahul
1.50K //
09 Mar 2012, 10:01 IST
(Reproduced from a blogpost one of us wrote when Dravid retired from ODIs)
Hello, Rahul.
You know, I'd love to start off by saying that I had many memories of you, proceed to analyse your cricketing technique and proclaim you as the greatest cricketer that India has ever produced and all that countless paeans you're no doubt receiving now – but I can't. I really can't.
You see, I missed much of India's glorious decade because I didn't have access to television for most part. So I really cannot stake claim to watching your brilliance in Adelaide, Rawalpindi, South Africa or the West Indies.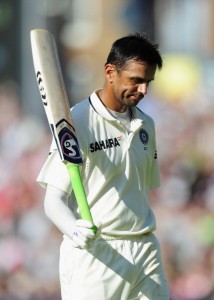 Big deal, you say. Everyone follows sport on the Internet today. Why, even Tendulkar's double century was savoured over Cricinfo commentary by most of the nation. So was Sehwag's brutal assault on Sri Lanka at the Brabourne. Or most of the IPL, for that matter.
No, no. Saying that I've become a fan of you by following your exploits through Cricinfo's ball-by-ball commentary would be an insult to you. Mind you, it's alright if we do it for other cricketers, and there would be absolutely no disrespect meant. Michael Hussey's incredible 6-6-4-6 against Pakistan to win the T20 WC semifinal was thrilling as read through text. I devoured Kevin O'Brien's outstanding assault on England in the F50 (er) WC group stages through Twitter updates since I was in a train. I visualised the shots. I could picture Hussey smashing the crap out of Pakistan. Or Sehwag mutilating Murali. I didn't need visual aid for that, oh no.
But to say I've become a fan of Rahul Sharad Dravid by following text updates on some cricket website would be like going up to Wolfgang Mozart with a piece of parchment and a quill and saying, "Big fan, mate. I've heard all your symphonies in 96 kbps MP3″. I remember earlier this year, I did catch an innings of yours. In South Africa. Nobody else in the room could understand what I was doing, watching Test cricket (they were all the kool kyds who watch ManUtdRokzzz and F1, you see). With every defence shot, I'd ooh and aah. THIS was what I was missing out on. This was pure cricket.
And it was all so very unfair, Rahul. Which kid wants to do that? When I play the official IPL Android app, I want to smash every ball for 6. I'm not very well-acquainted with the gully cricket scene in Delhi, but I'm supposing not too many people want to 'construct' an innings in the 5 overs they're allowed before they have to run back home to finish the 10th chapter of Bhargava's 5th standard primer for IIT aspirants (Geometry).
One memory, Rahul – that I do have, was on a day on which I had what you might say, selective fever. When you and VVS ended Day 3, I knew something was up. I ensured I drank plenty of iced water that evening so I could give myself some semblance of a cold the next morning to skip school.
Yes, there were the glorious shots from VVS. It's my favorite Test innings of all time, but that's not what I remember. What I do remember is you getting to your century. You had that look on your face. Pointing to the press box, and I'm sure it was only your dignity that stopped you from giving the esteemed occupants a middle finger (or it could have been your gloves). I saw that look. Woah, I saw that look. That was the same look that I wanted to give my detractors. When my teacher back in Bahrain unfairly embarrassed me in a parent-teacher meeting in 1999, I swore I'd get back at him. I topped the fucking class and came third in the country (granted, it was a country that had the population of the entire of Chakala, but still). I so wanted to go back to him and say, "Take that!". That was the look you had, man. Whadafighter.
Criticism towards you has been as effective as a record label asking Dream Theater to adopt a more radio-friendly style.
I'm not a real fan, Rahul – I'm a mere piggybacker. It's fashionable to call yourself a Rahul Dravid fan. While 'junta' acquiesce to their baner instincts by loving the IPL, the educated, The Hindu-reading populace prefer to quote the numbers '180, 233, 270, 148′ as if they were a holy chant. How many of them would actually sit through a RSD innings? I know I wouldn't. I'm just a piggybacker, like I said.
The purpose of writing this closed letter, Rahul, is to say – thank you for surviving despite people like me. Indian cricket The game of cricket has been richer for it.