Did Dhoni really make mockery of Cricket?
1.35K //
24 Jul 2011, 18:34 IST
Indian captain MS Dhoni startled almost everyone perhaps except himself when he decided to bowl on the second day of the 2000th test match currently under progress at Lord's. Soon after the lunch, Dhoni was seen picking up the ball with Rahul Dravid wearing the keeping pads and gloves. Fans along with the experts baffled by Dhoni's new trick eagerly waited to witness the outcome. People thought he would bowl one or two overs but in the end Dhoni bowled 8 overs and clearly replaced the void created by Zaheer's hamstring injury. He was even close to taking up a wicket which was denied thanks to the DRS (coincidentally Dhoni is not a supporter of DRS).
Wicket keeper bowling on the second day that too at Lord's, which still sniffs at the mention of Sourav Ganguly's famous shirt waiving act, was bound to cause ripples in the cricket circles. The term 'harming the sanctity of the game' was bound to be raised again as it was done in 2002 for Ganguly. And Kapil Dev, India's legendary world cup winning captain, led the critics this time. Kapil slammed Dhoni terming such act as "completely unacceptable". Kapil accused Dhoni of 'making a mockery of cricket'.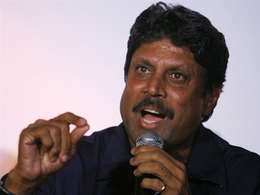 Did Dhoni really make mockery of Cricket? What exactly Kapil meant by Dhoni 'making a mockery of test cricket'? Wicket keepers usually don't bowl in internationally cricket. In the past, whenever the wicket keeper bowled, they did so (or made to do so by the captain) to serve a purpose. When the batting side unnecessarily, out of a defensive attitude, bats for long in test cricket to avoid loss and thereby taking the match away from the bowling side, the captain of the bowling team would throw the ball to the wicket keeper to bowl an over or two to express his team's frustration towards the opponent's extra defensive attitude. The first time Dhoni bowled in a test match, if I remember it well, was back in 2006 against the Pakistan. The match was in Faisalabad and it was already the 5th day of the match. Pakistan had around 450 runs leads thanks to centuries by Younis Khan and Md. Yusuf. Yet Pakistan was not ready to declare the innings. India was not expecting any result in the match still they wanted some crucial batting practice. The bowlers too were getting tired with no result in sight. At this point of time, MS Dhoni, the keeper, was made to bowl an over. It has become a tradition that wicket keeper bowls to convey a particular message. Kapil Dev was angry may be because Dhoni broke this tradition as he bowled on the second day clearly no such message in his mind.
But Indian captain perhaps was trying a different strategy unmindful of the traditions of the game that don't exist in any cricket book. India's most successful captain, Sourav Ganguly, also explained later in the post match show that Zaheer's injury had necessitated Dhoni to use something different to make up for that loss. It was necessary that Dhoni, whose love for trying absurd ideas (admittedly those absurd ideas often work) is well known, tried a part timer to bowl after the lunch. Perhaps, in his mind he had thought to give the 2 pace bowlers some rest who were overworked that morning thanks to Zaheer's injury. His decision to prefer himself over Raina or Sachin could have been the point of debate but dismissing the idea as 'unacceptable' is 'unacceptable'. He perhaps didn't give Raina the bowling because Harbhajan was bowling from the other end and Raina and Harbhajan both are off spinner. Sachin is not bowling in the international cricket for quite a few time. And remember Dhoni didn't have Yuvraj to use as the part time bowler. May be all these factors forced Dhoni to bowl Zaheer Khan's overs.
Dhoni is no alien to bowling. He has bowled several times in international matches. He even has a wicket to his name in the ODIs. He bowls with decent pace and was able to swing the ball both ways. So if the situation demanded it, then what's wrong if the captain rose up to the occasion to bowl a few overs? His decision at worst could have been criticised on cricketing basis but labeling it as mockery of cricket is nothing but exaggeration. What do you feel? Share your thoughts in the comments section.
(Note to readers: The author is not a Dhoni fan and has been a critic of many of the decisions taken by MS Dhoni.)