Don't make Virat the next Sachin, please!
3.15K //
21 Mar 2012, 13:08 IST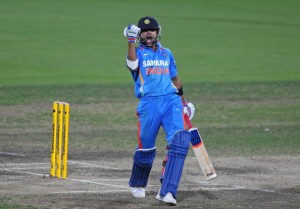 Ever since Virat Kohli scored that staggering 183 to help India win against Pakistan, the media has been going berserk about the 23-year-old's performance. They have already succeeded in provoking people to wonder if Kohli is the world's best ODI batsman! Please note: the newspapers are not saying whether he is on the verge of becoming the world's best; he is being proclaimed as the best already.
Wherever you look, the list of records that have been shattered by Kohli is being quoted. Here are a few of those records:
-  Kohli has scored 11 centuries in 85 matches thus far. No one in cricketing history has even come close to such a feat after having played the same number of games. Before Kohli, Ricky Ponting and Brian Lara shared the honors with five centuries each.
-  Of his 11 centuries, a staggering 10 have resulted in an Indian win, 7 of them in successful chases.
-  Virat, so far, has scored more runs than Sachin Tendulkar, Michael Bevan, MS Dhoni, Ricky Ponting, Brian Lara, Dean Jones and Viv Richards after having played the same number of games, i.e, 85 ODIs.
-  His strike rate of  86.31 is the third highest after MS Dhoni's 96.26 and Viv Richards' 86.99.
-  His average of 50.56 is second only to Michael Bevan's.
-  Kohli's 183 is the third highest individual score in ODIs while chasing. Shane Watson (185 not out) in 2011 and MS Dhoni's 183 not out in 2005 occupy the top two spots.
-  At 23, Kohli is the youngest Indian batsman to score 150-plus runs in an ODI. MSD held this record previously when he had scored 183 against Sri Lanka at the age of 24 years back in 2005.
-  Kohli's 183 is also the highest score against Pakistan in an ODI. The record was previously held by Brian Lara who had scored 156 in Adelaide in 2005.
There's no doubt that Virat is playing at his peak right now. Since last year's ICC World Cup, the West Delhi cricketer has gone on to make a league of his own in terms of coming up with match-winning performances. "If it is mission impossible, then dial Virat Kohli," has been the latest mantra, and why not? He has almost single-handedly won the match on two occasions in the past three weeks. The first was against Sri Lanka at Hobart where he scored 133 off 86 balls and the second, of course, was the match against arch rival Pakistan.
Sadly though, on both the occasions Virat Kohli's heroics went in vain as the team failed to qualify for the final. When Sri Lanka were expected to do a favor to India by losing against Australia in the CB Series, they won that match and qualified for the final, and here in Bangladesh when they were expected to win, they lost and helped Bangladesh reach the final. Such trying times for an Indian cricket fan!
The interesting numbers quoted above have seemingly already made Kohli a 'record man'. And such a label automatically invites comparisons with Sachin Tendulkar. But there's a flip side to that as well: Sachin was frequently accused rather than being praised for being a record-chaser, and Virat seems to be on the same page at least for now.
The most striking resemblance between Sachin and Virat that has been highlighted by the media is this—just 3 days after the demise of his father Ramesh Tendulkar, Sachin went out to bat for his country, in the process inspiring India to an unassuming win against minnows Kenya during the 1999 World Cup. Sachin scored 140.
Virat has been through a very similar experience. He was 18 when his father passed away. But the young brave heart found the will to come out and bat for Delhi only a day after tragedy had struck his family. His home team needed him at that point and Kohli didn't let them down. He made his presence count with a swashbuckling innings of 90 runs and paved the way for his team's safety against Karnataka in first class cricket.
Kohli himself is a fan of Sachin and in his open letter to the cricket maestro in one of the leading national dailies in the country, Virat had stated: "Sachin paaji, you have a million fans and I am one of them. In fact, I started to play because of you. You had once told me during our 75-run stand in an ODI in Nagpur that I must follow my instincts. I am doing just that and the results are showing."
Whether Virat Kohli will go on to achieve less or more than what Sachin has, only time will tell. But one must realise that in a team game, an individual's personal achievement would hold no value unless it leads to victory for the team. That's the norm of the game, or at least it should be. But unfortunately in India, the media has given greater importance to one man's humongous achievements than to the team's wins.
Had India won that match against Bangladesh when Sachin scored his 100th ton, we (India) would perhaps be in the final of Asia Cup. But no one wants to talk about that loss. The world champions losing to a lower ranked team like Bangladesh was over-shadowed by one man's unthinkable achievement. For a non Sachin fan, this loss was unacceptable.
Henceforth, I wish Kohli is never compared to the master. Kohli's numbers should not be his own but his team's. Kohli's individual records must not be compared to the those of the Great One; the only record that should be compared is the number of times India won a match because of their contribution.