Dravid bids adieu
1.05K //
10 Mar 2012, 11:44 IST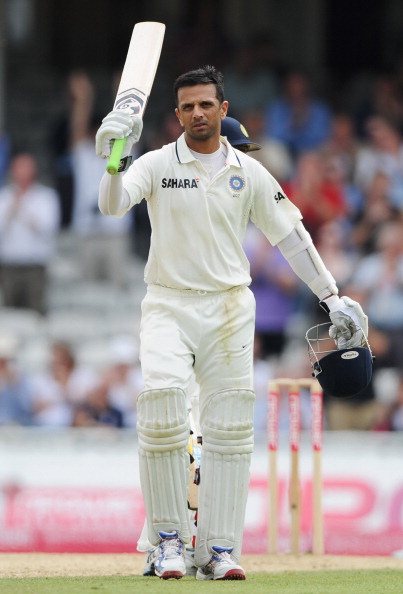 I would never have taken interest in him had one of my friend's not liked him and would never have admired him so much had not seen him in person the day he was announced as Rajasthan Royals skipper in my home town Jaipur. He had an aura that arrested my attention and I regretted being late in admiring the impressive fortitude with which he played his game. Today Rahul Dravid has given up international cricket all together and left behind him a wall, which stood tall in sun & shade and rain & storm, and whose mortar speaks about his skill, talent and endurance that is hard to find. It's an emotional moment that has left fans with watery eyes whose glint suggests nothing but proud for the man who made cricket worth watching.
His sixteen year long elaborated career speaks volumes. Facing more deliveries than anybody else in test cricket, Dravid started playing tests in 1996 at Lord's and took off his career to exceptional heights only to end it with a sea of more than 13200 runs scored at an average of more than fifty, both at home and overseas. Whatever success India has had till now in foreign countries, Rahul Dravid had a role to play in it, for he's the only Indian batsmen who succeeded in conquering hostile and alien conditions, scoring fourteen centuries and averaging 65.70 in all the fifteen matches they won overseas. His four centuries in 2011 against West Indies and England in tests is a testimony of his strength to play competitive cricket just anywhere in the world. Even in the one dayers his craftsmanship was unique. He scored and accumulated runs at an average of 61.42 in all the World Cup's he was a part of and served India well with over-all twelve hundreds in ODI's & 36 in Tests.
For most of his career, Dravid batted at number three, a position so critical for it demands a score that can set a tone for the final score. He scored twenty eight and seven tons in tests and ODI's respectively, out of which he averaged 52.88 in tests which tops all the batsmen who ever batted at number three. He has been a stabilizing influence for rest of the batting line-up.
When I reflect on his stats, I find them quite deceptive for it speaks of Rahul Dravid as a "force" and not as a man with virtues of patience and serenity, which are the actual soul of his character and his game. But that is a paradox, a contradiction nobody can resolve, but underlines a rare class for this is exactly how a sportsman should be like; aggressive as a player and calm as an individual who makes that player.
His innings of 180, at Eden Gardens in 2001 against Australia remains one of my favorite. The importance of this innings cannot be gainsaid. It was as important as that of Laxman's innings who scored 281. His partnership with Laxman not only helped India to wipe out the huge first innings deficit of 274, but also established sufficient lead to help India win the test match.
We saw him leading India in 25 test matches which included two series win in England and West Indies. Now again he'll mentor a team, Rajasthan Royals, in IPL5, a tournament that no fan of his would like to miss to catch him live in action, but all with abated breath for it may be his last stint as a player.
He has built a wall for Indian cricket with his valuable contribution and now it's the turn of youngsters to preserve it and take it to new heights thus carrying forward the legacy that he has left behind.
Dravid has made Indian cricket appear plush and the game owes a lot to him. Would like to end with Peter Roebuck's fitting remark-"Somewhat to his chagrin, Dravid has been described as "The Wall" of Indian batting, a tribute to the sense of permanence to be found in his batting. Certainly, there is something eternal about his work in the middle. Moreover, his innings are constructed brick by brick. Dravid is a batsman of the highest class whose form in recent years indicates that he deserves to be included in the ranks of the major batsmen of the period. He has scored runs against all sorts of bowling on all kinds of pitches."