Dravid's final special showcase
1.13K //
08 Mar 2012, 23:58 IST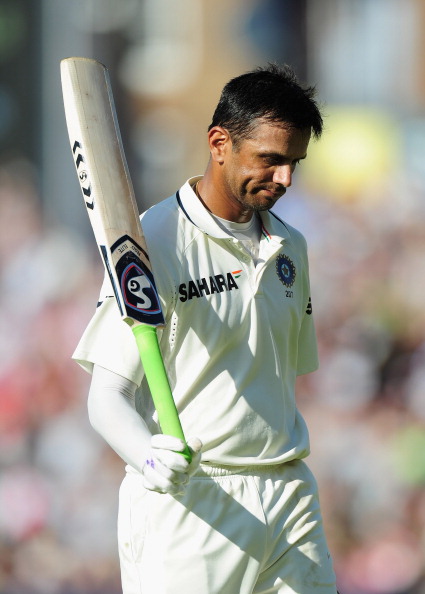 The news that Rahul Dravid has retired from Test cricket did not come as a shock. It has been coming for some time. His form has been iffy, certainly the ravages of time have had their effect on his game. But I want to take a trip back to probably the last time he ever showcased his remarkable talent in all it's glory.
We're going back to England last summer. England were in the process of becoming the best Test side in the world. For the entire series, England's bowlers consistently dismantled India's famed batting line-up. Except, that is, for Rahul Dravid. Whilst the rest of India's batting crumbled around him like a soggy biscuit, Dravid showed the immense powers of concentration and technique that have made him one of the greatest batsmen of our time.
It takes a special player to thrive in alien conditions. It takes an even more special player to thrive in alien conditions which are loaded in the bowlers favour. Can you imagine how special that player would have to be if his reflexes had slowed down, he was in a lean trot and was approaching the end of his career? Well, Dravid was that special.
For his entire career he was always the wicket you would strive for the most, because you knew that if you allowed him to get in he would punish you all day, and maybe another day after that. Well, this series in England was no different. England's bowlers, all series, looked like they were going to take wickets every ball. Even Sachin Tendulkar, possibly the greatest batsman ever, struggled to assert his authority on the England attack.
Dravid did not have the same trouble. For most of the series he almost looked at ease with the conditions, despite being moved around the order because of injuries. Those who do not understand just how hard opening the batting is in England really should try and watch more English Test matches. Early on, the ball hoops, it seams and it bounces. There are no tougher conditions in the world in which to start an innings. That I am sure of. And yet, Dravid contended with this like he has done with every other challenge he has faced in his career. With the minimum of fuss, grace and an elegance which defies his long held nickname, 'The Wall'.
Let me hit you with some stats. In that series, Dravid averaged 42 runs more than any other Indian batsman. He scored 3 centuries, no other Indian batsman made one. He faced 445 balls more than any other Indian batsman. In fact, most of his stats were better than those that England's rampant batsmen managed.
For me, that series just summed up Dravid as a player. He went about his business as if the chaos around him was non-existent. This series may not be remembered in the context of his career but it certainly should be. For me, this series was one of his greatest. After all, it's not his fault his team mates couldn't live up to the same unbearably high standard he set.
Dravid has always been a quiet, unassuming player who has never demanded attention. He is a player that would not look out of place in a timeless Test. Yet he has adapted, like all great players do, seamlessly to the frantic world of Twenty20.
It is a great shame, not just for India, but also for every cricket lover that Test cricket has lost Dravid. There will be very few, if any, players like him again as Twenty20 gains prominence and less value is placed on the skills which made Dravid one of the greats.
I said earlier just how special Dravid is. Well, I think it will become even clearer just how good he is when India have to try and replace him. I wish them luck, because they'll need it.