England team's day out with underprivileged children
1.04K //
01 Dec 2012, 18:05 IST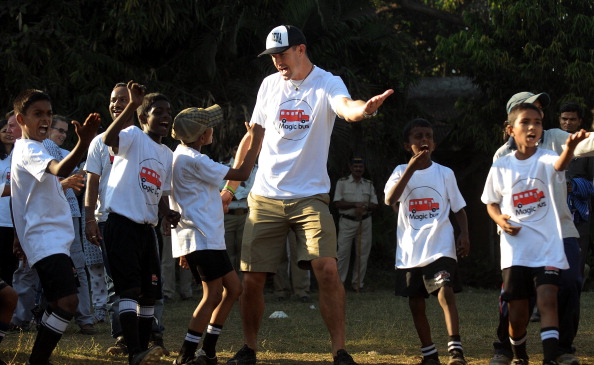 Kolkata - The England cricket team on Saturday visited a home for underprivileged children in the city and spent time playing various sports, including cricket.
The English team members including captain Alastair Cook, wicketkeeper Matt Prior, star batsman Kevin Pietersen, bowlers Tim Bresnan and Jimmy Anderson spent around three hours at the Future Hope Foundation – a home for under privileged children in south Kolkata.
"What a humbling experience at the Future Hope School in Kolkata. Amazing kids and amazing place giving underprivileged kids a chance!" tweeted Prior after the team left the home for their hotel.
The players chatted with the children and played hockey, chess, rugby as well as cricket.
While Prior was seen trying out his hands at chess, Anderson played hockey while Pietersen gave out valuable batting tips to the budding cricketers.
"Lovely visit to the future hope school today! Met this little fella and he whipped my bu** at chess!!" tweeted Jonathan Bairstow.
Prior too had a similar fate: "I beat the 9 yr old challenger easily but when the U10 turned up, it was a different story," he tweeted.
Spinner Monty Panesar who mesmerised the Indian batsman in the Mumbai test described the experience as "humbling" while for Anderson it was "amazing".
"We played hockey, and cricket with the players. They were very good and gave us valuable sporting tips," said a child who confessed being in a dilemma about supporting India or England in the Test match beginning Dec 5 at the Eden Gardens.
Batsmen Eoin Morgan and Jonathan Trott spent some time flexing their muscles at the gymnasium.