CWC 2015: Fans come to Team India's defence in response to media criticism of semifinal defeat
58.08K //
26 Mar 2015, 19:53 IST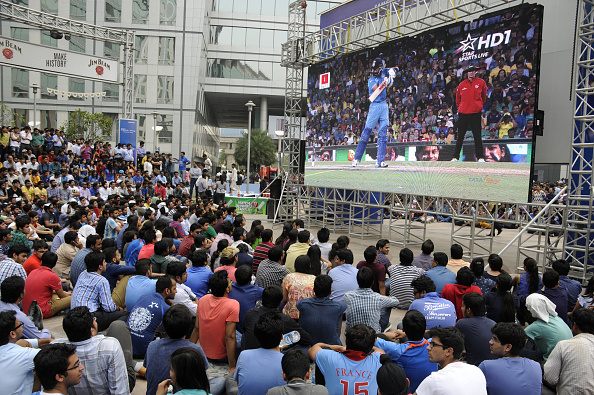 Following India's World Cup semi-final defeat against Australia at Sydney, an Indian news channel hosted a program where MS Dhoni and his team were showered with a whole heap of criticism. The show took liberal shots at the Men in Blue, repeatedly describing their loss as 'humiliating'. They even tried to trend the hashtag #ShamedInSydney on Twitter.
That, however, turned out to be a bad idea as the Indian cricket team fans rose to the defence of the Indian team, and decided to trend #ShameonTimesNow instead.
Australia defeated India by a massive 95-run margin to book a final clash with co-hosts New Zealand at the MCG on March 29. Batting first, the Aussies, riding on a fine century from Steven Smith, posted 328/7 on the board. In reply, India were all out for 233 runs in the 47th over.
However, that didn't change the fact that the MS Dhoni-led team performed exceptionally well to reach the semifinal stages of the tournament, surpassing the expectations of even its most optimistic fans.
Entering the tournament they had not won a single ODI series away from home post the 2013 Champions Trophy triumph, losing to South Africa, New Zealand and Australia quite convincingly. But they turned it around in style by winning seven consecutive matches, before falling to the pre-tournament favourites and the current World No. 1 Australian cricket team.
The Australian team in the semifinal was superior to the Indian outfit in most aspects, and the fans recognized that there was no shame in losing a match like that. Even the margin of victory is deceptive; while 95 runs is a big number, chasing a score like 329 under lights would have been a tall order for any team in the world.
#ShameonTimesNow trends worldwide
The Indian team's fans seem to understand all that much better than the news channel, and they took to Twitter to let their feelings be known.
#ShameonTimesNow is now trending at the second spot worldwide and at the top spot in India, while #ShamedinSydney is nowhere to be seen on the trend list. The TV channel has reacted to the angry response from fans by stopping all their efforts to promote #ShamedinSydney, but it is apparently a case of too little, too late.

timeznow offize: g1: wat do we trend fur indiaz loss? g2: #ShamedInSydney g1: shore? g2: ya it worked wonderz wen we trended #ShameonBBC

— Norinder Mudi (@NorinderMudi) March 26, 2015
#ShameOnTimesNow it should be trending worldwide don't want such media hypocrites who don't appreciate the hard work done to reach semis..

— HKHindustani. (@hasan_kudia) March 26, 2015
Dear TV morons questioning Dhoni's commitment, hope you remember that he still hasn't seen his firstborn daughter yet. #ShameOnTimesNow

— cricBC (@cricBC) March 26, 2015
Dear @TimesNow if you really want to pick on someone just to prove your nationalism, then Kamal Khan would be a start. #ShameOnTimesNow

— VibhaSekhar (@VibhaSays) March 26, 2015
I guess @TimesNow recruits all its journalists from IIN #ShameOnTimesNow

— The Bad Doctor (@doctoratlarge) March 26, 2015
What are you thinking? Unfollow @TimesNow. India deserves heroes. India doesn't need people who bring down heroes. #ShameOnTimesNow

— Abhishek Baxi (@baxiabhishek) March 26, 2015
Dear @TimesNow we're proud of our team for whatever they did in WC. We stand by them. It's not #ShameInSydney u morons its #ShameOnTimesNow

— one tip one hand (@OneTipOneHand_) March 26, 2015
Times Now has shown, they can 'manufacture' cricket related news too besides political news for generating outrage & TRP. #ShameOnTimesNow

— Keh Ke Peheno (@coolfunnytshirt) March 26, 2015
Current followers of @TimesNow 2,110,304. How many we can reduced it today by appealing mass unfollow. #ShameOnTimesNow

— Shiv (@shivsBHARAT) March 26, 2015
#ShameOnTimesNow .. Learn from DD National. https://t.co/kJmYkWf6n7

— 0mar Abdullah (@abdullah_0mar) March 26, 2015
@TimesNow buckles under pressure... deletes all the tweets with #ShamedInSydney ... but the damage already done by #ShameOnTimesNow

— Bhaskar Tejaswi (@simplytrue123) March 26, 2015
Stupid & Extreme media reaction has again proved that we have no sporting culture & we will continue to glorify victory & ridicule defeat.

— Trendulkar (@Trendulkar) March 26, 2015