Farewell, Legend!
779 //
04 Dec 2012, 17:49 IST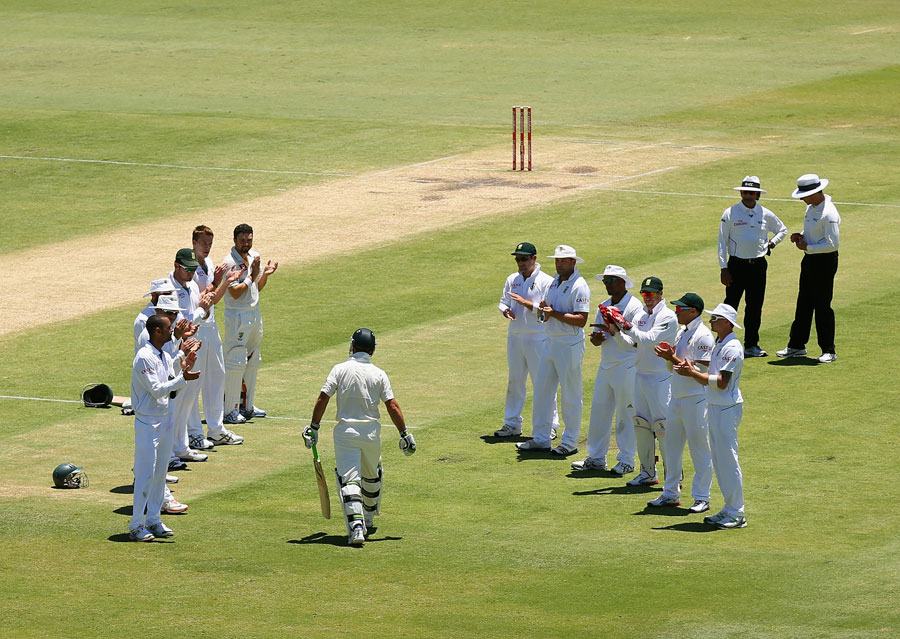 2012 has seen several retirements of really great players such as Rahul Dravid, VVS Laxman, Andrew Strauss, Brett Lee and Mark Boucher (have I missed out any?). But yesterday, this list just got bigger, not very significant as far as the size is concerned but certainly with regards to the weight. The fans shall no longer be entitled to the privilege of witnessing the former Australian captain, Ricky Ponting wield the willow in an international cricket match, a retirement which has drawn attention from players and administrators of the past and present. He was a captain whose team comprised of several great players like Shane Warne, Adam Gilchrist, Matthew Hayden, Michael Bevan, Brett Lee and Glenn McGrath among many others. His career certainly didn't end the way he or anybody else for that matter would have wished, with his age getting the better of him. But one can't have everything in a career and Ponting wasn't fortunate enough to have a fitting end.  I did express my thoughts before regarding Ponting's retirement, when he retired from One Day International cricket back in February during the Commonwealth Bank series.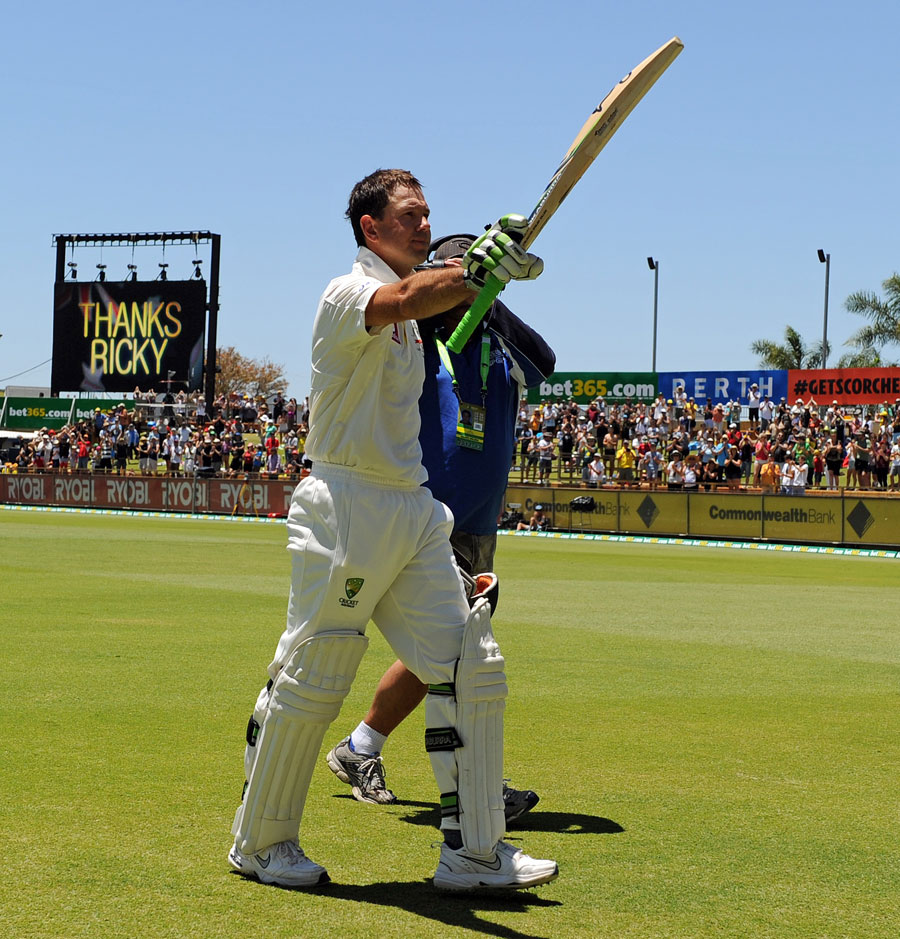 Bereavement is said to make people act in a strange manner and Ponting was no exception to the rule. A man, a very tough competitor, who is usually unfazed by even the most deadly events (I've hardly seen him duck for a bouncer) was reduced to tears during the post match press conference, following the death of the 'active cricketer' in him.
In his illustrious seventeen year career, he has demolished bowlers, led his team to unbelievable glories, was lucky enough to have led other great players. He was a player who had conquered nearly all aspects of the game, a great fielder, one of the greatest batsmen of all time and of course, the best captain the game has seen so far (if not the best, certainly the most successful, a fact which nobody can dispute). His accolades are endless – 41 test centuries, has scored more than 10,000 runs in both formats of the game, has been involved in 108 test victories, the only captain to have led his side to two consecutive World Cup victories, that too, undefeated, and the list would go on, if I've to state them all.
It'd be an injustice to a player of Ponting's calibre to merely quantify the aspects of his game. His exquisite leg side shots (particularly my favourites, his pull shoot and the hook shot), the straight drive, overall aggressive playing and to summarise it all, his batting in general, defies the law of diminishing marginal utility – where no one could be bored of watching Ponting's best innings over and over again. Some of his innings are still so fresh in my memory (such as his 140* against India in the World Cup final, his 164 against South Africa in 2006 in that historic ODI, his 209 in front of his come crowd against Pakistan in Bellerive Oval and many others) and I'm sure that the same would apply for many cricket fans.
The debate has been going on, often leading to only bickering, but the question is whether Ponting is the greatest player of his time. The reason for the debate is also quite justified, considering that he has been a part of the era where Jacques Kallis and Sachin Tendulkar had also peaked (Kallis, still marching on) but my answer to the question is yes, Ponting certainly is the greatest player of his time. One might talk about Saching Tendulkar's 'superior' records, Jacques Kallis' all round ability but as far as Ponting's game is concerned, records weren't the only consideration for me to arrive at this question; although he has all the records that any player would envy, being the highest run-getter of the decade 2000-09 in both the formats and also being named cricketer of the decade. Most importantly, most of his big innings have come on important occasions and also when the team needed his contribution more than ever (such as the knock in the World Cup Final, 2003), adding further credits to his records, something which is sadly lacking in Sachin Tendulkar's numbers. Other than his astronomical records, the impact he has had on the team and his team-mates and the fans was huge, which was evident, considering the standing ovation from the WACA crowd when Clarke and Warner were unable to control their emotions upon Ponting's decision. Coincidentally, and unfortunately, Ponting's period of decline was also Australia's period of decline, or did that have a correlation after all? Not only did it drag the attention within his own country, but also from outside and I'd just mention some of those comments/tweets in praise of Ponting -
'I've played a lot against Ricky and he's certainly the most competitive man I've played against. 
'I think the way he played the game and intensity with which he played the game is a credit to him. I think he's always represented Australia with a lot of dignity and a lot of skill.' – Graeme Smith
'Ricky Ponting, what an absolute legend. I am glad I had the honour of playing against him. Take a bow #legend #respect' – Virat Kohli
'Ricky was a team man but along the way collected many personal accolades. We wish him well in the next stage of his career and look forward to his ongoing involvement in the game beyond the boundary.' – Dave Richardson, Chief Executive of the ICC
'Ricky u will go down as one of the greats! I batted with Ricky once at the MCG, what a great experience that was, 4 such a great cause Tsunami victims. Enjoy ur family, your new team.' – Brian Lara
There have been several on-field controversies regarding his behaviour, mainly on account of his extreme determination to win the game but these controversies cannot by any means, deny Ponting the status of being the greatest player of his time. The field has lost Ponting, but his presence in the field has enriched the history of the game. Who will be the next Ponting is a million dollar question for which we don't have an answer yet but right now, I think it is better for us to enjoy the moments Ponting has given to cricket fans from around the world. He is an inspiration for aspiring cricketers (hopefully he still stays in the game in some way or the other) whose contributions shall never be forgotten.
Bottomline: A champion, a legend, an ornament to the game. Yes, that is who Ricky Ponting is.
Farewell!