Friends Life T20: Nottinghamshire v Derbyshire
972 //
24 Jul 2013, 05:15 IST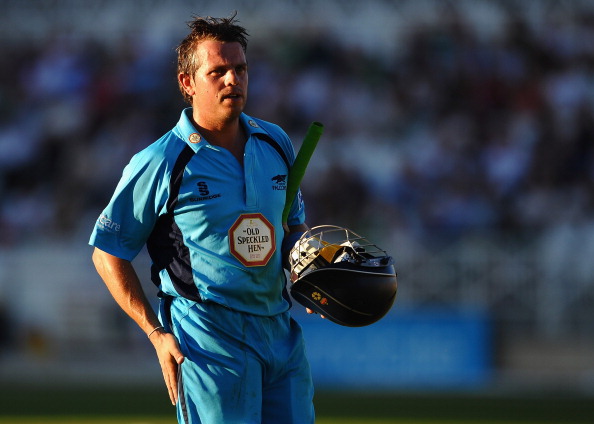 Wow! Did you see that?
What a breathtakingly brilliant effort by Derbyshire to go to fortress Trent Bridge and return along the A52 tonight with both points, courtesy of a superb team performance.
I'll hold my hands up. I didn't give us a chance tonight and would cite as evidence recent displays. Had that level of intensity, passion and togetherness that I referred to last night been shown in recent games, we'd be home and dry in the group by now.
We may not go through and the thinking money would still be against us, but the memory of that display will live long in the memory of those who saw it live or on Sky. Logic suggested a team that is choc-full of internationals would take apart a team shorn of both overseas players. Yet, maybe, in such adversity was rekindled the spirit of Lords, when an overseas star-light Derbyshire beat Lancashire as the shadows lengthened and Frank Griffith became everyone's hero.
Tonight it was the Wes and Ches show. No matter whether Nottinghamshire gave them width to swing their arms, the shots were magnificent and I was racking my brain to think of a Derbyshire partnership that I had found so exhilarating. Cork and Krikken in that Lords final, Cork again and Phil De Freitas one day against Leicestershire, but that was special. There was brute strength, common sense and considerable skill in their batting and in such a short game the preservation of a partnership is key to success.
Hughes was brutal and Durston showed that whatever his four day travails, he remains a fine one-day cricketer. It was astonishing, extraordinary, remarkable and so far removed from recent form that I sat shaking my head at the shots the two batsmen produced.
12 an over was always going to be tough, but when Michael Lumb cut loose after a fine opening over from Tim Groenewald, it still didn't look enough. Billy Godleman missed a good chance, though I think he slipped, which made it doubly difficult. But when Mark Turner, who had taken serious stick from Lumb, redeemed himself with one of the best catches you will ever see, the game turned.
Top marks to Turner for showing a very sound pair of hands at long on, but special mention tonight to two young cricketers with big futures, in Peter Burgoyne and Alex Hughes. Burgoyne bowled beautifully around the wicket and to only concede thirteen runs in two overs of such a game was quite something, He showed common sense beyond his years and kept a tight line and length against a strong batting line-up. Great stuff to watch.
There will have been a few who were worried when Alex Hughes got the penultimate over, but I thought it was a good choice from Wayne Madsen, who set his field very well tonight and kept his players going. Hughes' skiddy length was perfect for conditions and to concede only four runs in taking two wickets was again a special effort from a talented young man.
They were all heroes tonight and apart from two dropped catches, the fielding was as athletic and vibrant as you would expect from a young side, all coordinated by the Derbyshire foghorn, Tom Poynton, who kept wicket with his usual sound style and produced a lightning piece of work to stump Steve Mullaney.
Having seen such a display, everyone now knows they can do it, including the wider cricket public. The talent is undoubtedly there, they just need to capture the vitality and desire of tonight and can then give any side a game. Should they doubt themselves in the future, the team should think back to this evening when a young side stormed the Trent Bridge bastille and took a very strong side to the cleaners.
Wonderful, wonderful stuff. By crikey, we will sleep well tonight.
PS: Yeah, I'm excited at that one. If you aren't, you'd better check your pulse…