No role for friendships in India-South Africa World Cup clash: AB de Villiers
8.63K //
21 Feb 2015, 16:35 IST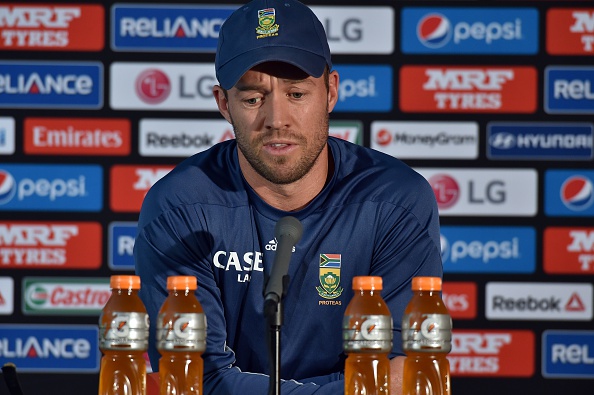 South African captain AB de Villiers has said that friendships won't play a role in their World Cup match against India tomorrow. Cricketers have bonded well with their international counterparts ever since the advent of the Indian Premier League (IPL), but come Sunday, the Proteas' only aim will be to win the match, De Villiers said.
'We play to win'
Despite dominating world cricket consistently following their reintroduction into the international cricket arena, in 1991, the Proteas have never been able to win the World Cup. India, on the other hand, have come into the tournament as the defending champions; however, their recent form outside the Indian subcontinent has been dismal.
Having won their tournament openers, both the sides will lock horns with each other at Melbourne tomorrow. De Villiers said: "It's a World Cup. You're playing for your country, representing South Africa, and they're obviously representing India. Both nations are very proud cricketing nations, so it's a matter of really putting it out there on the field and leaving everything out there on the field in order for you to win the game. Friendships are not going to play a role tomorrow. That's for sure."
He added: "Every game we play, we want to win. I can't tell you now because I don't know what's going to happen the next four games we play. Maybe it's a make or break for us, maybe not, but all I know is that we want to win the game. We've prepared in order for us to win this game, and we're as ready as we can be. We're just going to go out there and give it our best shot tomorrow."
'Haven't figured out how to play Dale Steyn yet'
While Dale Steyn failed to turn up in South Africa's first match, against Zimbabwe, how he fares will have a major say in the outcome of the match against MS Dhoni and Co. De Villiers is one of the few players who play him with ease in limited overs cricket, if you go by his assaults on the pacer in the IPL.
De Villiers, however, doesn't think he has figured a way out yet to deal with Steyn. He said: "Look, it's a different format of the game, and it's completely different conditions, very small fields in India, slow wickets. It's completely opposite to what you can expect in India. It's quicker wickets over here, bigger fields. He will be a handful in this tournament."