GIF Reactions: India beats Pakistan in World Cup encounter, hilarity ensured
7.80K //
15 Feb 2015, 19:18 IST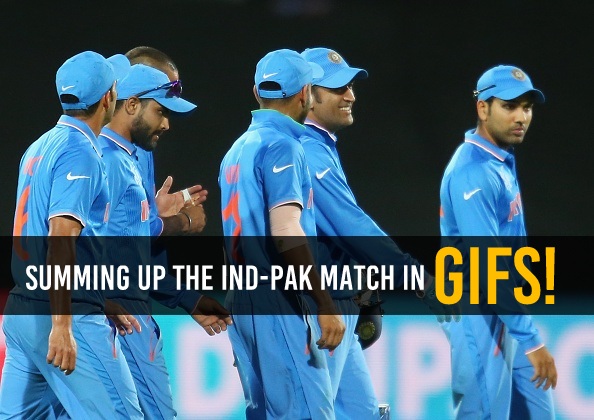 The much awaited India-Pakistan match is over us, and now we have India as they win by 76 runs to make it 6-0 in World Cups against Pakistan – a record our neighbours are certainly not very proud of. Post the match now, there are far too many mixed reactions from all across the globe about how the feel about the match.
India, who had earlier emerged victorious in the last five encounters against Pakistan, registered yet another satisfying victory this time around with a exceptional century from vice-captain Virat Kohli who led India to a satisfactory 300 scoreline, which was perhaps a lot to handle for Pakistan who were bowled out for 224 in 47 overs.
On one end, you could have Pakistan skipper Misbah-ul-Haq feeling the mutual experience that Liam Neeson had to go through in all of the Taken movies and, on the other hand, you will have more-than-jovial Indians who are now getting more and more used to celebrating victories over their most fiercest rivals.
Here are a few GIFs to sum up the whole match in a gist:
Pakistan fans after the defeat
---
Pakistan fans trying to avoid arguments
---
Indian fans reacting to the win
---
Virat Kohli asking Anushka Sharma for her permission to own Pakistan before the match
---
Kohli's reaction after owning Pakistan later on
---
How Waqar Younis is dealing with every other Pakistan cricketer right now
---
Mahendra Dhoni Singh after the win
---
Shikhar Dhawan is having his own kind of fun
---
Umar Akmal's innings in a nutshell
---
Misbah-ul-Haq still trying to break the deadlock