ICC World Cup 2015: Grant Elliott dedicates victory to New Zealand fans
3.55K //
24 Mar 2015, 20:58 IST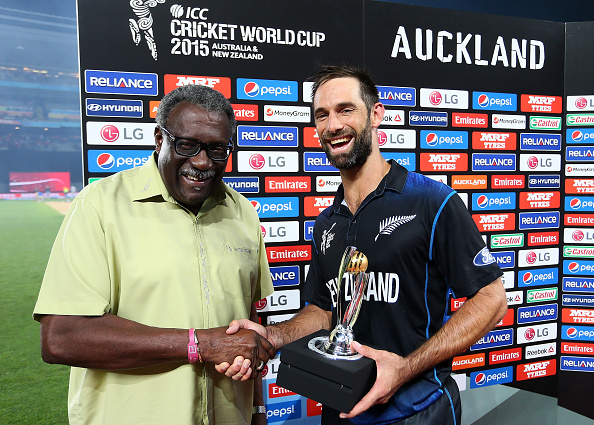 Auckland, March 24 (IANS) Johannesburg-born New Zealand batsman Grant Elliott dedicated his team's stunning victory over South Africa to the home fans who were present at the Eden Park here on Tuesday.
Chasing 298 in 43 overs, Elliott scored an unbeaten 84 off 73 balls, which included seven fours and three sixes, to help New Zealand achieve the target with four wickets and a ball to spare and thus beat South Africa and reach their maiden cricket World Cup final.
"I don't think this win is for myself, not for the team, but it's for everyone here present. The support has been amazing," Elliott said.
'Plan was to take the innings deep'
Elliott, who is now based in Wellington, left his native South Africa in 2001 looking for new horizons and reached new heights in March 2008 when he was named in New Zealand's 13-man squad for the first Test against England at Hamilton. The 36-year-old has now played 66 One-Day Internationals (ODI) and five Tests.
The right-handed batsman said that he, along with Corey Anderson, wanted to stay at the crease for as long as possible.
"Me and Anderson just wanted to take it as deep as we could and Corey batted fantastically well and we timed the pace of the innings to perfection," he said.
Elliott said that the winning six he struck off South Africa's Dale Steyn is the best shot he has played in his entire career. "I guess it is the best shot of my career but I really did feel the pressure. It was a great feeling to look at the team and look at the crowd and sort of savour that moment and realise that we're through to the finals."
'Eden Park crowd is always amazing'
He said the 40,000 home fans constantly cheering the Black Caps at Eden Park played a crucial role in the game.
"The crowd was amazing. When you're out there, someone said it was like a jungle when we played Australia. Fortunately, the Australian game when we played there, we got a taste of what it was like. It's an amazing crowd, amazing place to play cricket," said the 36-year-old.
"The guys have played exceptionally well during this World Cup. Our bowlers have set up things quite nicely, but Brendon (McCullum) has been batting well. Now (Martin) Guptill, Ross (Taylor) are looking good. We've got a very solid team, solid line-up, and then our finishers with (Corey) Anderson and (Luke) Ronchi."
'Sad that I left South Africa, but New Zealand is my home'
The Johannesburg-born Elliott is now based in Wellington. He left his native place in 2001 looking for new horizons.
"Yeah, it's sad that I left South Africa when I did and I had a lot of history there, went to school, played a little bit of cricket, got some good friends there. But New Zealand is my home and pretty excited to have got New Zealand to the final with that shot at the end," said Elliot.
'1992 World Cup left a massive impression on me'
The middle-order bat went down memory lane, saying he always wanted to play in a World Cup since the 1992 edition.
"I always wanted to play in a World Cup since the 1992 edition. My mom let me stay at home to watch the first game which was Australia vs South Africa and I got suspended from cricketing at school for a little while because I did that," he said.
"But that left a massive impression on me. It's funny how life works. It's amazing to be at Eden Park today and to hit the winning runs to take New Zealand into the final. It's been an awesome journey."