Heavy security for second Test in Hyderabad
892 //
01 Mar 2013, 22:44 IST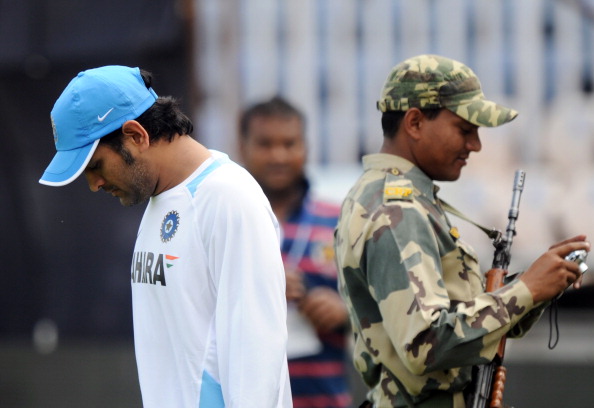 Hyderabad - Unprecedented security is in place for the second cricket Test between India and Australia beginning here Saturday in the wake of last week's terror attack.
Over 2,000 policemen have been deployed as part of the massive security arrangements at the Rajiv Gandhi International Cricket Stadium at Uppal. Cyberabad police has thrown a thick security blanket around the stadium, which is about eight km from Dilsukhnagar, where the twin bomb blasts in a crowded area on Feb 21 killed 16 people and injured over 100 others.
Installation of 60 closed circuit television (CCTV) cameras in the stands to keep a vigil on the spectators, a command and control room to monitor the CCTV footage, deployment of bomb disposal and sniffer dog squads are among the security measures taken by the police.
Police have also directed spectators not to carry bags, banners, cell phones, and cameras into the stadium.
"We are taking all steps to provide fool-proof security for the match," said Cyberabad Police Commissioner D. Thirumala Rao.
Five platoons of armed forces, two units of state police's anti-terror agency Octopus and 250 personnel of the security wing will also be deployed at the stadium.
Police have already made tight security arrangements at ITC Kakatiya Hotel, where the two teams are staying.
The Australian team had voiced security apprehensions after the terror attack but the Board of Control for Cricket in India (BCCI) assured them of fool-proof security.
Cricket Australia security manager Frank Dimasi and a team of BCCI officials Monday reviewed the security arrangements with police and the Hyderabad Cricket Association (HCA). Dimsai expressed his satisfaction over the security measures.
HCA secretary M.V. Sridhar said the association was taking all steps for crowd management in the stadium while police were looking after the security.
He promised the spectators that all steps would be taken to ensure that they are not inconvenienced by the tight security arrangements.