I tried to bowl tightly: Ojha
728 //
07 Dec 2012, 20:27 IST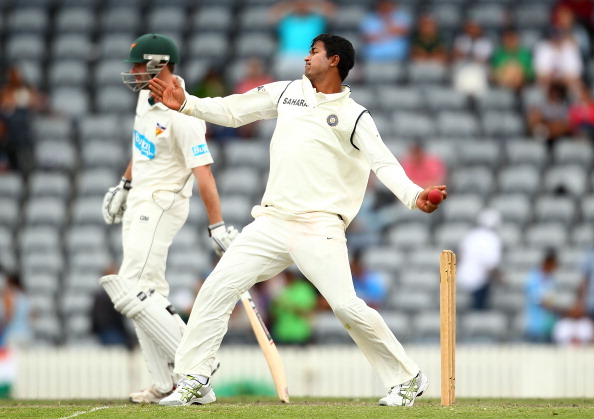 Kolkata - India spinner Pragyan Ojha, who was the most successful bowler for his team taking three wickets, said Friday he concentrated on bowling a tight line and length and not giving away easy runs which eventually got him the dismissals.
"Yesterday I was trying to do too many things while searching for a wicket. But today I talked to myself and resolved that I will bowl a tight line and not give away easy runs to the batsman," Ojha said after the third day's play of the third Test against England at the Eden Gardens here.
On the second day Ojha returned with figures of 1/66 in 20 overs but came back strongly on the third day to add two more wickets to his tally giving away 74 runs of the 30 overs he bowled Friday.
"The wicket is playing good and the outfield is very fast. The batsmen don't have to make much effort to score runs. So it was essential that I conceded less runs. I bowled according to the field and tried to stifle the batsmen," he said.
When asked if bowling coach Joe Dawes – not being a spinner – was of much help, he replied: "Dawes is very knowledgeable and has been helping with my bowling. I also consult (former India spinners) V. Raju and Sunil Joshi."
Former Queensland fast bowler Dawes took over the reins as India's bowling coach earlier in the year.
In spite of India conceding a 193 runs as first innings lead to England who still have four wickets remaining, Ojha said the team was confident of bouncing back in the game.
"If we can take one or two quick wickets tomorrow (Saturday) the tail will be exposed and we can get them out cheaply. Our batsmen are good and the wicket is still assisting stroke play so we are sure we can do well and come back in the match," said the left-arm orthodox bowler.
He added that the pitch was assisting reverse swing and the Indian pacers will get help from it Saturday.
Led by skipper Alastair Cook's 190, England scored 509/6 to open up a lead of 193 runs.