ICC World Cup 2015 - Why Bangladesh lost to Sri Lanka
2.25K //
27 Feb 2015, 02:24 IST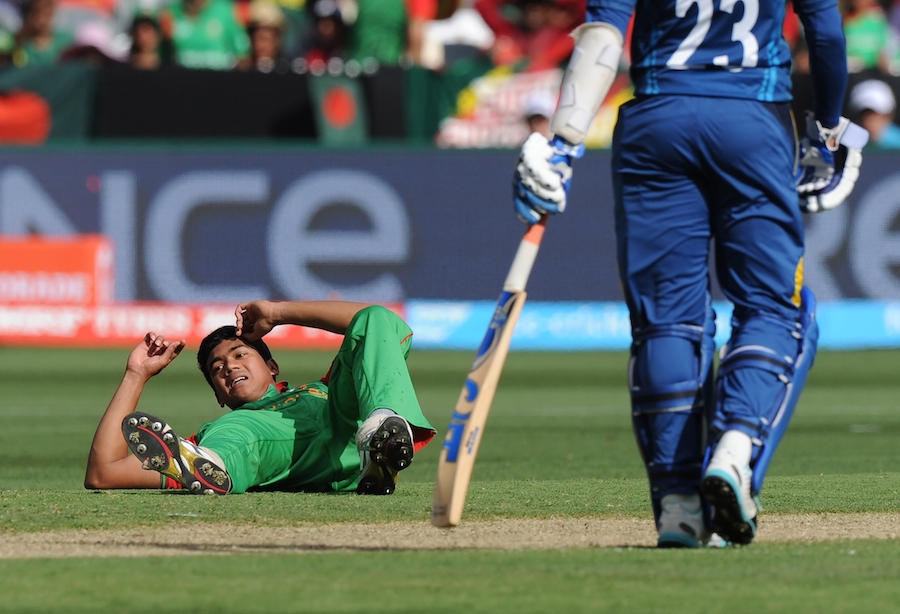 Both Bangladesh and Sri Lanka met in Melbourne with just one win under their belt and it came against the same opposition. While the Lankans survived the Afghanistan scare, Bangladesh beat them comprehensively. Then, the Tigers shared one point with Australia and that lucky escape was supposed to boost their confidence a lot. But sadly, it triggered complacency among the Tigers.
From the word go, Bangladesh looked lackluster. It is hard to imagine how a team can be so reluctant after putting up a spirited display just a week back!
Pathetic fielding display by the Tigers
It is a well known fact that catches win matches and in important encounters, it is always a crime to waste the opportunities. A good fielding unit lifts the spirit of the bowlers and helps them to perform better. Sloppy fielders always contribute to the downfall of a team.
Had Anamul Haque not dropped a dolly at slip in the very first over, Bangladesh's story might not have been such a sorry tale. That dropped catch dented Bangladesh's spirit from which they never really recovered. Kumar Sangakkara was dropped on 23 and 60; Mushfiqur Rahim missed the stumping of Lahiru Thirimane and Tillakaratne Dilshan was saved from being run out as Anamul's throw failed to fetch any results due to the lack of a back-up.
Dilshan and Sangakkara flourished more and more and went on to score hundreds which could never have been possible if those chances were utilized. Sri Lanka went on to post a mammoth total.
Mashrafe Mortaza's captaincy lacked intent
Mashrafe Mortaza's captaincy lacked intent while Bangladesh were fielding. He never really tried to make things happen, but waited for the things to happen. Yes, sloppy fielding did make Bangladesh suffer, but when the chips are down, a captain must rise to the occasion to lift the confidence of the team. Sadly, at Melbourne, Mashrafe's captaincy was defensive and a defensive captain can never think of reaping a rich harvest.
Bangladesh's batting order needed to be shuffled
Bangladesh lost Tamim Iqbal in the first over and as soon as he was dismissed, Mashrafe should have sent Mushfiqur Rahim to bat at number three. Yes, Soumya Sarkar is the choice of the Bangladesh think tank at No. 3, but composure and not counter-attack was needed after Tamim's dismissal and none could have provided it better than Mushfiq.
Soumya's adventurous stroke-play was a treat to watch and it helped to accelerate the run rate, but this young lad is still learning the art of composure and lacks the experience of batting at number three in critical situations. In this match, he should have come to bat a bit later where his counter-attacking abilities could have proved handy.
Again, as soon as Mominul was dismissed, Shakib should have been sent to bat with Mushfiq as because both of them are known for stitching productive partnerships. A batting order can be shuffled according to the demand of the situation and over the years, thinking captains have been highly benefited by applying this move.
Bangladesh's debut at Melbourne was not a happy one. The earlier they realize and learn from their mistakes, the better it is for them. It is very important for them to shrug off complacency and get back their focus.