Ignorance is not bliss anymore
844 //
26 Nov 2012, 16:38 IST
Imagine you telling your professor what all you are comfortable answering. Now you are expected to answer the questions correctly if he designs the paper as you had wished for. But what if you end up flunking that test? What could be the possible reason behind this catastrophe, considering you got what you had wanted? Ignorance and complacency ruined the prospects of the candidate, who had all the favourable conditions in answering his paper.
Mahendra Singh Dhoni is that candidate and the curator is the professor. Dhoni got what he wanted, so what went wrong for India? A 10-wicket loss is a big loss considering the track was spinning from the first session of the first day.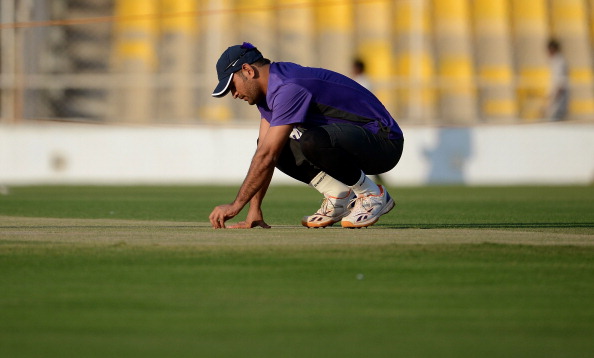 Here are the things which went wrong for India
The Toss and the first innings performance:
It is a very important factor on a turning track. Indians surely got what they wanted. Their aim must have been to bat England out of the Test match like they did at Ahmedabad. But Indians struggled to cope with the spin of left-arm spinner-Monty Panesar and off-spinner-Graeme Swann. Although Cheteshwar Pujara and Ravichandran Ashwin stitched together an important seventh-wicket stand in the first innings, the top order's struggle to bat for long periods was unpardonable. Gautam Gambhir got out leg-before wicket to James Anderson in the first over playing across the line; Virender Sehwag and Sachin Tendulkar tried to work Panesar against the spin and were out bowled. Virat Kohli played an uppish drive and was caught at covers. Yuvraj Singh played inside the line of the ball and was out bowled. Dhoni tried to defend Panesar with hard hands and was caught at gully off Panesar. The poor technique of the batsmen was the sole reason for their downfall in the first innings.
India must have thought 327 was a good enough score considering England would bat last in the Test match. The Indians, playing with three spinners, must have fancied their chances on a track that was deteriorating.
Alistair Cook and Kevin Pietersen looked positive and decisive in their footwork and shot selection. The Indian spinners were clueless against the assault of Pietersen and the resolute defence of captain Alistair Cook. Their third wicket stand of 206 runs was a masterpiece to watch. Pietersen scored 186 and played some amazing shots. The six off Ojha over covers was an amazing shot, which just goes on to show how talented Pietersen really is.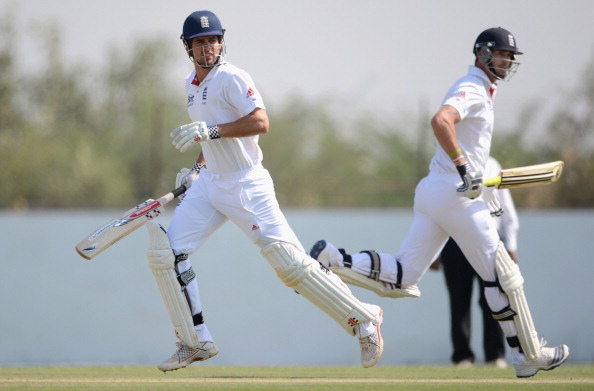 Ojha registered a five-wicket haul and Ashwin got just two wickets but was unlucky on certain occasions. Harbhajan Singh, a 99-Test match veteran, looked the least impressive amongst the Indian bowlers. His bad form hurt the Indians big time.
The second innings catastrophe:
Indians started their second innings, trailing by 86 runs. They got off to a good start scoring 30 runs off the first 7.4 overs, until the ball spun prodigiously. Sehwag played with hard hands and failed to keep away Panesar's spinning delivery that bounced as well. This was just a small trigger, and what followed was a procession.
Cheteshwar Pujara, labelled India's next Wall, crumbled. He too was accounted by the turn and bounce. Sachin Tendulkar played two glorious shots but misread an arm ball from Panesar. Virat Kohli hit a full-toss straight to mid-off. By that point, it was clear that the Indian batsmen were fighting not only against the devils in the pitch but also the devils in their minds. They could no longer believe that they could bat confidently against a spinning ball. The visiting spinners were extracting enough turn and bounce to cause ruckus in the Indian camp.
Yuvraj Singh, who won his battle against cancer, has an arduous task of performing in Test cricket. He is in his ninth season and is yet to establish a permanent position in the Indian middle-order. Dhoni failed to gauge Panesar's bounce and played with hard hands. He was pouched at the slips this time.
Gambhir was the saving grace for India, but he too will be under the spotlight, considering his ordinary performances in Test cricket since 2010.
England chased down the target of 58 runs without losing any wicket. Indians have learnt a bitter lesson. They are surely not going to underestimate their opponents. The turning tracks strategy has backfired on them.
What is the road ahead?
Do the batsmen feel accountable for the shots that they have played? The Indians were caught wrong-footed in this Test match. Will Kolkata change their fortunes? The three-pronged spin attack looks a bad option, considering Harbhajan is not able to find his rhythm and is struggling with his form. So how will India approach the next few games? How will they inject the dosage of positivity in their minds?
The questions are many but the answers are tough. Somebody needs to give us answers. Ignorance is not bliss, anymore.
Anymore turning tracks? Surely not after Panesar's 11-wicket haul.