Importance of diet and fitness in the modern game: An exclusive interview with Bijapur Bulls' physical trainer J Prabhu
5.18K //
01 Oct 2017, 17:35 IST
The importance of physical fitness in the game of cricket cannot be underlined. In today's day and age, physical fitness plays a much bigger role than it did about 20-30 years ago. Gone are the days when cricketers used to just run a lap around the ground prior to the match.
Nowadays, cricketers plan an extensive training schedule and go on to hire personal trainers in order to develop the right body for the game.
Indian cricket team captain Virat Kohli himself had gone through a physical transformation like no other. Following his transformation from a chubby 19-year-old teenager to a fit, muscular athlete, he has become the poster boy of Indian cricket.
Kohli has emphasised the importance of fitness time and again and we have seen players get dropped from the Indian side due to their fitness, or rather, lack of it. With the growth of T20 cricket and the increasing number of T20 leagues around the world, fitness becomes all the more important.
Sarfaraz Khan is one such cricketer who has been affected by his lack of fitness. An extremely talented young lad, he was even India's highest run-getter in the 2016 U-19 World Cup. He played a huge role in RCB's success in 2015, but was dropped from the side in 2016 due to his physique and poor fitness.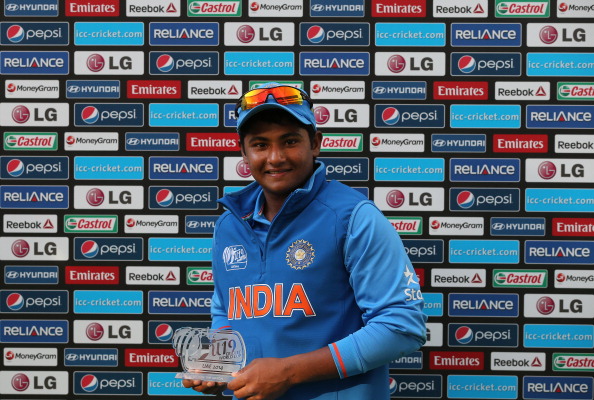 In order to keep fit, diet plays an extremely important role. A bad diet can hamper the growth of a youngster looking to make it big in the international arena.
On the other hand, a good diet can ensure he is ready for the rigours of international cricket.
Over the years, cricketers have begun to give a lot more importance to the food they consume in order to keep themselves fit. A fast bowler like Dale Steyn, who until recently was playing all three formats, requires high protein and fibre in his diet. Rohit Sharma, in order to lose weight, used to survive on boiled eggs when he was out of favour from the national side.
The England cricket team had an extensive diet plan ahead of the 2013-14 Ashes which consisted of a mix of super-foods and high-quality ingredients, helping to keep them at peak fitness throughout the series.
Sportskeeda caught up with J Prabhu - physical trainer and fitness coach of the Bijapur Bulls during the Karnataka Premier League. He went on to speak about the importance of diet in today's game and the components of a healthy cricketer's diet.
Here are the excerpts from the interview:
Q. How important a role does diet play in the game of cricket?
One among the three pillars, it provides fuel to your body. Not picking a good diet will hamper your performance on the field. If the carbohydrates and proteins are reduced, you will feel lethargic and could end up with cramps.
Q. How can consumption of junk food affect a cricketer?
Obviously, we will not recommend junk food to anyone. Instead, you could go for low oil food. We recommend a rich carbohydrate diet followed with a little bit of protein and a very small amount of fat. Those are the essentials of the food pyramid. If you eat junk food, the entire food pyramid changes. Everything, including ability and agility, gets compromised.
Q. What is the most important component of a healthy player's diet?
When a player wants to be active on the field for three hours, he needs to be given rich carbohydrate food, pre and post-match. Carbohydrates give you the energy to remain active during the match.
Q. What is the diet of a cricketer on the day of a match?
Morning - Whole wheat bread, idli, boiled vegetables. Eggs/chicken, orange juice/grape juice etc.
All fried foods are ruled out.
Pre-match meals – 2/3rd carbohydrates, 1/3rd protein and maybe 0.2% fat
Every one hour, they can have a few snacks.
During the match, we have carbohydrate supplement drinks.
Q. Could you shed some light on the importance of protein? How much is required for a healthy cricketer?
Post-match, we focus more on protein. In order to recover, protein is required. 2.5-4 g/kg of body weight. It varies according to each person's weight.
Supplements should always be manufactured by a good company. Since many athletes get caught doping because of wrongly mixed protein supplements, whenever you buy a supplement, it should be from a good manufacturer.
Even 'Whey' protein, which is so famous, can be mixed with something which can be illegal. So, instead of looking at the brand name, you should look at the manufacturer. Natural food is obviously much better, but if they go for supplements, they need to be careful.
Q. Which cricketers do you use as an example to motivate the youngsters?
For bowlers - Brett Lee and Dale Steyn. For batsmen - Virat Kohli and KL Rahul.
Q. What is your advice for junior cricketers?
The first thing I would recommend for young cricketers looking to make it big is to focus on their diet and fitness. If they do not match, it will result in weight gain and their performances will dip.
The important thing is that a good diet needs to start from a very young age.