ICC World Cup 2015: India beat UAE, earn third World Cup win
1.97K //
28 Feb 2015, 17:37 IST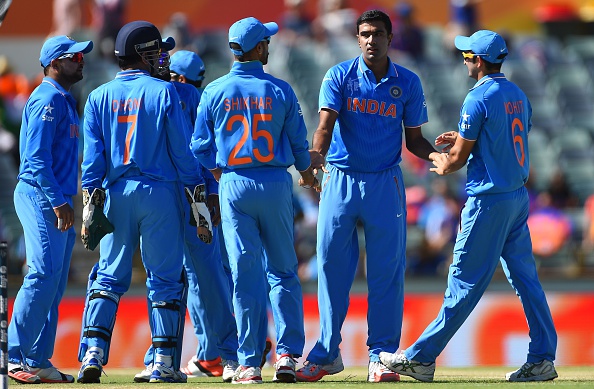 Perth, Feb 28 (IANS) India achieved their third consecutive victory of the cricket World Cup when they comprehensively beat the United Arab Emirates (UAE) by nine wickets in a Pool B encounter at the WACA here on Saturday.
After bowling out the UAE for a 102, the lowest total of the current World Cup, in 31.3 overs, India achieved the paltry target in 18.5 overs with opener Rohit Sharma top scoring an unbeaten 57.
Indian bowlers delivered a dominating performance to skittle out UAE. Man-of-the-match Ravichandran Ashwin was the pick of the bowlers, notching his first four-wicket haul in One-Day Internationals (ODI) for 25 runs from 10 overs which also included a maiden. Pacer Umesh Yadav (2/15) and spinner Ravindra Jadeja (2/23) clinched two wickets each.
The UAE just about managed to avoid becoming the first team to get bowled out for under 100 against India in a World Cup. However, theirs was still the lowest total by any team against India in the quadrennial event.
The extra pace and bounce of the Perth pitch was too much for the UAE batsmen to encounter after opting to bat. Indian spinners enjoyed the bounce as well, picking up six of the 10 available wickets.
Only three UAE batsmen managed to reach double-digits with Sialkot-born Shaiman Anwar, who scored a brilliant century against Ireland in their last match, topping with 35 before being bowled by Yadav. Pacers Mohit Sharma and Bhuvneshwar Kumar also picked up a wicket each.
The best partnership came for the last wicket stand between Anwar and Manjula Guruge (10 not out) who added 31 runs to test the patience of the Indian bowlers for 7.3 overs.
In reply, it was more or less a smooth chase for the Indian batsmen, the only hiccup being the loss of opener Shikhar Dhawan, who was caught by a brilliant single-handed catch by Rohan Mustafa at backward point.
Rohit scored his 23rd ODI half-century and was well supported by vice-captain Virat Kohli (33 not out). India play their next World Cup match against the West Indies here on March 6.
Scorecard
UAE --
Amjad Ali c Dhoni b Kumar 4
Adri Berenger c Dhoni b Yadav 4
Krishna Chandran c Raina b Ashwin 4
Khurram Khan c Raina b Ashwin 14
S.P. Patil c Dhawan b Ashwin 7
Shaiman Anwar b Yadav 35
Rohan Mustafa lbw b Mohit Sharma 2
Amjad Javed c Raina b Jadeja 2
Mohammad Naveed b Ashwin 6
Mohammad Tauqir b Jadeja 1
Manjula Guruge not out 10
Extras (lb 4, w 9) 13
Total (all out in 31.3 overs) 102
Fall of wickets: 1-7 (Berenger, 1.4 overs), 2-13 (Amjad Ali, 4.6), 3-28 (Krishna Chandran, 10.2), 4-41 (Patil, 14.5), 5-44 (Khurram Khan, 16.4), 6-52 (Rohan Mustafa, 19.5), 7-61 (Amjad Javed, 21.1), 8-68 (Mohammad Naveed, 22.3), 9-71 (Mohammad Tauqir, 23.6), 10-102 (Shaiman Anwar, 31.3).
Bowling:
Bhuvneshwar Kumar 5-0-19-1
Umesh Yadav 6.3-2-15-2
Ravichandran Ashwin 10-1-25-4
Mohit Sharma 5-1-16-1
Ravindra Jadeja 5-0-23-2
India --
Rohit Sharma not out 57
Shikhar Dhawan c Rohan Mustafa b Mohammad Naveed 14
Virat Kohli not out 33
Extras 0
Total (1 wicket; 18.5 overs) 104
Fall of wicket: 1-29 (Dhawan, 6.3 overs)
Bowling
Mohammad Naveed 5-0-35-1
Manjula Guruge 6-1-19-0
Amjad Javed 2-0-12-0
Krishna Chandran 3-0-17-0
Mohammad Tauqir 2.5-0-21-0
Match details:
Toss: UAE, chose to bat
Points: India 2, UAE 0
Man-of-the-Match: Ravichandran Ashwin
Umpires: Billy Bowden (New Zealand) and Michael Gough (England)
TV umpire: Nigel Llong (England)
Match referee: Ranjan Madugalle (Sri Lanka)
Reserve umpire: Kumar Dharmasena (Sri Lanka)