India crush Windies in T20 World Cup for blind
831 //
05 Dec 2012, 21:10 IST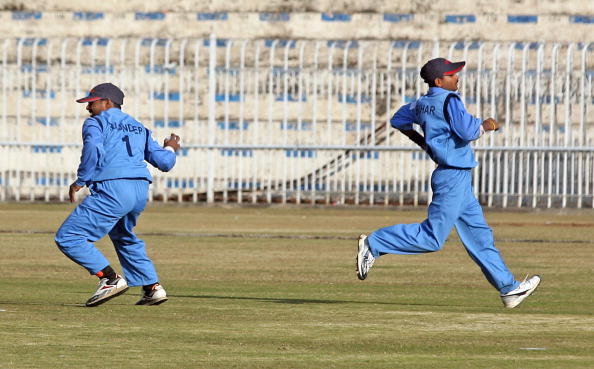 Bangalore - India crushed the West Indies by eight wickets in 11 overs in a league tie of the Twenty20 World Cup for blind Wednesday, while Pakistan outplayed Australia in a truncated match of the tournament here.
Opting to field despite winning the toss, India first restricted the Windies to 158 for seven wickets in the stipulated 20 overs with tight bowling and sharp fielding.
Chasing a modest target of 159 runs, India scored 162 for the loss of two wickets in 11 overs, thanks to a whirlwind 125 off 49 balls by Prakash Jayaramaiah, who is partially blind. Jayaramaiah was declared man of the match.
This is the third consecutive victory India have registered in the tournament, after thrashing Australia in the opener Dec 2 by 215 runs and England by 174 runs Dec 3.
India take on Sri Lanka Thursday.
In another league match, Pakistan too maintained its winning streak thumping Aussie by 10 wickets in a match that was reduced to nine overs due to bad weather at the Central College grounds in the city centre.
Put into bat, the Aussies could score only 60 runs for six wickets in nine overs.
Chasing the easy target, Pakistan openers Ail Murtaza (partially blind) and Mohammed Jameel (partial vision) took just 12 balls (two overs) to score 63, sparing the remaining seven overs. Murtaza smashed 26 runs in six balls and Jameel 20 runs in six balls.
Pakistan bowler Mohammad Idrees Saleem (total blind) was, however, judged man of the match for restricting the Aussies.
In the third tie, which was close, Sri Lanka beat England by 13 runs at the Aditya Global Sports ground on the city's outskirts.
Put to bat, Lankans scored 202 runs for six wickets, thanks to a century partnership between C. Deshapriya (partial vision) who hit 69 in 32 balls, and Chandana Kumara (total blind) who contributed 35 runs in 52 balls.
In reply, England could manage 189 runs for six wickets in the stipulated 20 overs despite half centuries by Matt Dean (partial blind) and captain Luke Sugg (partial vision) who hit 68 in 41 balls and 54 in 42 balls, respectively.
Deshapriya was declared man of the match.
The players are classified into three categories – totally blind as B1, partially blind as B2 and with partial vision B3. Each team of 11 members comprises four blind (B1), three partially blind (B2) and four with partial vision (B3). The wicketkeeper is a B3 player.
Interestingly, for every run scored by the blind, one more is added. As a result, a hit to the boundary will be counted as eight and a sixer 12.