India demolish minnows Nepal in T20 for blind
837 //
08 Dec 2012, 22:54 IST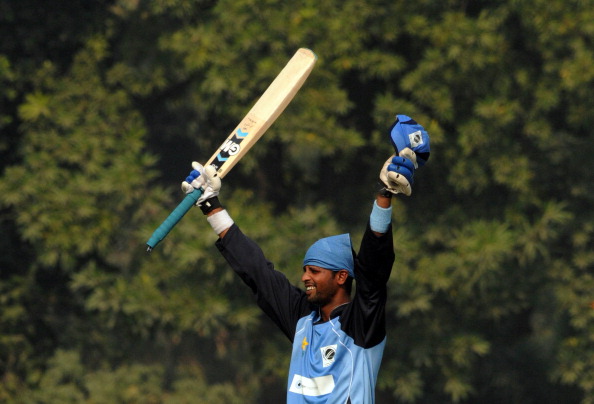 Bangalore - A defiant India, which lost to Pakistan on Friday, went on the rampage Saturday to demolish minnows Nepal by a huge margin of 249 runs in the T20 World Cup league tie.
Winning the toss and electing to bat at the Aditya Global Sports ground on the city outskirts, Indian batters Ajay Kumar Reddy (partially blind) and Hanuman Pooniya (partial vision) registered a record triple century partnership – 317 runs off 111 balls and put up a whopping 342 for three wickets in the stipulated 20 overs.
Chasing the imposing target of 343, the Nepal was bundled for a paltry 93 in 14.3 overs, with Indian bowler Dilip Munde (partially blind) snapping two wickets for eight runs in three overs.
Reddy made 128 in 43 balls with 21 hits to the boundary and a six, while Pooniya hit a scintillating 120 off 50 balls, including 25 fours. Later, Subash Bhoya (totally blind) chipped in with a hurricane 58 off 18 deliveries.
"We are peaking at the right time for the semis and final (Dec 12-13) with the batsmen in good nick, Reddy, Pooniya and Prakash Jayaramaiah (partially blind)," Indian captain Shekar Naik told reporters after the match.
Pooniya was declared man of the match.
India is expected to have another easy outing Sunday against Bangladesh, who are struggling to strike form in the tournament.
In the second league tie, unstoppable Pakistan continued its winning vein crushing Bangladesh by 10 wickets after restricting it to 91 runs for nine wickets in the stipulated 20 overs and crossing the easy target to post 93 for no loss in 4.1 overs.
Made to bat first after losing the toss, Bangladesh struggled to find flanks to score as eight of its batsmen were run outs by brilliant fielding and accurate throws by upbeat Pakistanis.
Chasing the target, Pakistan openers Ali Murtaza (partial blind) and Mohammad Ayyaz (totally blind) rattled the Bangladesh bowlers to hit 56 off 21 balls and 22 off just eight balls and wrap up the match in the first ball of the fifth over. Ayyaz was adjudged man of the match.
Pakistan was led by vice-captain Mohammad Jameel (partial vision) as skipper Zeeshan Abbasi was indisposed.
Pakistan is the only team to have an all-win record in the tournament while Bangladesh is yet to register a win.
In the other two matches played at the Central College grounds in the city centre, West Indies mauled South Africa to win by 10 wickets and England overcame Australia by three wickets in a close encounter.
After restricting Proteas to 193 runs for six wickets in 20 overs, Windies raced to the target of 194 in 14.3 overs, with its openers Halden Forde (partial vision) hitting 105 in 57 balls and Gregory Steward (partially blind) scoring 59 in 37 balls. Forde was declared man of the match.
In an exciting tie that went down to the wires, England reached the target of 274 runs in the 20th over despite losing seven wickets after stopping the Aussies to 273 for five wickets in 20 overs, which included a dashing 127 by Matt Horsey (partial vision) in 57 balls.
Aussie Matt Dean (partially blind) was declared man of the match for his splendid unbeaten 95 in 44 balls.
Of the six games they played in the tournament so far, both the teams share the honours of winning three and losing three.
Australia take on South Africa, while Pakistan will play Sri Lanka and West Indies against Nepal Sunday.