England v India: The big test - Four point something
9.16K //
29 May 2014, 21:28 IST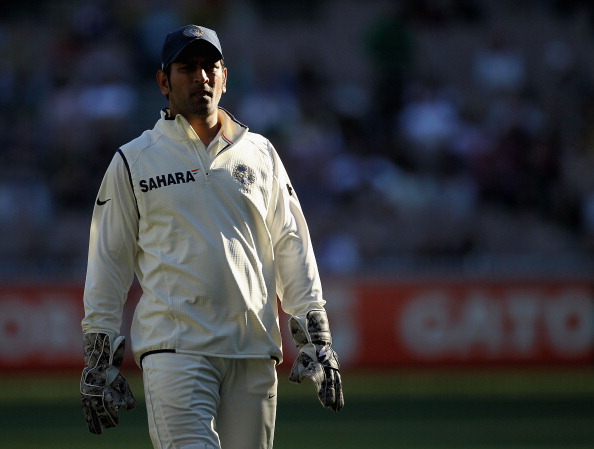 Well, the last time I sat down to write a preview of an important Indian tour, disaster struck twice and India lost 8-0, suffering whitewashes both in England and Australia. The chances are it may not repeat, as this Indian team is in better shape, but the England series does mark the beginning of yet another grueling test.
Also, with England experimenting with their team, it seems to be the time for India to strike gold; we must be wary, as concentrating on the weakness of the opposition often catches us off guard, like England found against Australia in the Ashes. The Ashes, however, is what I base my analysis on to arrive at four things that India have to do well in England to stand a chance to compete, let alone win.
Test squad for England: MS Dhoni (C), Murali Vijay, Shikhar Dhawan, Gautam Gambhir, Cheteshwar Pujara, Virat Kohli, Ajinkya Rahane, Rohit Sharma, Ravindra Jadeja, Ravichandran Ashwin, Bhuvneshwar Kumar, Mohammed Shami, Ishwar Pandey, Ishant Sharma, Stuart Binny, Varun Aaron, Wriddhiman Saha, Pankaj Singh
1. Top order wickets:
Swing and seam are bound to make all the difference in England, and India have picked a few good new ball bowlers, who need to shine for the team to make early inroads and get into the brittle England middle order. The new ball wickets are the key, since, if they don't come, India will be severely disadvantaged, and, with the England bowling being better, the batsmen will be up against it to make up for their bowlers. Bhuvneshwar and Ishwar/Aaron are vital for India's chances first up. India may not have a Mitchell Johnson to scare the hell out of England, but the Indian bowlers have the ability to hunt in pairs to knock England off.
2. Lower-middle order comeback:
Often in the last Ashes series, we saw Australia getting to starts like 98-4, 100-5; it was the lower-middle order that contributed to their success. Agreed that India will want their top order to fare better, but, in England conditions, it becomes necessary for India to have a line-up that bats deep. England did suffer to get rid of the Australian tail-enders as they played some handy knocks, which ultimately proved to be the difference between 275 and 400. MS Dhoni will have a task to balance his team well. Rohit, Dhoni and Jadeja's performances with the bat are going to be decisive; given the form of the top order, they will have plenty of work to do.
3. Put England off their plans:
England, like India, are a team that rely a lot on pre-planning. They have plan A and plan B ready off the field and are very rigid to improvise on the field. The hesitancy to change plans on the field makes them vulnerable, and, when things don't go their way, the game will be gone before they know it, just like it happened against Australia. If you manage to put England off their plans by counter-attacking them, suddenly the ultra-defensive Alastair Cook comes out and spreads the field, thereby taking the pressure off the opponents. Kohli and Dhoni are ideal for such roles: to counter-attack and knock the opposition off their perch.
To assume that England will repeat their mistakes is quite risky, though. With the ball, I think India can look to emulate plans from Australia, who used the short ball well against England. Both Shami and Aaron have a good bouncer and, with the advantage of their extra pace, must plan well to unsettle the English batsmen.
4. MS Dhoni:
There is a cliché: 'If you get the captain, you get the team'. Australia did that to England very well as Cook had one of his worst series both as a captain and a batsman. Of late, Dhoni hasn't done anything of note in terms of captaincy overseas, and this tour may just be the biggest test of his Test career. The Indian captain, however, since the 99-run knock in Nagpur against England, has changed gears and done what he does the best: attack.
Seam and swing trouble all, but it is the mindset that can change fortunes: Dhoni must back himself to attack England. Steve Smith and Brad Haddin did that to a superb effect in the Ashes, and the result was for all of us to see. Dhoni is capable to turning the match on its head in a session, too.
His captaincy, though, has to improve a lot. As said in point 3, he needs to improvise well in Tests overseas, something that comes naturally to him in other formats but strangely hasn't come through in whites. India can't afford to have a deep point for a new batsman right from the first ball and Dhoni turning to part-timers with a partnership in its initial stages to rest his main bowlers. He needs to plan better and make better use of the resources at hand and take cues from the ongoing series between Sri Lanka and England.

My playing XI for the first Test: Shikhar Dhawan, Gautam Gambhir, Cheteshwar Pujara, Virat Kohli, Ajinkya Rahane/Rohit Sharma, MS Dhoni, Ravindra Jadeja, Bhuvneshwar Kumar, Mohammad Shami, Ishant Sharma/Ishwar Pandey, Varun Aaron.
For me, Dhawan gets the nod ahead of Vijay, despite that making two lefties at the top. With Gambhir in the squad, we will be better off using him than benching. If Dhawan is prepared to do the hard yards initially, he could take advantage of the ball getting old later and score some quick runs. While the rest pick themselves, it is up to Dhoni and Co., to decide whether they play both Rahane and Rohit or play one of them depending on the conditions.
Jadeja should play ahead of Ashwin, as the latter cannot stop experimenting in a format he doesn't actually need to do it. Bhuvneshwar and Shami are obvious picks, while Aaron provides India a bowler with pace. One of Ishant and Ishwar completes the line-up. Binny wouldn't be a bad choice, too, as he can offer something with the bat.
If India manage to do half of these things right, the pain of 4-0 may just subside a bit. If they don't, tough decisions will have to be made.