India-Pakistan rivalry resumes in Chennai in a different format
1.11K //
29 Dec 2012, 21:19 IST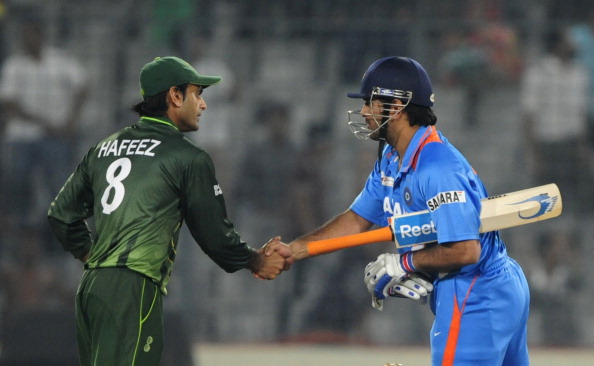 After the starters, comes the main course. However, it is more of a grab-and-eat fast food outing than a five-course banquet. A wait of five long years deserved better.
Add to that the looming threat of rain which threatens to serve a soggy year end menu. Still, one would expect hordes of fans to brave the early morning chill (if there is something like it in Chennai) and turn up at the Chepauk tomorrow to watch India vs. Pakistan vs. the elements.
The teams
India: India's year started with a whitewash in Tests Down Under and fell steadily thereafter as they failed to qualify for the finals of the tri-series in Australia and the Asia Cup, where they were skittled out by Bangladesh. An unusually long break (with the IPL in between) was supposed to rejuvenate and the results seemed promising with an ODI series victory in Sri Lanka and a 2-0 victory in Tests at home against New Zealand. However, the joy was shortlived as India failed to qualify for the World T20 finals and lost a home Test series for the first time since 2004, and for the first time to England in 28 years.
Home ODIs though are a different story. Since MS Dhoni took over the mantle of captain, India has lost an ODI series at home only to Australia (twice in 2007 and 2009). Apart from that, no other team has managed to beat them twice in the same series since Pakistan in 2007. This period includes three whitewashes, of England (twice) and New Zealand. Clearly, the much maligned format holds high hopes for this much beleaguered Indian team.
Pakistan: It has been a topsy-turvy year for Pakistan. Punching much above their capacity, they managed to whitewash England 3-0 in Test matches at the Emirates, only for the favour to be returned 4-0 in the ODIs. They came back after a demoralising defeat to India and fought off two strong Bangladesh attempts to (just) win the Asia Cup.
That was the last bit of success for them as Pakistan lost the Test and ODI series in Sri Lanka as well as an ODI series against a much-weakened Australia at their now-called home (U.A.E.). They didn't fare much better in the World T20 as India maintained their dominance at World Cups over their next door neighbours.
It will also not help that Pakistan have won only one of the four ODI series against India, both home and away since the resumption of cricketing ties in 2004. Clearly, the odds are against them but Pakistan will take heart from their T20 efforts and England's recent giant killing efforts to affect a turnaround in their fortunes.
The key players
India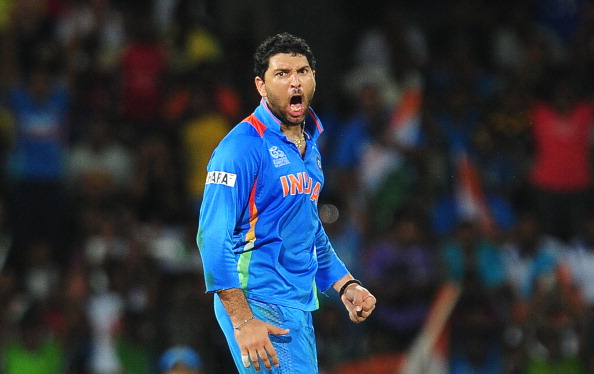 Yuvraj Singh:  The 2011 World Cup was a watershed event for Yuvraj – after ten long years, the prodigal all-rounder had finally come home. The bowler Yuvraj, who till then was a routine "pie-chucker" with a golden arm, finally came to the fore as he picked up wickets at crucial junctures to end up as the second highest wicket-taker for India with 15 wickets. Neither did he bat too badly, scoring 352 runs with one century and four fifties on the way to four MoM awards and the Player of the Tournament title. That was to be his last limited overs appearance in blue before the T20s in Sri Lanka this year.
While he hasn't been able to make a spot in the Test squad his own, even after four years of trying, Yuvraj in the blue jersey is a different proposition altogether, as he showcased yesterday with his clean hitting and sheer power. He was the best spinner on display in the India-England T20 series and that says much, despite the absence of the likes of Graeme Swann. Come Sunday and the whole of India would be expecting a sizzling comeback from Yuvi in the format he has made his own.
India's bowling: I'm sure that the curator cannot prepare a pitch greener than India's current bowling attack. The most experienced of them all, at 47 ODIs, Ishant Sharma hasn't played in this format since the tour of West Indies after the World Cup. Apart from him and Ravi Ashwin, none of the other bowlers have played more than 15 ODIs.
However the trio of Ishant, Ashok Dinda and Bhuvneshwar Kumar bowled well with a wet ball in both the T20s against Pakistan. This would be crucial tomorrow in overcast conditions and an expectedly wet outfield. Shami Ahmed is coming off a good first-class performance and I have long maintained that Amit Mishra is the best legspinner in the country ahead of Piyush Chawla and Rahul Sharma.
One is left with a few questions too – where are Praveen Kumar and Varun Aaron and why is Pragyan Ojha not good enough to play ODIs? The selectors will hope that the present set of bowlers can answer these questions for them.
Sachin Tendulkar: He is the biggest "What-If?" query hanging over this series. The fact that he finished on 49 centuries will only titillate the ardent fan's imagination. One day cricket in India without Sachin is going to be an interesting proposition for the organizers and the crowds.
Pakistan
Mohammad Irfan: Trust the Pakistanis to show off. That is what most people thought after a lacklustre showing by the tallest player to have played the game in his debut ODI series against England in that controversy-marred autumn of 2010.
But Irfan has come back hard and how. He has added more than a yard or two of pace and it isn't an interesting proposition for the likes of Gambhir and Rahane to deal with a fire bolt coming down at 90 mph from some place in the heavens above the sidescreen. It would have been fun though if a five feet four 39 year old…
Shoaib Malik: Malik has been a thorn in India's flesh for quite some time now. His highest score of 143 came in an Asia Cup game against India in 2004 and his Champions Trophy hundred against the same opposition helped Pakistan defeat India for only the second time in an ICC organised tournament. The last time Pakistan won an ODI series in India in 2005, Malik, along with Afridi, was one of the major reasons his team could bring about a turnaround after being 2-0 down.
Malik is in good form too, after playing a match-winning hand in the first T20. In the absence of Afridi, his jerky, partnership breaking offies could be a useful supplement to the more conventional tweaks of Ajmal and Hafeez. Can India's son-in-law break India's heart once more?
The newcomers: Anwar Ali is the latest product from the Pakistani pace factory who is capable of swinging the ball both ways at a decent pace. Haris Sohail is another left-handed batting talent who will be jostling with the likes of Nasir Jamshed and Imran Farhat to find a place in the batting line-up.
But the most interesting selection is that of Zulfiqar Babar. Thirty four isn't the obvious age to debut in the sub-continent but Babar has leapfrogged the likes of Abdur Rehman and the much younger Raza Hasan to make it so far. While Ajmal is obviously the first choice, Pakistan are without Afridi and should Pakistan require a second spinner, it will be Babar. He has waited long enough for this and to be denied by the elements would be just cruel.
The venue
Chennai has always had a history of rain and of infuriating spectators although only two of the nineteen matches played here have been washed out without a result. This is the third straight year an ODI will be held here in December – the last two were won convincingly by India, against New Zealand in 2010 and West Indies last year.
The wicket is typically not the sub-continental belter one expects from this part of the world. In the last six ODIs since 2007, only two scores over 250 (both by India against West Indies last year) have been achieved. On the other hand, seven scores below 200 have been posted, with the lowest being 69 by Kenya against New Zealand in the 2011 World Cup (who themselves were shot out for 103 two months earlier against India).
Despite being low-scoring, the ground has hosted some memorable encounters over the years, especially in World Cups – most notably the 1987 India-Australia match (the first at this ground) which Australia won by 1 run and the England- South Africa cliff-hanger last year which England managed to cling onto by 6 runs. The last time India played Pakistan here, a certain Saeed Anwar blasted his way to a then-world record score of 194. However, with five victories from ten outings (included two washouts), including wins in all of the last three matches they have played here, India should fancy their chances.
The last four encounters have all been won by the team batting first so unless the match is shortened by rain tomorrow, the team winning the toss should bat first. The conditions and history favour the speedsters; Ashwin however would like to build on his good record at his home ground (five wickets in two matches so far). Yuvraj too has a good all-round record at this venue with a century and four wickets in his last two outings here. Dhoni has also done well at this ground with his highest ODI score of 139* coming here, albeit for the Asia XI in 2007.