India v Australia 2013: MS Dhoni defends decision to give Ishant Sharma 48th over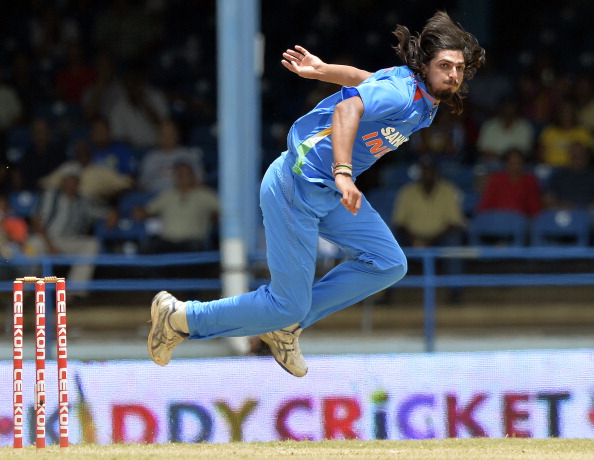 Even after the nightmarish show from Ishant Sharma, Indian captain MS Dhoni defended his decision to throw the ball to the Delhi pacer to bowl the 48th over, that went for 30 runs handing India a defeat in the third One-Day International at Mohali.
India were coasting to a victory when Ishant Sharma conceded 30 runs to get Australia back into the game and allowed James Faulkner to run away with it.
"Well, then the option was that even I could have bowled. You have to see what all options are available to you. Vinay Kumar had also bowled, he had also gone for some runs. I thought let's see by having a change," Dhoni  answered the journalists at the post-match press conference.
"If Ishant bowls, then I will have the option of bowling Vinay from other end if he does not bowl well. However, it's always easy after seeing result to say what should have been or not been done," the Indian captain explained.
James Faulkner, the Australian all-rounder, took full toll of the wayward bowling from the Delhi pacer and sealed the game for Australia.
However, in the hindsight Dhoni said that he should have given the ball to Vinay Kumar, who had a much better outing as compared to an out-of form Ishant.
"May be if it would have gone to Vinay, 10-12 runs would have been given not more than that. But, but in cricket it does not go that way. You try to take the right decision, sometimes it works, sometimes it does not," Dhoni said.
Will Ishant Sharma face the axe after this forgettable outing? He could be because the team for the remainder of the series will be selected on Sunday.
However, MS Dhoni has always believed in trusting with players and Ishant Sharma might just get a longer rope if the captain backs him up at the selection meeting.
"I will talk to selectors if it concerns selection. There are some batsmen who have not made runs, there are bowlers who have gone for runs. All of a sudden when you lose one or two matches you want the playing eleven bowlers to be removed.
"They are part of the side, because they are talented and let's back them. The bowlers who are waiting in wings, they can wait a bit more. Once somebody goes out of the side, tendency is that they are forgotten, they keep talking about new bowler. I always feel that people who are in the side should be given the rope, does not matter if he is a bowler or a batsman."
Dhoni also expressed his concerns when asked about how he dealt with his bowlers who seemed to be in a complete disarray at the moment.
"This generation of bowlers, we have to keep talking to them. They have some amount of experience but if you consider the rule changes, with fifth fielder inside, I think most of the bowlers are new, their experience does not really count.
"What we have seen is in a particular game, a few set of bowlers may have a off day, that's where we have to make sure not to give too many runs. Even when you bowl a bad overs, try to restrict it to 15-18 runs because if you go higher than that it has a bigger impact on the game.
"I think in this series, you will see quite a few times this balance shifting, better bowlers when they are going through a bad over or a bad spell, they will try not to give those extra runs."
With Ishant Sharma though, Dhoni seemed to be in a forgiving mood and said that the bowler should figure out his own performance rather than anyone pointing out his mistakes.
"When you are disappointed, it is always better to give the individual a bit of time because he wants to think on his own. I think the ideal time is when the individual has gone back to hotel and he has thought whatever is in his mind, then have a chat with him.
"The reason he is more in a frame of mind when he will be accepting and he won't be frustrated. Nobody wants to really bowl a bad over when you are representing the country and bowling before 30,000 odd people. When the right time comes we will have a chat."
Dhoni also had an answer for why the Indian bowlers lacked the skill of bowling yorkers. The Indian captain said, "Practice makes you perfect, when you are bowling in nets, there is no real pressure on you. That?s why I say that if you are hitting 15 sixes in half an hour in the nets, you may hit 3-4 in the match situation.
"We are practicing hard, it's just a matter of time we get better and better and start executing in the game when there is real pressure."
However, Dhoni reminded that  the Australian outfit are a quality side and they cannot be taken lightly.
"They are a really good side. Also the fact that timing of the series, dew factor does play a bit. We were in a position to win this game, but at the same time it becomes a bit difficult for the bowlers to execute. So, I think overall what we are seen that wickets are good for batting, the side which bowls slightly better, few overs of good bowling is the side that will win the most of the games.
"If you keep taking wickets at regular intervals, what we have seen you are able to restrict the opposition. Today, we kept losing wickets but still we got 300 odd runs, with fifth fielder inside. It's becoming a bit difficult. If you have right partnership and you have wickets in hand, you may see the team scoring more than 300."